How do our food experts cook and eat? This week, Sugar Shack's Aru De Silva takes the quiz!
Providing Colombo's sweet-tooths with all their cravings and sugary fixes for nearly a decade, Sugar Shack's Aru De Silva bakes the most mouth-watering goodies that we can't get enough of! On this week's Dish It Out she talks to us about her immense love for pasta, her fancy Italian Moka Pot that hasn't been used in 5 years and recalls the time when Sugar Shack was almost called the Batter Bowl Bakery!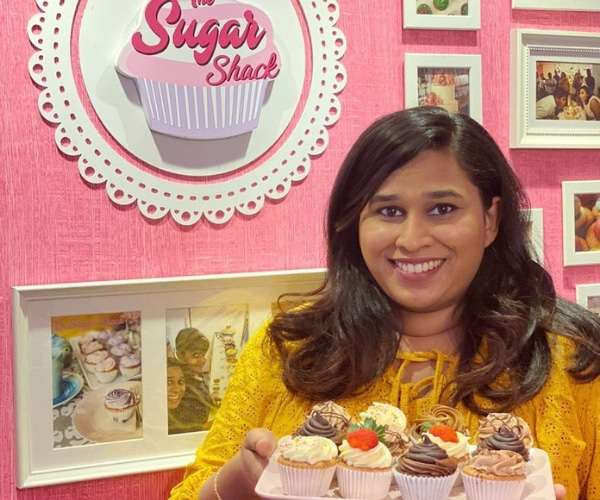 1.

If you could dis-invent a dish – what would it be?
I am not a big fan of Danish Pastries and Donuts, somehow, I just don't like the sweet taste and the pastry or bread-like texture. I wouldn't go as far as dis inventing it though, but that's one thing I can definitely do without.
2.

You biggest kitchen pet-peeve?
Washing up. I am a very messy cook and I never end up washing as I go, and end up with a huge pile of dirty dishes. Luckily my husband helps the dishes at home and I have staff to do the dishes in the café.
3.

What was The Sugar Shacks 'almost' name?
I almost called it Batter Bowl Bakery!! But it was a bit of a mouthful so settled on The Sugar Shack cos it had a nice ring to it. A Sugar Shack is actually a place where maple sap is made into Maple Syrup, so I thought it was nice name for somewhere that turns out delicious sweet treats.
4.

Did you grow up in a cooking family?
I definitely grew up around food. My family has been in the bakery industry for the last 70+ years and I always spent my holidays and free time at the bakery (mostly eating things). So, while I rarely ever got involved with cooking at home my childhood was highly influenced by food.
Oh, I live for dessert!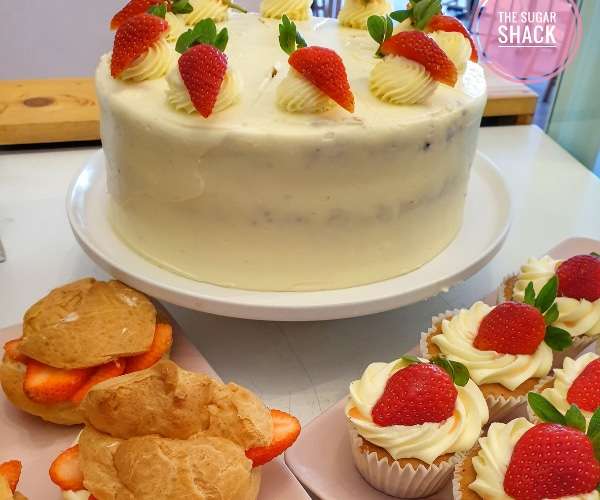 6.

Do you have a particular habit when you are baking?
Over the years I have tweaked my methods from the standard manner in which we all learnt to bake. I like how it works now so I stick to it. I write everything down, how much batter per order, how many or what sized tins we need to line, and tick each off as it goes in the oven. But the main thing is that while I am in the process of baking, I like to get in the right headspace, without getting distracted or disturbed so I can follow each step properly.
7.

Your proudest food invention?
I wouldn't call it an invention per se but our Milo Cupcake with a gooey Milo Centre would be one of my favourite creations from our cupcake range. I recently made a Banoffee Pie with a Salted Caramel twist which flew off the counter and was revered by our customers.
8.

What ingredient is underrated?
Salt! Especially in baking. A lot of people think you can just skip it cos you're baking something sweet. But I love the way salt brings out the other flavours.
9.

What are two ingredients that should never be mixed?
I recently had a Banana Nutella shake/smoothie. That was a big miss for me. Also, certain alcohol and chocolate combinations, like chocolate cocktails, I find that also a bit weird.
10.

What was your favourite childhood meal?
Dinner at my grandmother's house was always amazing. She would make super dishes like meatloaf, stew, crumbed fish with mash and veggies and dessert was always fruits or jelly with her homemade custard. She somehow always managed to curdle the custard and there were lumps in it, but boy was it tasty!
11.

If you had Rs. 500, what meal would you make with it?
I would definitely make Pasta. Maybe like a chicken & mushroom pasta in a creamy or half and half sauce. Believe me, it is doable!
12.

What is the most useless and useful item in your kitchen right now?
Most useful item is this amazing knife I picked up while travelling last year (although for the 1st month or so I ended up slicing my fingers every time I used it). Most useless item for me would be Moka Pot (the Italian stovetop coffee maker) that I got, dreaming of brewing my coffee every morning like the Italians. It's been sitting in a cupboard for 5 years watching me just grab a cup of tea at home and go to The Shack to have coffee from the machine.
13.

What's a meal you've tried and tested but failed in making?
Desserts I'm generally ok with and haven't had many disasters but I am sad to say my Sri Lankan Rice and Curry is terrible. My husband always cooks curry at home as his is way better than mine.
14.

If you had to serve only thing in your cafe forever – what would it be?
Our classic Sri Lankan Ribbon Cake. It still has that homemade feel about it, and hits those nostalgic notes and takes you right back to the cakes your ma or grandma would make when you were a kid.
15.

What would your last meal be?
Italian food. I'm obsessed with Pasta so definitely, my last meal would be Italian food. A nice antipasti platter paired with some good red wine, followed by a pasta dish and maybe a tiramisu or gelato & definitely a slice of my Ribbon Cake (for 2nd dessert).
16.

Easiest meal you'd whip up to impress someone?
Chicken pot pie (with store-bought puff pastry) accompanied with mashed potatoes and a fresh garden salad. Followed CBP and Vanilla Ice Cream for dessert!
17.

Your best baking hack?
Learn to judge by feel and sight. Each oven is different and I've found standard baking times never work for me. I prefer to trust my gut, judge by sight if it's baked and then slightly press the top to confirm. (my fingers are now used to touching hot cakes straight out of the oven now!) Once you try this a few times you get the hang of it and it's always better to rely on sight and touch than timing.