The Ella Town offers visitors an abundance of options in terms of where to dine. From cosy tea and coffee shops to cafes you can relax in after a long day of exploring – there isn't a cuisine or a suitable ambience you couldn't find.
In our 'Dining in Ella' series we will feature some of our favourite restaurants from our time in Ella.
AK RISTORO
A 10 minute drive away from the Ella Town, AK Ristoro is a popular restaurant nestled in an unsuspecting nook. Run by husband and wife duo, Krishantha Ruchendra and Akane Nagahiro, the restaurant opened back in 2014 and over the years has become a popular spot among tourists. Despite offering a multitude of cuisines the restaurant is known mostly for their Italian and Japanese menus that is personally curated by Japanese born co – owner Akane.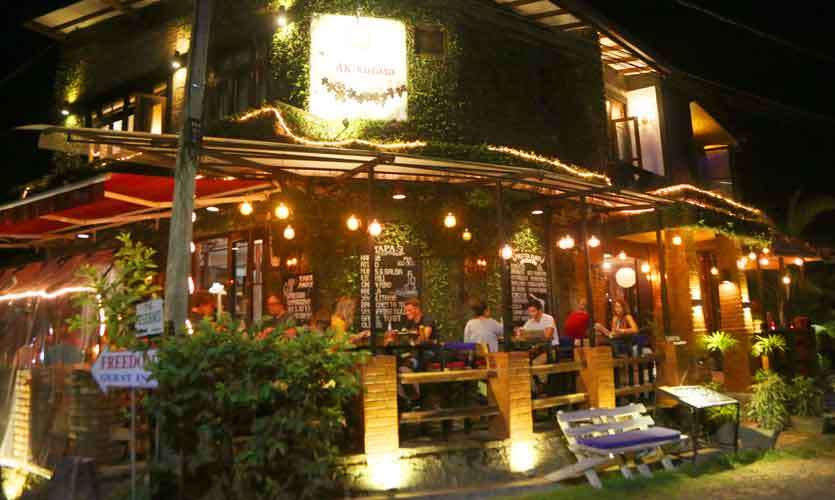 Ambience
Visiting AK Ristoro on a Wednesday night we were surprised to find the restaurant hosting a full house with guests waiting in line for a chance to be seated. They offer both indoor and outdoor dining but as Ella tends to get a bit chilly during the night we opted to dine inside. The restaurant has created a great ambience with dim lighting (you'll have to settle for your flash if you need food pictures!) and upbeat music. Despite being completely packed, we still felt like we had our own privacy and were able to relax after a long day of travel.

Food and Drinks
The drinks menu is mostly dominated by alcoholic drinks and house cocktails but they offer juices and sodas as an alternative. The food menu offers diners tapas, western mains, Japanese dishes, Sri Lankan rice and curry and a separate pasta menu.
The Tapas menu is categorised according to their prices starting from Rs. 200 and ending at Rs. 500. We tried their Yasai Itame (Rs. 400), Karage (Rs.500) and Ebi Chili (Rs. 500).
The Yasai Itame is a vegetable stir fry and was actually our favourite tapas because it was spicy and full of flavour.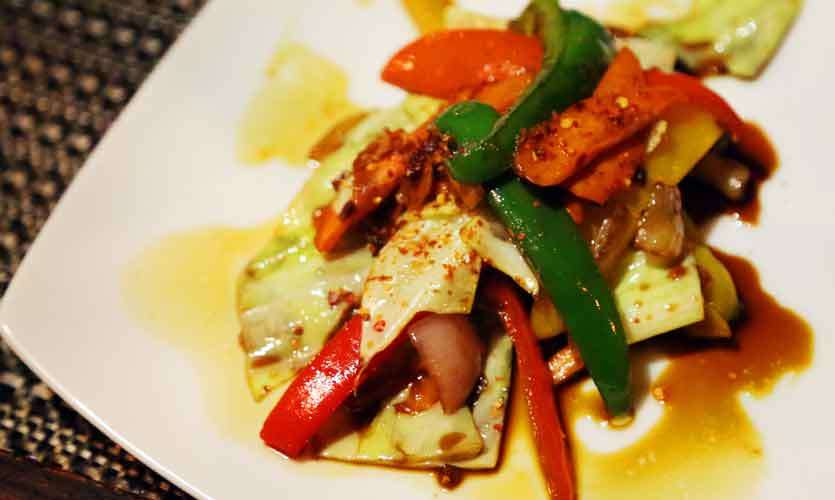 The Karage is a Japanese style deep fried chicken served with garlic sauce while the
Ebi Chili is pan fried shrimps in a sweet chilly sauce. Quite reasonably priced, they offer quite a lot in terms of quantity and if you order several dishes like we did – it might just fill you up before your mains!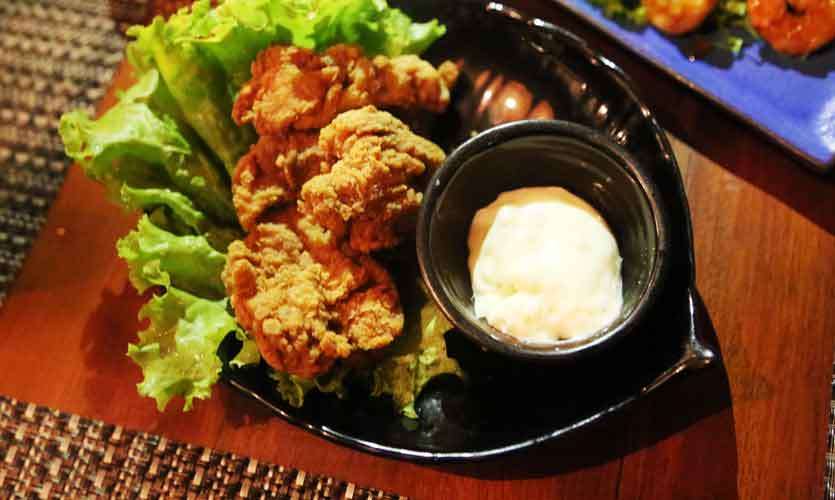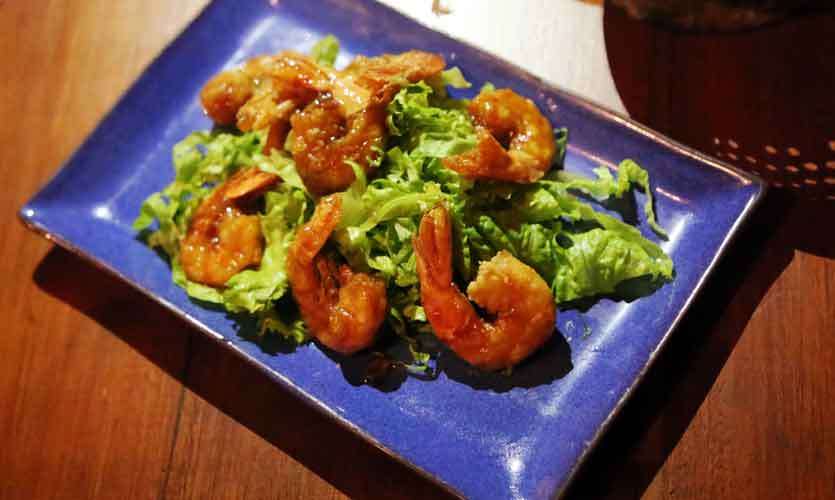 For our mains we tried their Chicken with Mustard Sauce (Rs. 950), the Spicy Tuna Roll (Rs. 1250) and their Shrimp and Mushroom Pasta (Rs. 900). It felt odd to eat Japanese in Ella because it's the least place we'd expect to find Japanese but since Akane personally creates and decides the menu the restaurant is well known for their Japanese dishes. The Spicy Tuna Roll wasn't particularly spicy but it was a pretty good dish as the pieces were quite large and there were plenty to be shared among three persons.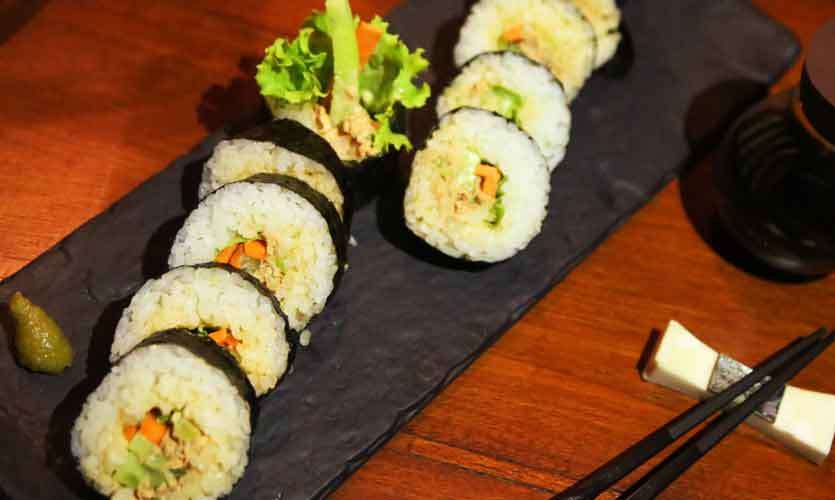 Italian is also one of their specialties and our pasta dish was what we enjoyed the most. Our cream-based pasta had plenty of shrimp and mushroom and was made with just the right consistency of cream where it wasn't too dry nor too watery. The pasta menu has nearly 20 different options and nearly every one of them was tempting.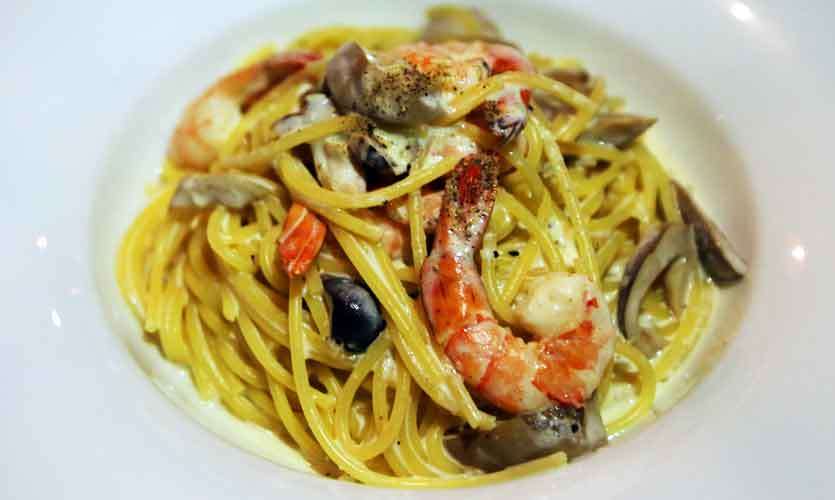 Unfortunately, the Chicken in Mustard Sauce was a disappointment. The dish is served with a bowl of rice but the sauce had an overpowering flavour of mustard that was difficult to get past even mixed in with plain rice.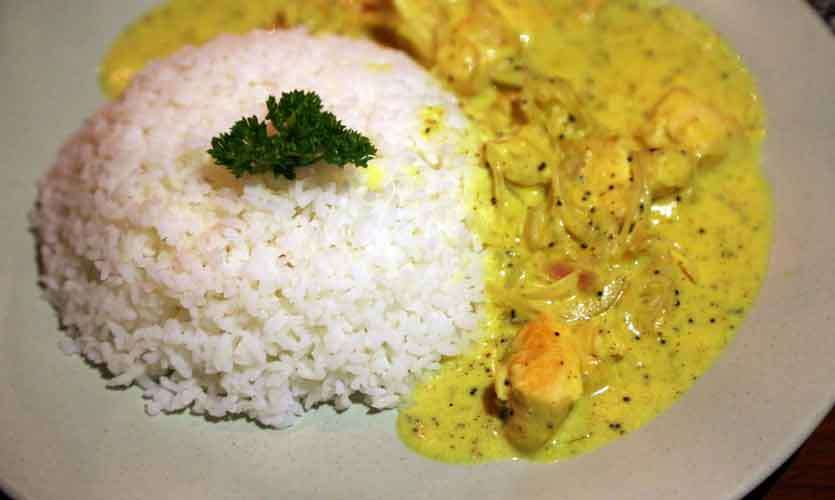 Nevertheless, we actually had a great food experience at AK Ristoro. Since we were a group of three, we ordered a main and tapas each but eventually we ended up with too much food because the portions are very generous.
Service
AK Ristoro had such great service. We were served by the friendliest staff who walked us through the menu (several times because we were very indecisive!) and ensured we had a smooth dinner. Despite it being a full house, our food arrived fairly fast and our wait wasn't too bad. The staff takes excellent care of their customers and keeps an eye out for the small things and went out of their way to make their guests comfortable like offering outdoor diners' blankets when it got too chilly.

AK Ristoro had such a great ambience and the food was pretty good. If we find ourselves back in Ella, it's a restaurant we'd happily visit again!
Photo credits: Dasun Muthugala and Theja Senanayake