For Ayesha Hiyaz, the idea for a home business started with a craving. Born and raised in Cape Town, South Africa – Ayesha moved to Sri Lanka when she married a Sri Lankan and has been residing in the island for the past decade. "Stuck at home during the lockdown – I got a craving for the cookies I used to eat at my home town – Cape Town. So just like everyone else during this time, I started baking!".
Initially, Ayesha had little baking experience. Previously she completed a course with a Cape Town chef on baking cakes but expanding from cakes to cookies was all trial and error, she says. "I had little experience, yes, but the cravings for my local baked goods was the motivation that kept me going. A very good friend of mine is also an excellent baker and she helped me a lot in perfecting the recipes. Many mistakes later – I can safely say we've mastered the art of making cookies."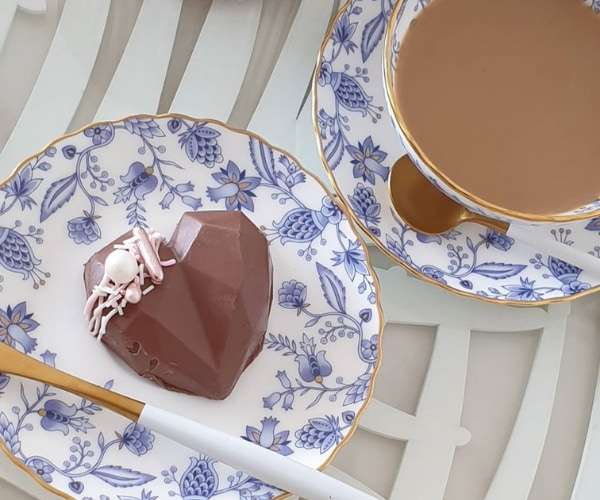 Cape Cookies was launched to the public in June with over 10 cookie flavours; Milk Almond, Butter cookies with Cadbury Chocolate, Almond Chocolate, Snicker, Cranberry, Caramel Squares, Toblerone, Coconut Chocolate, Mint Chocolate, Walnut Oaties and Chocolate Caramel Dip, as well as Lamingtons and Cinnamon flavoured cuppies with cream cheese topping.
The cookies are, in our opinion, the perfect size. The kind you'd serve on porcelain tea plates with a warm cup of tea or cold milk. We tried 4 different cookie flavours from their wide range and here's our verdict on Cape Cookies.
Butter Cookie with Cadbury Chocolate Bottom (Rs. 450 for 10)
This butter cookie was the best we've had. The butter cookie is the OG of the cookies and it's a favourite for a reason. Yet over the years, we've tasted our fair share of bland, flat butter cookies that have made us opt for other flavours instead. But as soon as we saw these butter cookies – we knew we were about to taste something good. These were melt-in-your-mouth perfect and they had a rich buttery flavour and a juxtapose of crisp and soft textures. Paired with the melted Cadbury chocolate at the bottom – these were the ideal tea-time cookies.
Snickers (Rs. 700 for 10)
This was personally one of our favourites and is attested by the fact that we ate all 8 in the span of 15 minutes. The snicker cookie is a chocolate chip cookie with peanuts and a chunk of melted Snicker bar in the middle as a surprise. While the outside is lightly baked, the inside is soft, gooey and chewy. We have one word to describe it – divine!
Cranberry (Rs. 600 for 10)
This was a crowd favourite and it's easy to understand why. These cookies were loaded with dried red cranberries and toasted cashew nuts and topped off with white chocolate and almond shavings. The dried cranberries add a contrast of sweet and tart flavours and the white chocolate topping was simply the bow on top of an already great cookie.
Chocolate Almond (Rs. 700 for 10)
Another one for the chocolate lovers – a chocolate cookie topped with more melted chocolate and almond slivers and dusted off with a bit of icing powder for a festive look. It was sinfully rich and decadent. The texture for this cookie was also a bit different from the previous softer ones as it offered a bit of a crunch as you go.

OVERALL
If you take your tea time seriously – these cookies are a must-try! We honestly loved these cookies and in our personal opinion, believe these to be some of the best in the market. The flavours and pairings are well thought out and perfectly executed and the cookie base is just buttery goodness. Despite being in the market only for a few months, Cape Cookies has already garnered attention and found repeat customers and we see a lot of potential for the home business to grow.
Cape Cookies takes orders via Instagram (@capecookies.sl) and all information regarding their pricing can be found on their page. There is a minimum order amount in place and they require one day notice for orders.