Are tomatoes a fruit or a vegetable? "A fruit!" exclaims Hilton's Executive Chef Robert Mujagic when the very question was put forward to him. "If anyone tries to tell you that tomatoes are a vegetable – tell them that they are very, very wrong!"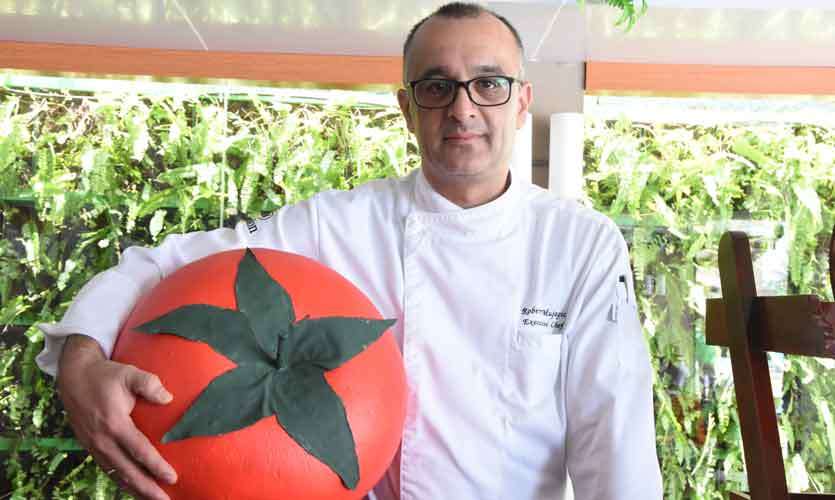 Promoting Hilton's #EatDrinkHilton, the month of March has one unique Flavour of the Month; Tomatoes! We were a little skeptic at first, after all, there are only so many things one can do with tomatoes. But we were happy to be proved wrong as Hilton's Il Ponte presented a 3-course specially curated menu with tomato starring as the main ingredient of the show.
We started our meal off with a Frozen Virgin Blood Mary which is frozen blend of fresh tomato juice, horseradish, ice and a hint of spices. The concoction was quite spicy and the acidity of the tomato allowed us to create quite the appetite for our food.
On cue came our mixed plate of appetizers. On our plate were 3 simple elements that worked beautifully together. The Caprese with marinated bocconcini and baby tomato with an aged peanut balsamic reduction, red pesto and pistachio olive oil, the Zucchini fries dusted with ciabatta crumbs and served alongside a sun-dried tomato dip and a Smoked Tomato Soup with curry leaf, buffalo mozzarella and spices.
We've certainly had our fair share of tomato soups and personally, we've never found a place that made us enjoy it. But Hilton's smoked tomato soup certainly takes the spotlight with how the smokiness cut off the general bitterness one finds in a tomato soup and the foamed curry leaf and smoked salt sprinkle, though subtle, went a long way in adding more flavour to the soup. The Zucchini fries were also one of our favourites. Perfectly crumbed, these fat fries were served with a deliciously thick sun-dried tomato dip that we couldn't get enough of.
Our mains brought in a more concentrated use of tomatoes with Tomato Gnocchi, Tomato and Pumpkin Risotto and Roasted Tomato Pappardelle. The Tomato Gnocchi was served with a tomato salsa and rocket. The gnocchi was super soft but what tied the dish together was the surprise bed of buffalo mozzarella that is hidden underneath the gnocchi that cut through the acidity of the tomatoes. The heaviest of the main dishes was the roasted tomato pappardelle that was served with a cherry tomato ragout and prawns. Our favourite among the three was the Tomato and Pumpkin Risotto made with sun-dried tomatoes and roasted pumpkin and was served with a light touch of parmesan cheese and a soft-boiled egg. The flavours of the risotto was amazing and Hilton really showed technique in how they balanced out the sharpness and slight bitterness that tomato can bring when used as a sauce or pesto.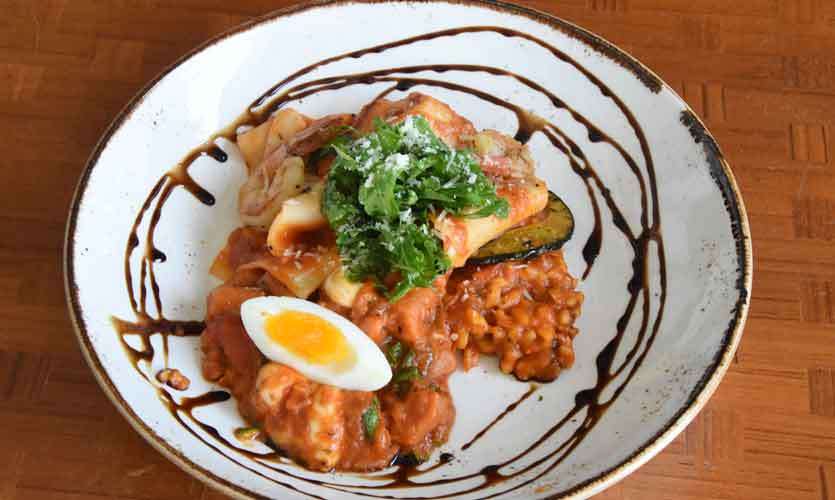 We've now consumed more tomato in one meal than we've had in our other meals the entire week and dessert promised us more tomatoes! Desert presented a Flourless Dark Chocolate and Tomato Cake and we were more than skeptic about the combination of chocolate and tomato together; especially in the form of a cake.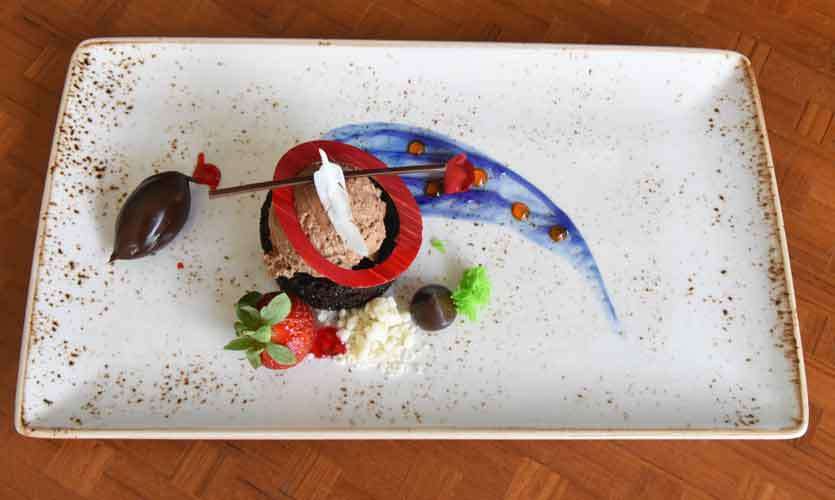 But Hilton has proved to us that tomatoes are a surprising fruit and wow-ed us with a dessert that really deserved high praise. Despite having used baked tomato in the cake, no one could actually taste it. There was a subtle hint of flavour that pointed towards something extra being used in the cake than its usual ingredients but there was nothing to point it towards tomatoes except the knowledge that it was used when you read the menu. Moreover, the cake was flourless which was impressive (and as equally delicious as a cake with flour!).
All in all, Hilton's new flavour of the month really veers on the adventurous side. They've taken a simple ingredient that is commonly used in limited dishes and shown a whole new adventurous use for it. I mean, tomato and cake? Who would have thought!
This specially curated menu can be found at Hilton's Il Ponte restaurant which also launched its new menu that's worth checking out. But other tomato-based dishes can also be found at the Graze Kitchen and Café Kai during the whole of March.
Pictures by: Nimalsiri Edirisinghe