Befitting the UN Women theme for International Women's Day 2021 'Women in Leadership' – the Yeheliya Foundation is asking the big question; are there enough women in leadership in Sri Lanka? Despite eagerly congratulating ourselves for having appointed the first female Prime Minister of the world back in 1960, Sri Lanka is currently ranking at a sad 182 among 193 countries on female representation in Parliament, below even the more conservative countries of Pakistan and Bangladesh, according to the Inter-Parliamentary Global Ranking.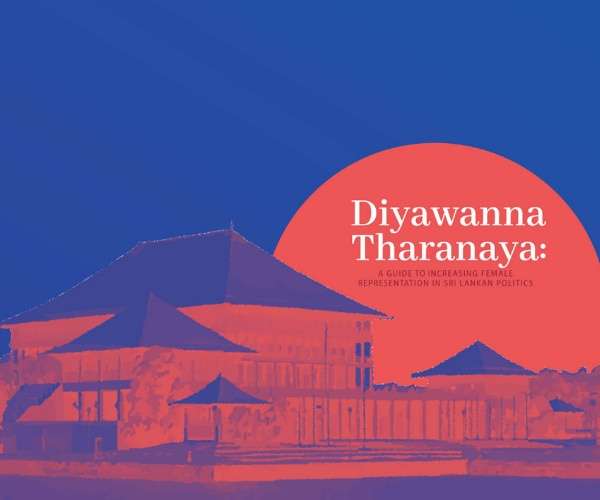 At the most recent 2020 Parliamentary Election, Sri Lanka saw the largest number of female nominations in history - yet the five major political parties in Sri Lanka collectively only nominated 59 women, amounting to less than 6% from their total of 1082 candidates.
With over 52% of Sri Lanka's population consisting of females, there are only 4% of Parliamentarians to represent them. Despite women being the majority population– why are we still not seeing more women in political power? 60 years since the first female Prime Minister of the World – what has stopped us from appointing another?
Yeheliya Foundation launches 'Diyawanna Tharanaya'.
Asking, investigating and answering these questions, the Yeheliya Foundation launched its signature project 'Diyawanna Tharanaya' aimed at improving female participation in governance. 'Diyawanna Tharanaya' translates to 'Crossing Diyawannawa' and is symbolic of the hurdles and barriers women face in entering politics and crossing the Diyawannawa Lake to find their seat at the Parliament.
The 3-phased project took place over the course of a year, beginning in 2020 and ending in early 2021. The project, coordinated by the Foundation's Head of Research Nimansa Thalduwa, was carried out over three levels that examine the rationale behind the unwillingness of young women to enter into politics as well as the very biases and discriminations that female politicians already in power are subjected to.
"The lack of female representation in politics has always been a hot topic, but there has never been an open dialogue that catalogues this problem at different levels; starting from why young girls don't aim to be politicians and ending with why female politicians who do come into power hardly seems to stay in power" shared Naushalya Rajapaksha, Attorney-at-Law and Founder of Yeheliya Foundation.
The first phase of Diyawanna Tharanaya aimed at examining on a grassroots level why the female youth are hesitant to enter the political sphere. This was done through an open dialogue with various civil rights activists such as the members of the Youth Parliament, Tharunodaya, Women's Voice in Politics, University Unions and UN Youth Delegates. "During our open dialogues, something that stood out to us was when one girl stood up and said 'I was told I'm too fat – I don't really think I can enter into politics here in Sri Lanka'. It's a very simple answer but I think she was actually highlighting a key issue for women in politics; that there are implicit biases based on a woman's physical attributes for her to be successful in politics."
The second phase of the project involved discussions between various civil society organisations such as the Centre for Monitoring Election Violence (CMEV), People's Action for Free and Fair Elections (PAFFREL), representatives of Indian political parties, local community leaders and political activists to deliberate the knots and tangles of the current electoral and political system that is antithetical in aiding women to come up in the world of politics.
"The current electoral system hardly has any checks and balances. There is a pressing need for a transparent criterion or a point system that will prioritise people – both men and women - who are educated, qualified and experienced to have more opportunities to be given nominations. Right now, no one really knows what qualifies you as 'in' and what qualifies you as 'out'. It's all very arbitrary." highlighted, Tharangee Mutucumarana, Attorney-at-Law and Director, Yeheliya Foundation.
At its final phase female parliamentarians such as State Minister. Dr Sudarshini Fernandopulle, MP Dr Harini Amarasuriya, MP Thalatha Atukorale, MP. Rohini Wijeratne Kavirathna and Mrs Nirupa Serasinghe engaged in conversation over the challenges and issues faced by women in governance.
Concluding their project successfully, the Yeheliya Foundation will execute their final step by launching an Outcome Document that consolidates all findings from their open dialogues including the inclusion of viable recommendations that can be used as a guiding tool to formulate an action plan to change the course of the political culture in Sri Lanka.
Putting the findings down on paper, in black and white, is the 'most important aspect of this project' shared Naushalya. "Amidst all the discussions and talks about better representation of women in policy and governance, we believe that when it comes to implementing actual change and reaching out to the policymakers and those in power, a document that highlights not just the issues but also the feasible solutions
for them, might just be what helps lessen the gap."
Among the many recommendations highlighted in the Outcome Document, the Foundation calls for a one-third female representation in the national list seats and recommends a mandatory female quota to all political parties as well as the introduction of uniform selection criteria on a points-based system. Additionally, the Foundation stresses the importance of passing the Election Campaign Finance Bill with immediate effect to ensure an equal competitive ground for all candidates. They also highlight the need for election media guidelines that ensure that female candidates and female parliamentarians are given publicity and coverage equally and fairly on their input on all subjects, not just merely on the issues faced by women.
"We found it very interesting that when female politicians are invited to talk on TV, they are only ever asked about female-centric issues but on issues of economics, finance or development they are hardly ever asked for their input as if it is beyond them. As if the only thing they know of are women and child issues" added Narthana Wevita, Head of Media, Yeheliya Foundation.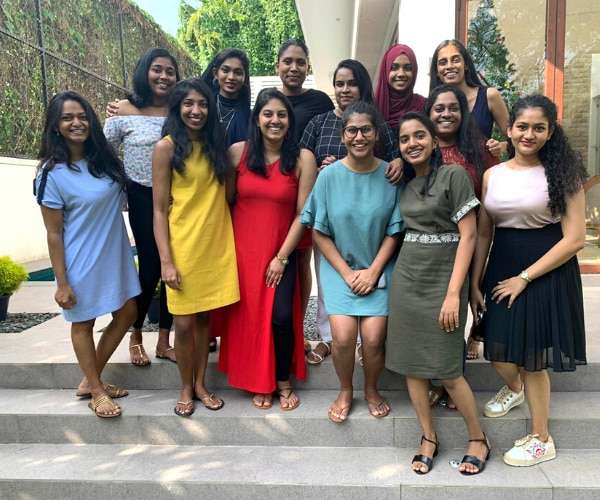 Actively involved in drafting the recommendations, Attorney-at-Law and Director, Yeheliya Foundation Chamathka Ratnayake shared that "One of our main recommendations is to pass the Election Campaign Finance Bill because putting a cap on how much a candidate is allowed to spend on his or her campaign ensure an equal competitive ground for everyone. For most of the nominees, it's the gap in being able to spend lavishly on campaigns that stops them from getting voted – even though they are beyond qualified for it."
The Yeheliya Foundation hopes to use this Outcome Document to lobby with the government, political parties, politicians and high-ranking public officers to implement key changes that would improve the current political system in order to better facilitate and empower women in governance.
"Some of these recommendations will take time while others are very simple – they are actions that can be taken overnight with just a signature from the right person. Our vision for 2025 is to get these recommendations implemented so that by the next election, we'll see not just a record number of female nominations but also more concrete representative appointments in governance" added the Foundation's Head of Human Resources, Promodya Dayawansa.
The Outcome Document will be launched on the 13th of March 2021 at the Bandaranaike Memorial International Convention Hall (BMICH) from 3pm to 5pm. The event will be attended by Parliamentarians, officers from the private and public sectors, NGOs, representatives from the Elections Commission of Sri Lanka, representatives of civil society organisations along with youth activists and community leaders.
'Diyawanna Tharanaya' was an independently funded project by the Yeheliya Foundation. Founded in 2018, the Yeheliya Foundation is a non-profit organisation compromising of lawyers and law students working towards community development that goes beyond gender and age. The Yeheliya Foundation has implemented various projects since its inception advocating against ragging, sexual abuse, domestic violence, cyber crimes and many more. They have conducted legal awareness programmes and has engaged in multiple discussions with policymakers and politicians on addressing the lack of representation of women in governance.