Tsing Tao is a fine-dining Chinese restaurant that serves both authentic and Sri Lankan Chinese cuisine. The Colombo branch of its sister restaurant 'Loon Tao' in Mount Lavinia, Tsing Tao has created a name for itself since its beginnings in 2014 as a go-to restaurant in Colombo. Welcoming guests post lockdown, Tsing Tao now takes every precaution and follows strict hygiene and safety protocols to ensure guests can enjoy a safe dining experience.
The food and beverage menus are sent to the customer's phone via Whatsapp, all staff members wear gloves and masks at all times, the tables are sanitized and set up only once the guests are seated and all cutlery has been sanitized and sealed in paper bags that are opened and touched by guests upon dining. Following the introduction of their new menu in 2020, we dropped by Tsing Tao for an early lunch.
AMBIENCE
True to the cuisine it serves and represents, Tsing Tao has created its interior with traditional Chinese colours, furniture and cultural pieces. In a dark palette of black, gold and deep red the restaurant exudes a very warm and secluded ambience. The seating space is cosy and comfortable and flexible enough to accommodate both small and large groups.
DRINKS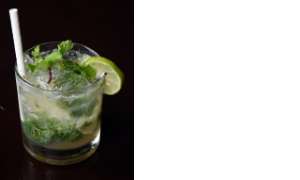 Tsing Tao has a fully operated bar and offers an extensive bar menu with speciality cocktails, mocktails and other beverages. Given that it was a hot day we opted for a Virgin Mojito and a Chocolate Milkshake (Rs. 580) The Virgin Mojito was fizzy, tangy and refreshing and was the perfect thirst quencher for our tropical heat while the Chocolate Milkshake was sweet and creamy.
FOOD
Tsing Tao recently introduced a new menu in early 2020 keeping a few of its crowd favourites and adding in new and exciting dishes. Offering nearly 150 items on the menu, selecting our dishes for lunch was something we took an abnormally long period of time in deciding considering the fact that almost every dish sounded tempting enough to try.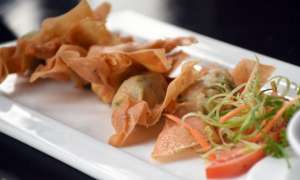 As starters, Tsing Tao offers salads, soups and small appetizers. We opted for a small portion of their Deep-Fried Chicken Wonton (Rs. 890) to start our meal off. The wontons were crispy fried goodness packed with a minced chicken filling and served with a sweet chilli dip. It was dainty, delicious and absolutely appetizing.
For our main meal, we decided to order rice as our choice of carbs selecting their Thai Style Seafood Fried Rice (Rs. 990) and Kimchi Fried Rice (Rs. 590) for variety. As accompaniments we opted for their Hot Butter Cuttlefish (Rs. 1290), Diced Chicken with Dry Chilli Cashew nut (Rs. 790) and Mixed Mushroom in Oyster Sauce (Rs. 1190). The menu includes seafood such as prawns, cuttlefish, crab, lobster and fish and meats the likes of chicken, pork, lamb and beef cooked in various styles. They also offer Hot Pot and sizzling dishes.
Hot Butter Cuttlefish is synonymous with Chinese cuisine so we wouldn't be writing a proper review if we didn't try the HBC at one of Colombo's most popular Chinese restaurants. Strips of crispy battered cuttlefish were tossed in a heaty mix of onions, chillies and spring onions and the cuttlefish itself was prepared perfectly – soft and melting in the mouth.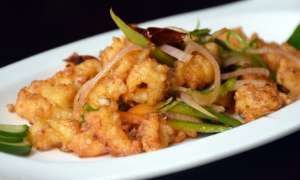 The Diced Chicken with Chilli and Cashewnut was a terrific combination of flavours. The feature that made the dish stand out was the sauce in which the chicken and cashew were tossed in. Made with a mix of oyster sauce, soy sauce, sesame oil and Chinese wine- the sauce tied the entire dish together. The dish was quite mild in terms of spice but is a great choice to combine with a hot and fiery carb.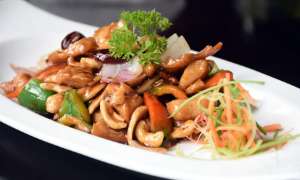 As a vegetarian dish, we opted for their Mixed Mushroom in Oyster Sauce on the recommendation of their staff. At Rs. 1190, it's the most costly vegetarian dish on the menu but when we got a dish packed with different types of mushrooms such as button mushroom and black mushroom (fungi) – we understood the high price. However, we weren't big fans of the dish as it tasted quite bland for our palate.
The two styles of rice each brought their own unique flavours to the table. The Thai Style Seafood Rice, though rather mild in flavours, had an abundance of seafood. More Korean than Chinese, the Kimchi Fried Rice presented more interesting flavours with a surprising kick of spice to it. Using either imported kimchi or homemade in-house kimchi, since it is heavily salted with a varying selection of seasonings such as gochugaru, jeotgal, ginger, garlic and spring onion – the rich flavours of this dish mixed and tossed in with rice was an enjoyable treat.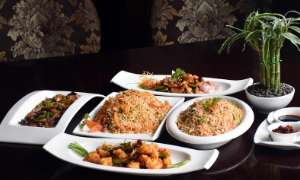 For dessert, we tried their Sago Cream with Honey Dew Mellon (Rs. 390) and Sesame Date Pancake with Vanilla Ice Cream (Rs. 390). While desserts aren't so big in Chinese cuisine, cold pudding desserts are a preferred favourite. The Sago Cream was refreshing and cold with soft, creamy sago and a strong taste of honeydew melon. While it was light and uncomplicated, the very present essence of honeydew melon quickly satisfied our sweet cravings and left us unable to finish off our dessert. On the other hand, the Sesame Date Pancake was small and sweet with pocket-size triangles of date pancake served with vanilla ice cream.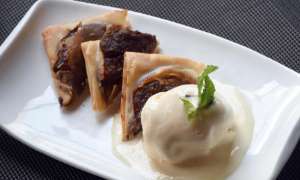 SERVICE
We were super happy with the service at Tsing Tao. As overwhelmed as we were with the menu, it was great to have the staff help us out in selecting our dishes. We had one staff member assigned to us who was very attentive to every detail of our meal, ensuring we had everything we needed while giving us our privacy and space. What made our meal perfect was also the speed of service. We got all our dishes in quick, rapid succession. Within 10 minutes of ordering our appetizers, it was on the table and just as soon as we'd finished off our last wonton, our main dishes were served hot off the pan one after another with absolutely no lag in between each course. We were super impressed that we managed to wrap up our lunch in just an hour.
OVERALL
Overall, Tsing Tao is one of the only few Chinese restaurants in Colombo that has kept its same consistency and reliability throughout the years. We had such a smooth, easy meal with good food and great service and no complaints (a rarity – we assure you).
Parking Facilities: Available at the Racecourse
Toilets: Available. Clean and Sanitary.
Opening hours:11am – 3pm (Lunch)/ 6 – 11pm (Dinner)
Address: 2nd Floor, Racecourse Promenade
Reservations: 0767190735
Features: Dine in/Takeaway
Price range: $$
Payments- Cash/Card

Pictures by Kushan Pathiraja