It seemed like yesterday you were walking your five year old through the school gates to their first day of school. Carefully plaited pigtails flying with each skip, folded handkerchief tightly pinned onto, gleaming white uniforms that would hopefully survive the busy school day. It was a day filled with such promise and happiness at the journey begun.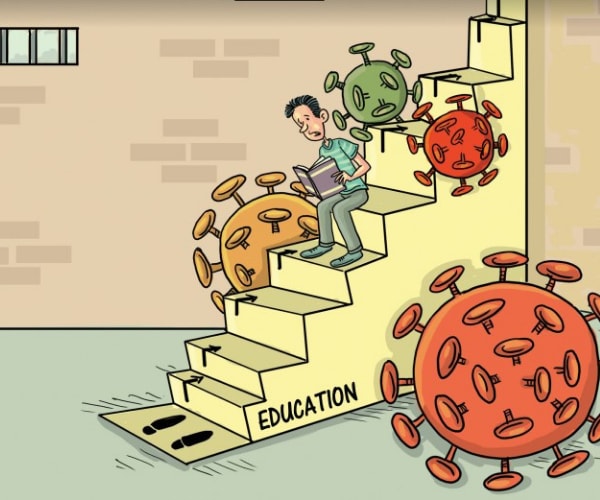 Fast forward to today and suddenly it's graduation, your five-year-old is now a grown teenager, prepping for exams, deciding on careers and choosing universities. That journey began twelve years ago and is winding down to its final destination, university and the great beyond of life. In any ordinary year, this would have been a time of rejoicement. School leavers will be finishing final standardized exams, celebrating the last few days of their schooling life with the end of the year balls and graduations. Revelling, reminiscing, those final school days will be filled with valiant youthful escapades of bittersweet moments, at the ending, the passing, of their great "schooling" days.
Unfortunately, the graduating class of 2020 and 2021 were faced with a tomorrow like no other, a spasmodic lesson in the bitter reality of life before even leaving the safe haven of their homes. Coronavirus ravaged the island, the world and their passage out of the nest was indeed going to be a bumpy one and not exactly how they envisioned it would be. As the war against the virus continued and lockdowns and quarantines became a common way of life, it was right to query,…whether the graduating seniors could even leave for their aspired universities?
In ordinary times, this is already an emotional time for all parents as their children loosen the familial ties to begin their life journeys. To release them into the world fraught with a global pandemic putting their health and safety at risk is indeed a difficult decision to make. Whilst your parenting brain understands that for your child to achieve a higher quality of life, education is the answer to their financial freedom, your heart baulks at the rising covid cases and the untimely deaths, forcing us to rethink about our graduating seniors..should we send or not?
"We opted to send our daughter back to the UK in the month of September. Also, the decision was easy to make once we knew that the university, which she is studying is refunding the quarantine cost. Which is a huge benefit for us parents who are from countries such as Sri Lanka. Since my daughter is an Architecture student, working online was quite difficult. Hence kids prefer physical lessons along with studio time. I think it depends on each course. As for me, I didn't want her to go, but I can see they are missing out a lot by just sitting alone in a room on their laptops" says Chandi, mother of a third-year Architecture student in the UK.
As the Covid numbers drop and dip with every twist and turn of the mutating virus, so do the policies in place for accepting foreign students. Whether they are new students or returning ones, the process is filled with uncertainty. Whilst the U.S.A, Canada and the UK accepted a trickle of visa needing foreign students, Australia has put a definite stop on any students entering the country, dashing the academic dreams of many university hopefuls, whose first choice in the past has included the popular Australian programmes.
Entry visas are also only issued to university students and not for anyone else, therefore, robbing all parents of the bittersweet opportunity to settle their children in their new surroundings.
"With this pandemic, my main concern is the cost of airline tickets and quarantine costs. I am also sad that I won't be able to travel with my daughter to settle her in her new life as a university student. We are happy to send her next year to the university of her choice as we trust her to be safe and follow all the safety guidelines" says Niki.
It has been two years of education uncertainty for all prospective students since the onset of the pandemic last year, with many students restricted by quarantine rules and regulations and not being allowed to leave the island. For many, the first year of university was spent in the constrictive confinement of their bedrooms in their home country by following lectures online at unusual hours, whilst their parents were still obligated to pay foreign rates. This was not how any university student envisioned their monumental first year in higher education to be. But as Dilum, parent to a university student in Canada, commented, this experience has in fact made our children more determined and motivated to achieve their dreams.
"We went ahead with applying to Canada and my son secured his Visa in time for the Fall 2020 Semester. However, even though he could travel out from SL, Canada was permitting entry for only essential travel. Nevertheless, they permitted students to start the course online. Many features were made available, considering students living in countries in different time zones and challenges with regard to connectivity etc.The timing of lectures for us in SL was horrible, where my son was up during the night. Exams at the wee hours of the morning seemed to be his biggest challenge, as he would always feel not quite wide awake and not at his peak as he would otherwise be. Two semesters went by and he finished his 1st year of uni in the comfort of his room; and lost forever the most unique, memorable 1st year of uni! Canada is now accepting students fully vaccinated and have followed the set-out quarantine protocol. At the moment my son is waiting for his second jab. All in all, so much anxiety, disappointments and negativity ….. the only positive being, hopefully, will be making us, especially the kids, more resilient and seeking to grab any and every opportunity left around" adds Dilum.
We are fighting an intangible enemy, a virus getting stronger with our every strike. The only way we can help our children who are the future of our own country is to set forth proper policies, correct modes of implementation of vaccines where the right groups of people get vaccinated in a timely manner. At the beginning of this pandemic, we enforced lockdown curfews without a second thought to our children's education so that we could protect ourselves and our elders. We asked the children to forgo normal school years, of friendships, to miss out on important milestones to overlook sporting and arts abilities so that we could be protected. So now it is our turn to step up, it is our turn to make sure we get our vaccines, to not abuse lockdown rules so that the country as a whole can come out of this crisis, and that our children can get on with their lives. The unfolding university drama has still not reached a conclusion, especially in the present environment with the Delta variant ravaging the country and putting our island on the red list for many nations. Students who would have usually looked forward to uni will now have to think about a number of other factors like PCR tests and probably constant testing while at uni. Every day is a waiting game, a day of wishful thinking, a day filled with uncertainty and tension for these expectant university students. All they simply want is a chance, an opportunity to complete what they have been preparing for their whole lives, to fulfil their dreams...