Don't we all recall with some childish wonder, the food vendors that made our evenings so delectable? Whether they travelled on foot, cycled or drove expertly through the streets of Colombo - adults and children of all ages, would rush out hoping to grab a bite of the treats they had on offer. From the ordinary 'Bombai-Muttai' seller to the elaborate bakery van with freshly baked pastries, the delight of enjoying a snack outdoors (communal chatter of family and neighbors included) are experiences that most of us refer to when we chat about the 'good old days'.
With countless upscale restaurants available both locally and world-over, dishes have become edible works of art with prices to match. Wouldn't you agree however, that in order to truly savour a meal (that won't be easily forgotten) the experience needs to go beyond what one sees and tastes? The crackle of meat on a grill, the sizzle of seafood against a hot wok or the trickle of tea being poured into cups - proves that even sound and atmosphere engage the body's desire for a droolworthy mouthful. Consider then, the simplicity of hearty food served up by a food truck, at a scenic local spot. Mouthwatering 'meals on wheels' with luring smells to tickle your tastebuds and a good amount of the great outdoors to accompany each bite - now, doesn't that sound delightful? We think so too!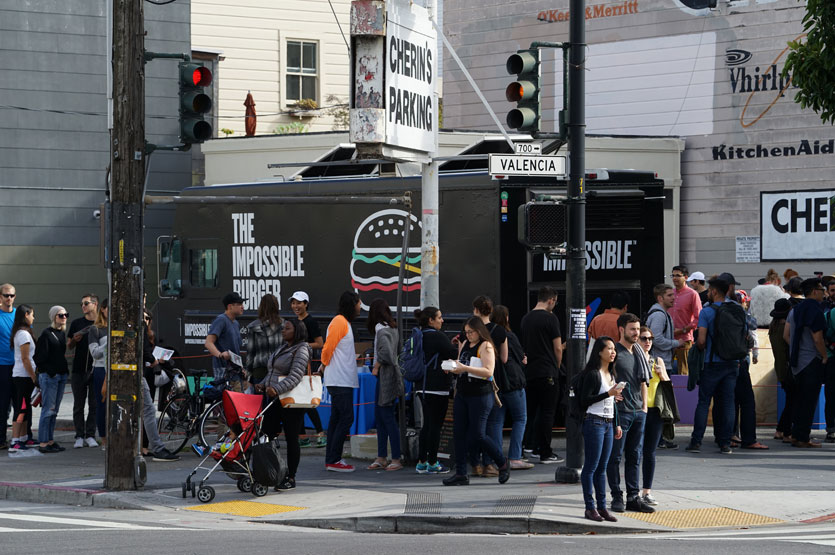 Plan locations and know your customers.
Being a lot more versatile than your typical brick and mortar restaurant, food trucks are now reemerging in sunny Colombo and it seems the ideal time to join the comeback. The local scene has unquestionably been revamped since the days when the bakery and isso vadei or ice cream carts began indulging us. Now we have mobile eateries such as Bencita on Wheels and burger truckers like KGN Burgers, taking the lead from global pioneers by venturing into the trendier upcycled lorries or converted minivans, with logos, graffiti and neon signs to complete the look. Great service coupled with a cool aesthetic is a recipe for success, but dishing out some yummy meals, whilst getting a chance to receive firsthand feedback and satisfied smiles, must make the journey sweeter.
Before we mount the bandwagon though - let's get real.
Setting up a food truck vs. your typical eatery - what are the plus points? Well for one, it can be an affordable startup. Some of the best food trucks in the world, in fact, have had humble beginnings. With LA being dubbed the birthplace of the food truck obsession, trendsetters in the USA are serving up street grub which acquire ratings on Yelp that put them on par with gourmet restaurants. Top LA names like, Eggslut, Curry-Up Now, The Halal Guys and numerous others, amassing cult followings and an ever increasing clientele, have now expanded to fully-fledged restaurants with a lot of their success owed to their minimal, budget-friendly early stages. Quirky branding, deliciously inventive food and being social media savvy can take you quite the distance, it would seem.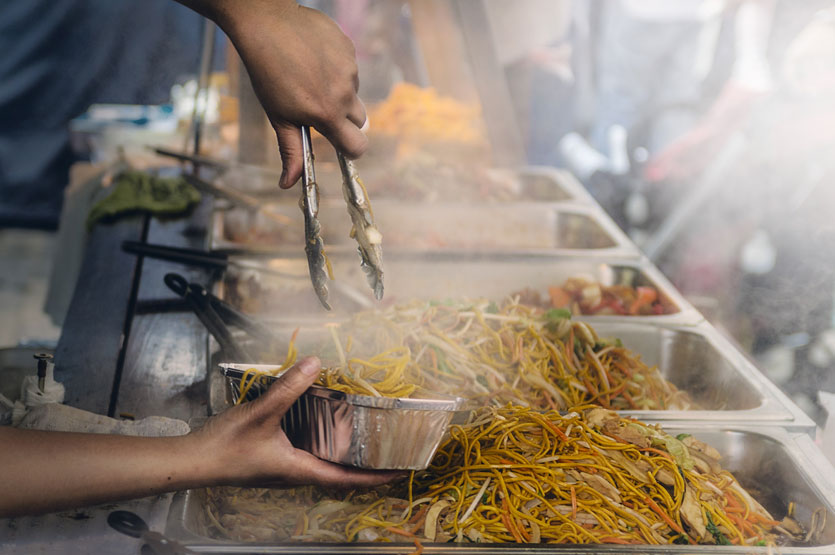 Serve it up fresh and friendly.
Okay, back to a local context! How do you go about setting one up?
Upon obtaining required permits from the Municipal Council, you can map out a couple of ideal service locations and set up free social media accounts to create hype and spread the buzz about your new venture. It's important that people know who you are and where you will be dishing up deliciousness, around town.
Next, a look at equipment. This can be comparatively basic, bearing in mind that ingredients should be prepped off-site and in advance, daily. Begin with a simple ergonomic layout ensuring a working triangle between the fridge, (produce storage) the grill, (or stove) and an ideal double bowl washing station. Set areas for plating that include a quick-reach box for condiments and sauces. Establish a clutter-free service area and invest in an affordable POS system that is user friendly and efficient. It will make orders and sales more seamless and help keep track of cash flow.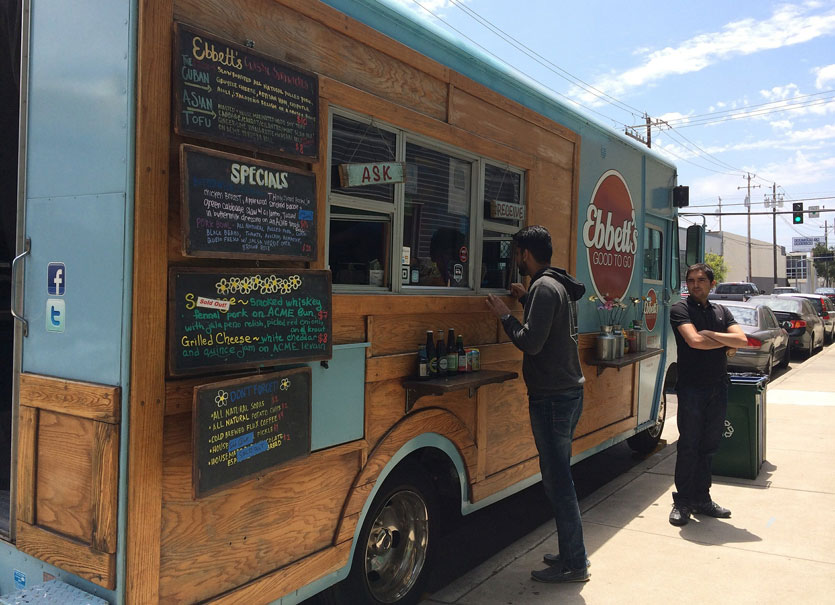 Work the signage to tell your story.
Coming up with a menu can be as easy as starting with a familiar base, like the humble hotdog, cheeseburger or sandwich. Mix in a few gourmet ingredients, a pinch of fun and unpredictability and top it off with a signature sauce. The options are nearly limitless. Learn about ingredient sourcing and always test your dishes. Be sure to use all the constructive feedback you get to improve your product. Prepped ingredients and a standardized meal production and assembly outline will make training the crew stress-free, as well. Find a fun way to display your menu outside and get creative. Limiting dishes to ones you can specialize and reinvent, will ensure gastronomical glory but as always, consistency is key.
You're probably wondering if there are drawbacks to setting up a food truck. As with anything, if things are not planned out properly- there can be. Many food truckers concede that rush hour will peak sales but also increase the heat in the kitchen (pun intended) - so make sure to have a clear plan for order flow. Focus on exposure: think location, location, location and consider an area for queue build up. If you sell out before closing hours, let hopeful customers know by putting up a sign and avoid breaking a few hungry hearts. Remember that the idea is to enjoy the journey too, so do celebrate even the smallest of victories with your team. Hard work will pay off eventually and although there will be more than one bump along the way, who's to say where the road may take you, when you are fueled by the love for food.