The COVID pandemic continues to disrupt and impact many facets - economically, socially and politically - on a global scale, leaving in its wake a plethora of challenges that countries are struggling to handle. The education system - unprepared for the almost instantaneous need for a complete upheaval of online education delivery - has had its scales tipped. In the higher education world, classes and assessments have been shifted online since last year and considering that the pandemic shows no signs of slowing down in most countries, will undoubtedly continue that way for the foreseeable future. For international students especially, the news is daunting. Forced to pay full fees - much higher than what local students pay - these students feel robbed of a holistic university experience.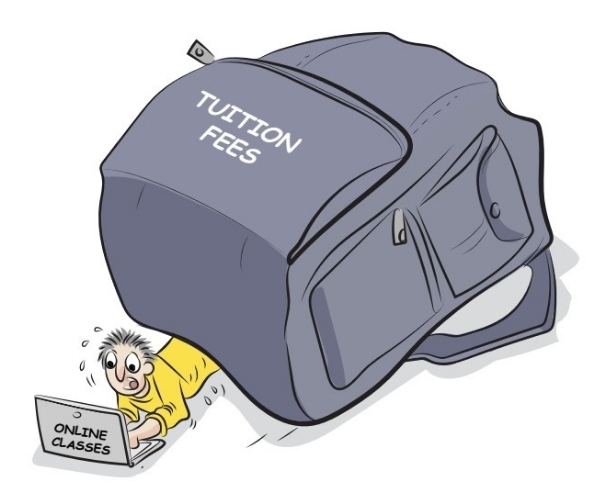 In a recent survey by Quacquarelli Symonds (QS), a provider of services, analytics, and insight to the global higher education sector, 75 per cent of international students said tuition fees should be discounted if they have to study online because of the Covid-19 pandemic. Prospective students overwhelmingly backed reducing tuition fees by at least 30 per cent if traditional on-campus learning is still not possible when the next academic year starts.
The global snapshot
Nevertheless, many countries have launched an all-out campaign on their commitment to attracting international students. The UK, for example, has been looking to offer additional funding, streamlined application processes and extended visa schemes for international students. In the US, the number of international students applying to US schools dropped by over 40% last year and 90% of US schools reported a big increase in international students deferring offers or taking a year off. Canada also saw a drop of between 20% and 30% in international student enrolment between the 2019-20 academic year and the 2020-21 academic year because of the COVID crisis. The countries have been considering offering international students attractive incentives that might persuade them to apply.
In Australia, international students who remained in the country continued their studies remotely, and in some instances, with limited classroom contact. Those who left the country during the pandemic, however, are still barred from re-entering Australia. While plans are still being put into place, "public health experts have advised the Australian government to proceed with caution to prevent the spread of new variants. In a recent budget report, the government anticipated international students would not return in large numbers until mid-2022". Meanwhile, Malaysia has been allowing international students into the country since the beginning of the year - occasionally barring students from some countries due to the state of the pandemic in their respective homelands. The protocols, nevertheless, have been quite stringent.
Adapting to a new normal?
Speaking to the Daily Mirror Life, Shakoor Wadood, Director at Global Startup (PVT) Ltd stated, "The pandemic has most definitely changed the phase of education, especially for third-world countries like Sri Lanka. I completely understand the frustration behind the transformation from physical education to virtual, but let's face it, it's not just the foreign universities that are operating online, the entire world has been transformed into digitalization. However, it's a hard hit for us because we have never been adapted to the virtual world. Learning and getting adapted to it by itself was highly stressful. So when these foreign universities say virtual education, this is the image our public has. That is where we need to clarify that it isn't the same".
Wadood reiterates that many countries have been way ahead of the curve in online education delivery. "First-world countries have always maintained a clean balance between physical and virtual education. Distance learning has been a part of their systems for years even before the pandemic, so their ways are very smooth and not at all like the Sri Lankan system. Pandemic or not, adapting to both has been a compulsion to every student for years now. When Covid-19 hit, they were more than ready to switch to remote education because unlike for us, it wasn't something new to them. The operations through software such as Moodle and Blue Jeans have been a part of the education from way before and are very swift. Supervisors and authorities are available to respond and help virtually at all times. It's nowhere close to our system. Another reason for parents being frustrated is the lack of awareness of several things. I would say that partly comes from misleading information that they have received from unreliable sources and partly due to ignorance".
"Firstly, countries like the USA, UK, Canada, New Zealand, and Australia have already begun to open up their Universities. The physical classes in many institutions have come into effect already remaining in compliance with the safety parameters of course. No, it is not as it was pre-pandemic, but it's definitely a start. Besides, the majority of students who are studying now in this kind of environment with a mix of both physical and virtual classes find this system more preferable. What people need to understand is studying in a foreign University is not just about the education received, it's all about learning from a different culture, adapting to the other country, and a lot more. Students do not have to study online from Sri Lanka, they can move to the other country and reap all the other benefits that can be derived from studying abroad".
"A lot of people have been having the misconception that they cannot travel due to the pandemic restrictions, but that is not the case. Many students from the very beginning have been permitted to travel to foreign countries to pursue their education. Most people are not aware of this. I myself as an education consultant have sent several students in the past year despite the pandemic. You would be surprised at how smooth the process is. New Zealand after a short break has already opened its borders to accept international students and very soon Australia will open as well.
My advice to all the students and parents is to not just look at one aspect of the system. Go out there and see the change, make yourselves aware, and stay vigilant of misleading sources. Spending on education is never a waste, there are plenty of benefits that studying in a foreign University can give you, reach out and grasp them while you still can".
We spoke to some parents and students who shared their views on international students having to pay full fees for online learning despite not being able to experience any of the facilities afforded by universities.
Cassandra
The obvious problem, we still pay the same fee for an education that is of not the same quality as students who are on campus. Internet charges are borne by the student and there are issues that students face with interrupted internet service by the local service providers. There is a lack of communication by the university administration in keeping students informed of border restrictions and travel, some sort of update. There is anxiety and stress especially for veterinary /medical students who are required to attend laboratory lessons in order to complete
certain units.
Uncertainty of availability or securing safe and secured lodging when and if borders open in Australia mid-semester is also stressful. It is pathetic and quite disheartening to see our hard-earned money being spent when our kids are treated as banks and nothing more. We have to sometimes deal with outsourced agents and lethargic university staff. It is very demeaning especially when you are a paying parent and does not have direct access to senior
university staff members residing at the university itself to get information without delay.
Australian universities should truly look at finding agents and training them to be ethical, kind and productive in dealing with university-related matters. Some of these agents also indicate that the visa will be released only if the student fills and submits a survey as to how good the agency was – suppose this gives them proof of its quality to keep the university continuing with their services?
Haritha
The idea of joining a reputed University is no doubt to study as well as interact with peers and lecturers (physically) and live on campus or surrounding to gain a rounded experience. This makes the Degree so much more special
and leaves memories for a lifetime. A student pays for this exposure and experience. However with Covid and limited to online learning, still from its own country due to border closures and lockdowns, with hardly any of the experiences gained so far as it should, it is only fair that the Universities give some benefit to students on the fees until such time they open up. Online is tough and nothing compares to being on campus on all counts.
Sheni
I read that local students in the UK are complaining about having no reduction in tuition fees as courses were online. So just imagine what it is like for international students who have to pay almost double that for what is essentially an online course? My son has completed his first year without having 1 face-to-face class - despite his Uni talking about 'blended learning.' Some universities use these phrases in their social media but many times
this does not seem to be the case. Despite the UK lifting restrictions and people heading back to pubs, sports arenas and schools - many university courses have remained online. Why is that? I also read this may be the case for autumn too - so why are they charging these exorbitant fees for an online course? While some students were able to travel, everything on campus was closed, obviously because of the pandemic, this I understand. Why charge full fees then?
Considering that international students have extra expenses - visa fees, numerous PCR tests on arrival and travel expenses, is it ok to not give any reduction on tuition fees? Many find sitting in a room and listening to lectures online boring - there is hardly any engagement. First-year students haven't even met their classmates most times. It's like international students have no voice. Parents spend a small fortune on their kids' higher education and in this part of the world it's a lot of money for hard-working parents who are also going through difficult times. Surely they can consider some sort of reduction?
Iqram
All over the world international students have to bear the burden of exorbitant tuition fees, but that is a luxury most people cannot or refuse to afford. Fortunately, the university I have enrolled in in Melbourne Australia has provided a 25% tuition bursary because of the ongoing pandemic. Regardless of the atmosphere in where classes are being held, classes can be boring or entertaining depending on your interest to learn. Beyond that, online classes are way more flexible and indirectly caters to the wants and needs of the individual.
Dineli
The reason I applied for a university overseas is because of the overall experience, the one-on-one experiences and the extracurriculars. Unfortunately, we are stuck with online lectures that aren't as stimulating as in-person lectures. I really feel like I'm missing out on a lot of experiences because of this. My University in the UK has not reduced the fees at all. So frankly, I can't help but feel robbed. I didn't want to waste my years doing nothing, which is why I decided to go ahead with online learning without deferring. But I'm now wondering if I made the wrong decision and should have just enrolled at a local uni instead.
Dinesh
I studied in the US myself and wanted my son to have the same wonderful experience that I did. These are priceless experiences that you can enjoy while studying. However, this has not been possible for my son despite him paying an exorbitant fee for an American education. It is worse for those who find it difficult to afford overseas education having to pay for half or less of an experience. Many families are having their children try out part-time jobs so they can join universities when in-class learning resume.