Foreign labour finds prosperity in Sri Lanka
The labour force, synonymously known as the 'Economically Active Population' in the country has immensely contributed to the country's economy. Although figures for the unemployment rate have remained at a bare minimum, the issue of recruiting foreign workers in major industrial sectors in the country has raised concerns. According to sources, close to 200,000 foreign workers have been employed in different sectors and this number keeps on increasing. Life Online takes a look at how labour force statistics have changed over the years, while also speaking to a few experts in varied fields of interest.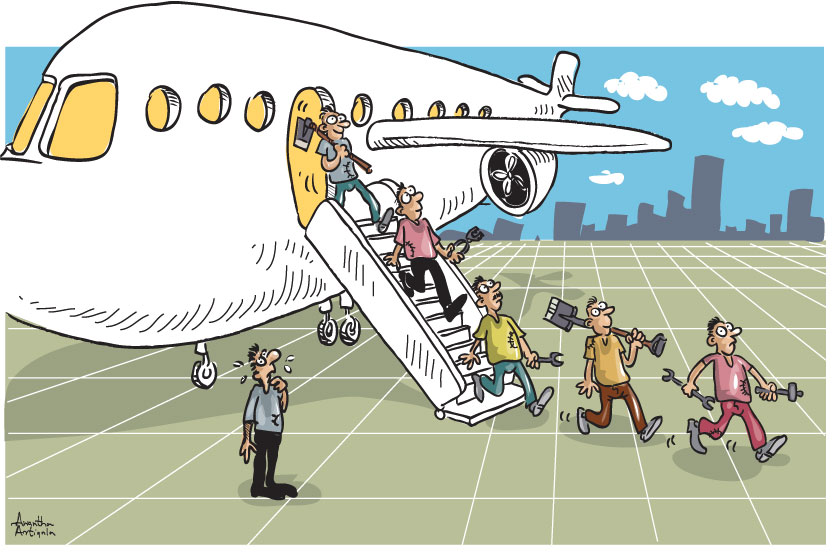 Statistics
Employment
According to the Labour Force Survey conducted in 2015 by the Department of Census and Statistics, the working age population considered as those aged 15 years and above. Before 2013 this was considered as age 10 years and above. The annual sampling size was 25,000 housing units since 2011. In 2015, 2500 Primary Sampling Units were allocated to each district and to the Urban, Rural and Estate sector. The survey results reveal that about 7.8 million people have been employed during the year 2015. Out of these employed persons 65.1% are males and 34.9% have been females. Out of the total employed population the highest share is reported under the services sector at 45.6% and the lowest is from the Industries sector at 25.8%. When looking at the distribution of employed population by major industry groups for each district, it has been found that the Gampaha District shows the highest share of employment in the industries sector at 38.8% and Kegalle District as the second highest at 33.2%.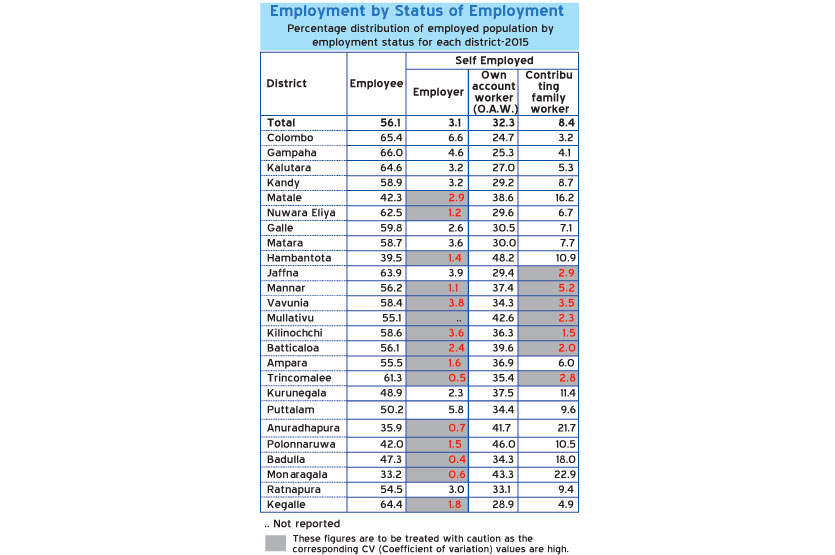 Another interesting find in this study was that there is an increasing trend in the share of employed persons with G.C.E O/L, G.C.E A/L, HNCE and other education levels as opposed to the group for grade five and below levels. As such the survey results indicate an increasing trend in level of education among the employed population of the country.
Unemployment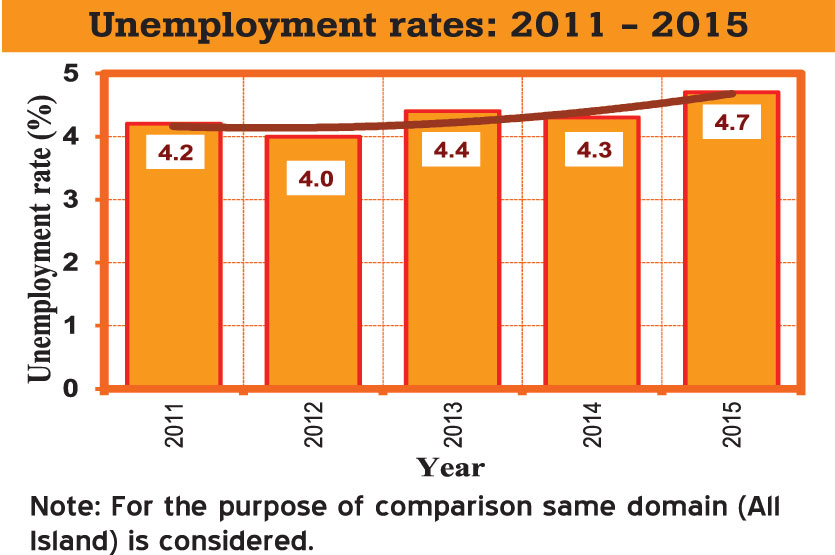 The survey identifies that unemployment is a key measure of economic health. Therefore it is a major factor in determining how healthy an economy is. An individual who is unemployed is both unproductive and is a drain on the society's resources. In Sri Lanka the number of unemployed persons is estimated at about 380,000 during 2015. Out of this total, 41.1% are males and 58.8% are females. Quite interestingly the unemployment rate among the higher educated group (G.C.E A/L and above) is reported to be 9.2%. This is 4.7% for males and 13.5% for females. Therefore this reveals that the problem of unemployment is more acute in the case of educated females than males.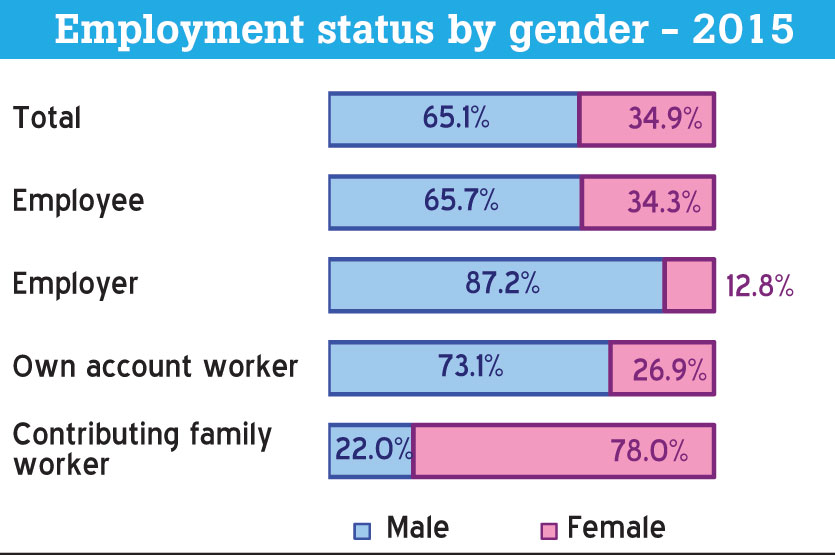 When looking at all age groups, female unemployment is higher. The majority among unemployed are the new entrants to the job market or new job seekers who are between 15-24 years. Hence, this is known as youth unemployment. It has been identified as a global trend since young people tend to wait till they get a suitable job.
Underemployment
According to the International Conference on Labour Statistics (ICLS) resolution (1966), underemployment exists when a person's employment is inadequate, in relation to specified norms or alternative employment while taking his or her occupational skills in to account. Underemployment could be characterised by Visible Underemployment which reflects in an insufficiency in the volume of employment or Invisible Underemployment which is characterised by low income, underutilisation of skill, low productivity and other factors.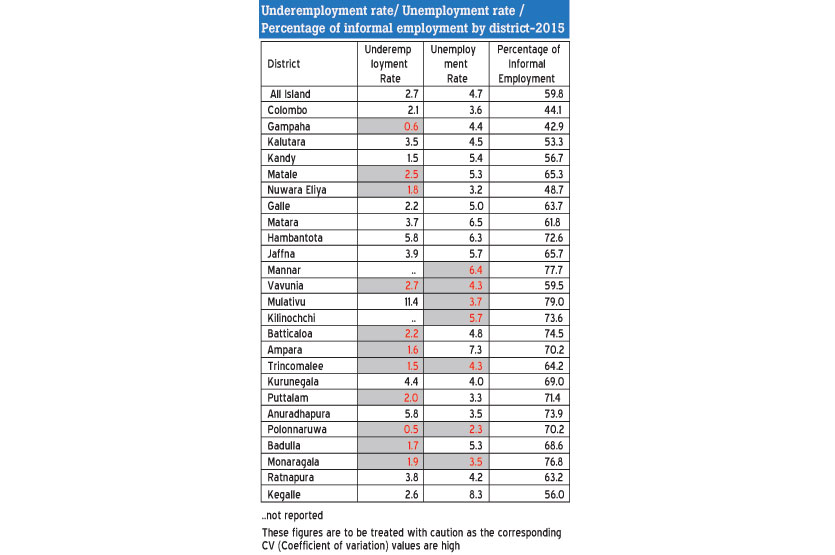 In Sri Lanka, the underemployment rates by economic sector reveal a significant difference. As such, the agriculture sector reveals the highest rate at 4.6% and the service sector reports the lowest at 1.6%. However it has also been found that underemployment decrease as the level of education increase. But the data shows that the underemployment rate for females is higher than that for males in every level of education. The highest underemployment rate was identified from the North Central Province.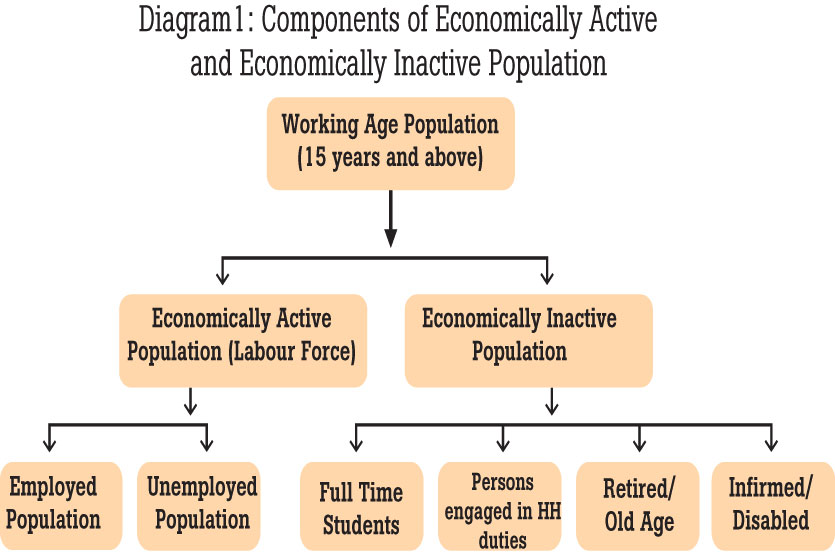 ---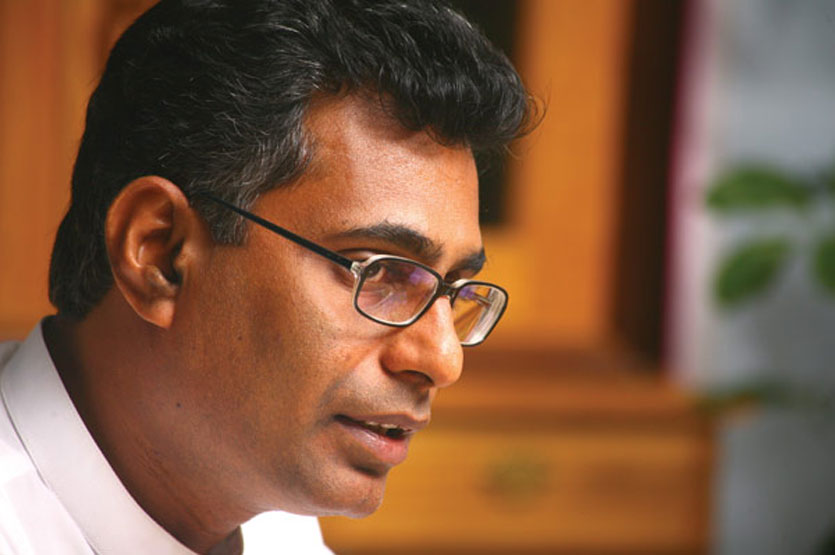 Sri Lankans are reluctant to work in certain fields: Patali Champika Ranawaka
Speaking to Life Online, Megapolis and Western Development Minister Patali Champika Ranawaka said that Sri Lanka has experienced a shortage of labour in the construction, agriculture and plantation sectors.
"Most of these foreign workers have on tourist visa and according to sources around 200,000 of them are currently working as labour. They are from South African, Pakistani, Indian, Maldivian and Bangladeshi origins. They come here mainly because of the low costs and they are categorized as cheap labour. Many security firms have recruited them and they are found everywhere in the country. On the other hand Sri Lankans are reluctant to work and most educated people are unemployed. If we increase the number of workers in the construction sector it will be quite beneficial to our economy."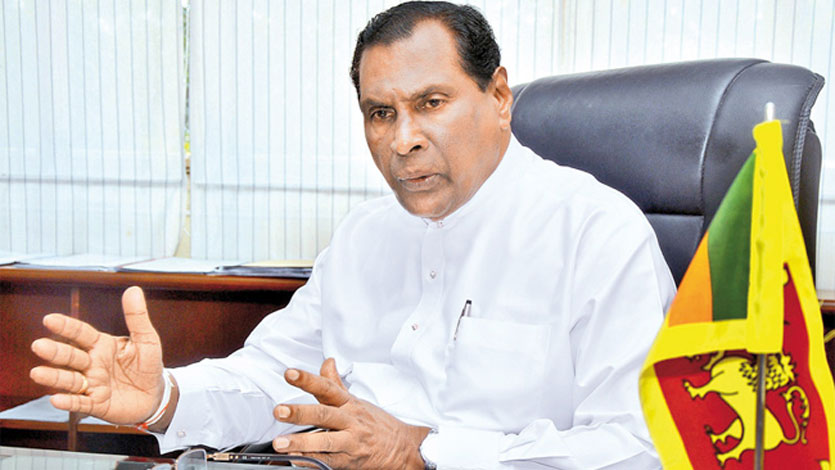 Need a proper methodology to recruit foreign workers: John Seneviratne
In his comments to Life Online, Minister of Labour and Labour Relations, John Seneviratne said that there should be some methodology brought forward when recruiting foreign workers.
"We are definitely experiencing a shortage of labour and there are ample opportunities available for these workers. This shortage of workers is a major drawback to the economy and therefore we need to keep filling this void in one way or the other. An individual labourer such as a mason or carpenter receives a minimum salary of Rs. 1500 per day. This number varies depending on the type of work they are doing. There are various ways in which the youth can get themselves occupied but they are not keen. In most instances the educated people don't like to work in these sectors. They are willing to take up posts in higher positions. So there is a void created in the lower levels. There are workers who come from outstation and if they could be recruited in these sectors they can earn a good amount to feed their families."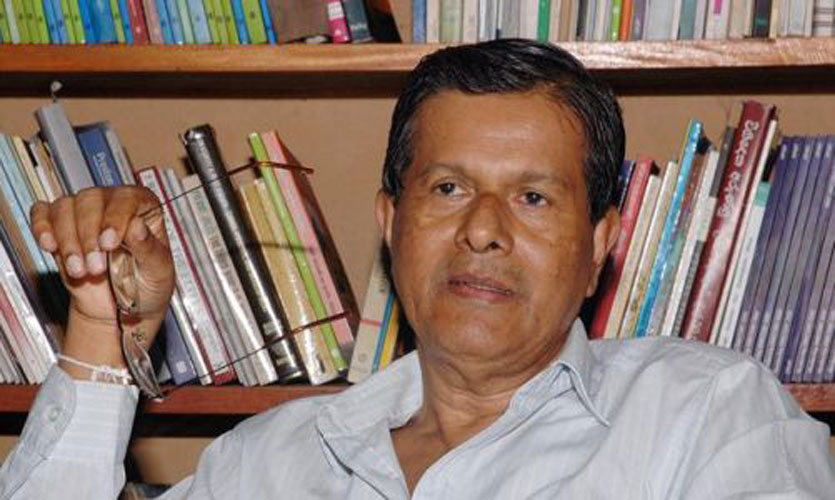 The Sri Lankan human resources sector has been completely neglected: Prof. Siri Hettige
According to senior professor of sociology, Professor Siri Hettige, many Sri Lankans go abroad to train themselves for various careers.
"In those countries they have to be quite competent. They can't be lethargic like how they are. I think it's important that we moderate a thorough investigation on why our people are lethargic. It is still an opinion that Sri Lankans are lethargic and therefore it would be good to conduct a study on different sectors and see why people are reluctant to work in those areas. We lack evidence-based facts. Instead we go behind people's opinions and this shouldn't be encouraged. Our unemployment rate is now less than 5% and it is relatively higher among women and educated people. We have totally neglected the human resources sector in our country. We talk about bringing in more investors and creating foreign employment and this is absolute lunacy. We do not realise what we are doing to our country at the end of the day. Human resource management is at its lowest level and that is the bigger picture we have failed to look at."