What- "If Yan can cook, so can you!"
Who- Martin Yan
This was such an unexpected WTF. It all happened last week - I was at the event where Aitken Spence Hotels paid tribute to 150 years of Ceylon tea and I was introduced to the man who I loved to see on TV when I was 6, with the string of others like Oshin etc. i was excited,when I was introduced to this humble TV giant Yan, and he sure did win my heart with his warm personality. He is such a cool guy.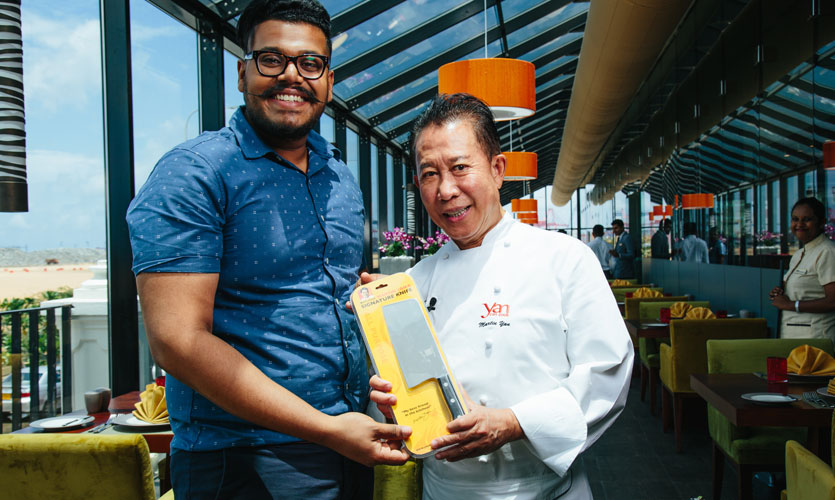 We got a chance to meet up with him and his team at the Kingsbury Hotel for a quick look at "How to cut like Yan, if Yan can cut so can you" and I even got a signature knife of his.
I spoke to Manik Suriyaaratchi, Managing Director of Omega Global and ANC Omega, the local partner for prestigious Emirates Academy of Hospitality Management who took the initiative to introduce "Yan Can Cook", the popular TV Show host and Culinary Master Martin Yan to Sri Lanka.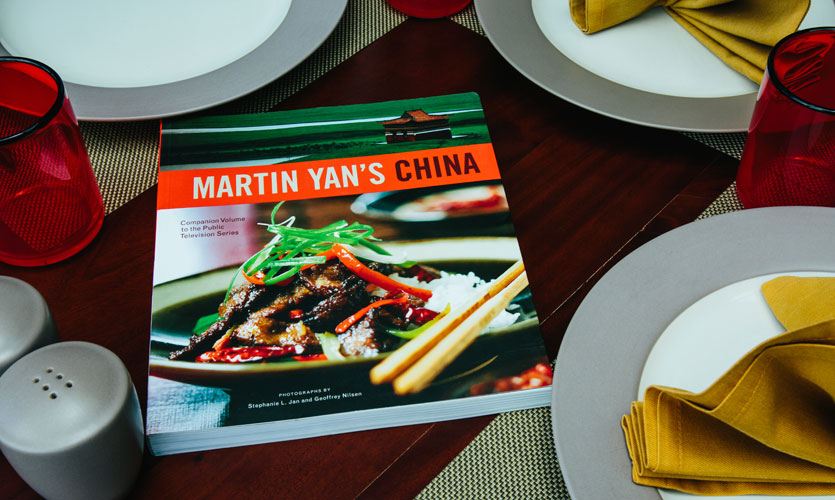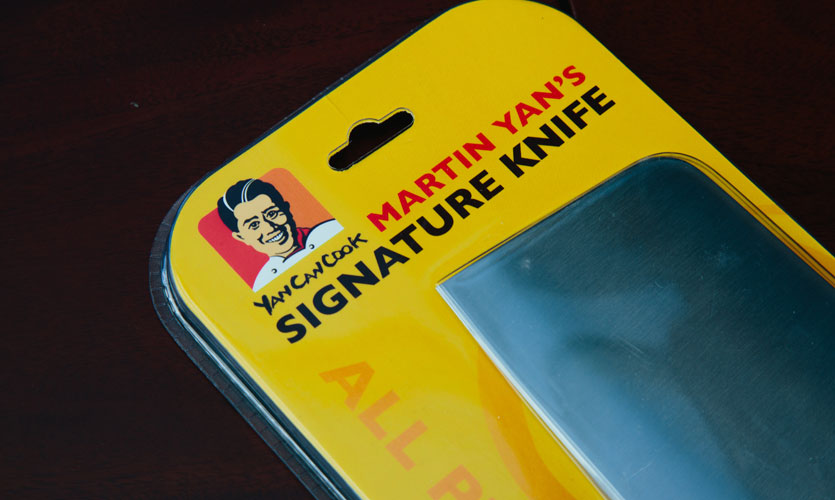 My question to Manik was, 'What made you bring Martin Yan to Sri Lanka?'
"To pitch Sri Lanka as a high-end tourist destination, we need to enhance the fading art of fine dining etiquette and the appreciation of quality produce from various parts of the world such as cheese, wine and coffee. While incorporating local produce and techniques to create a unique culinary experience to international plus local patronage, we brought Master Chef Martin Yan because he is famous for his extravagant culinary performances from Shanghai to San Francisco."
"The Emmy Award-winning Martin Yan has a strong catalyst in destination marketing in USA, Australia, Canada, Asia using his unique food journalism techniques. He is truly an inspirational leader who is committed to promote innovation and share his best practices. And he even taught me how to cut off a chicken in less than 20 seconds, but he kept it to 17 sec which was spectacular".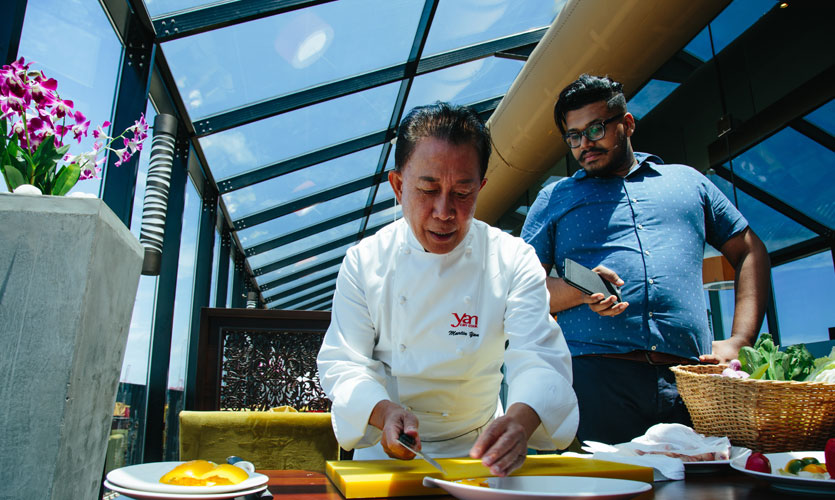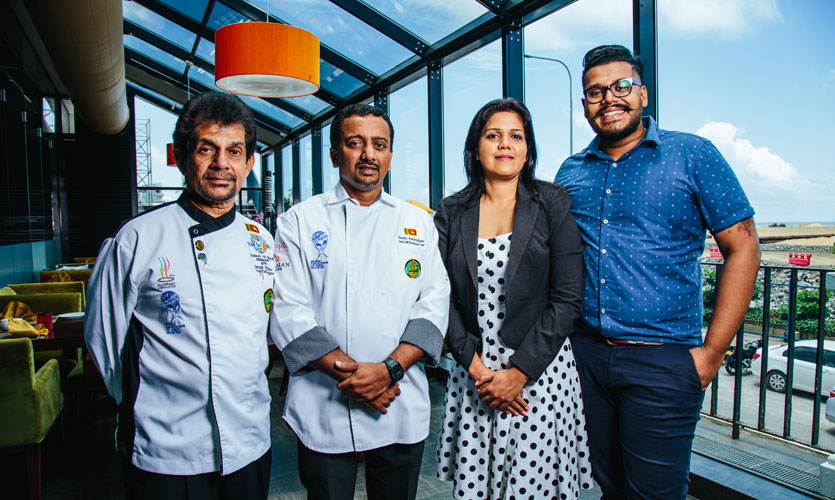 Manik Suriyaaratchi (3rd from left)
"The day I met this man, Emirates Academy showcased an eight-course culinary experience at the Kingsbury Hotel with Chefs Guild of Sri Lanka, but he still gave us some time to speak about how food for him is from his heart and never wanted it to be a job, he says 'I love it so much I smile everyday'' and he did dish out his secret and it's always a sharp Knife."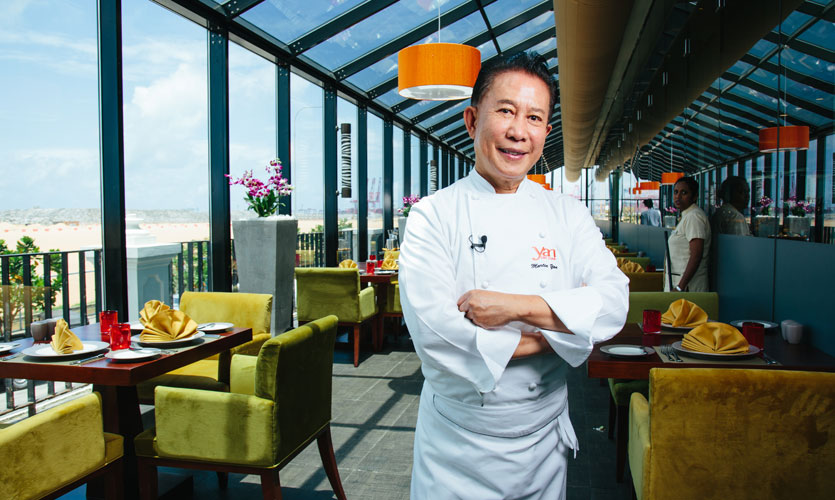 The main aim of bringing Martin Yan down was to pitch the destination marketing and food journalism aspect of Sri Lanka in order to exhibit true attributes of the tourist destinations. His first visit to Sri Lanka enabled him to develop relationships with the Chefs Guild of Sri Lanka and key stakeholders of the hospitality and tourism industry including the Ministry of Tourism Promotion Bureau. So now lets wait for his return.