On WTF today we took a sweet turn. I have known Rashmika and her very warm family for a long time and when ever we go to their place, we are always fed with love and a lot of yummy sweets soon follow after the main. I also kinda wait to see what's for dessert. It's in their family - her mom and Rashmika are a bit too talented and if I ever live next-door, I might be just rolling around and not walking.
This mom of two and an A student in Marketing decided to make her passion the business venture. I'm so happy she did. Her signature dishes are now available on Uber Eats and some on pre-order.
I did a bit of a taste test and sat down with her for a small chat.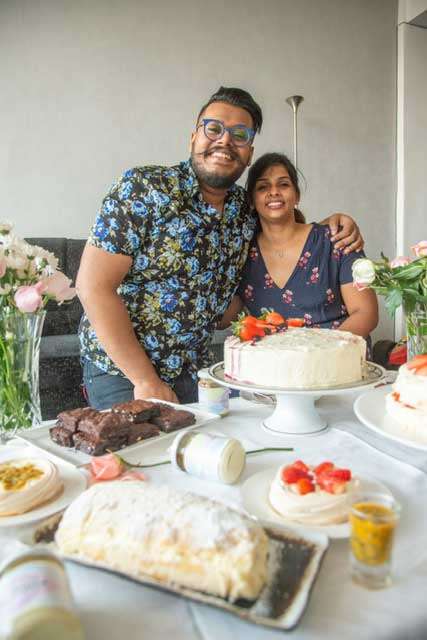 Q

What's the story behind the name?
The products offered by La Crème Ceylon are coming from the Cream family. So La Crème stands for "Best Creams"in French. Most of our products are cream based.
Q

What made you start this venture?
From my childhood my passion has been cooking and baking. Even though I'm a qualified Management Accountant. I never wanted to work for a company but wanted to have something of my own.
Q

How has it been so far?
It has been great so far and we are amazed by the feedback received from our customers. Nothing more satisfying than a good customer review.
Q

What's the inspiration for the dessert on the menu?
All the items that are featured in the menu are filtered from my own family members critiques. We all love sweets and all what's in the menu are the favourites of my family.
Q

How long did it take to master the desserts you are serving?
It took a while as to get the texture, flavour and colour of a product right and to maintain the consistency is not easy. Some of the items, I have been making at home for years.
Q

What's currently available on Uber Eats?
Vanilla Crème, Chocolate Crème, Caramel Crème, Strawberry Vanilla Panna Cotta, Passion Fruit Panna Cotta, Strawberry Meringue & Passion Fruit Meringue.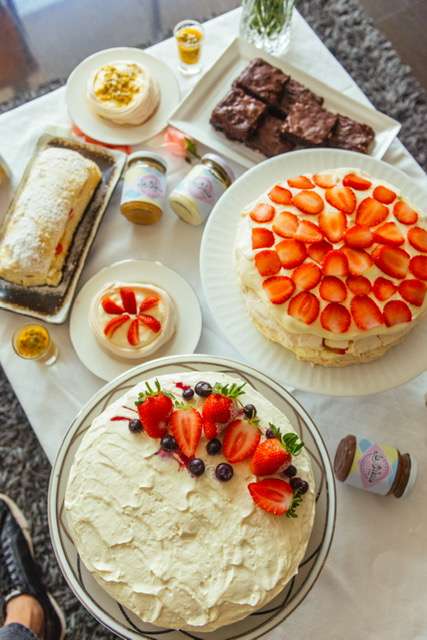 Q

Why have you stopped working on cakes?
It's not that I have stopped. I still make cakes for requirements in my family. But as a business, I felt that market is too crowded.
Q

Would you be starTing an outlet anytime soon?
Yes, if things pick up well we are hoping to open an outlet. Plan is to establish the brand first through online platforms and then to open an outlet.
Q

What's next for the brand?
We are planning to add more varieties to the menu and to have pop ups regularly. And also to make the products available in more online platforms. Ultimate objective is to develop a popular household dessert brand in the country.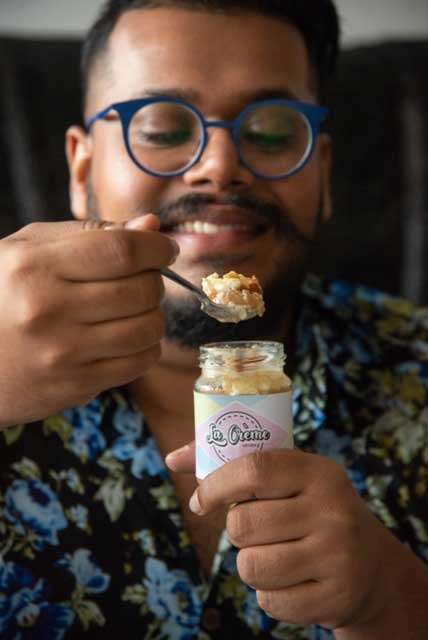 I just can't pick what was the best, her Ice Cream Cake is made with home-made ice cream and it's to die for. I also tried the Meringue Cake and Caramel Crème. I was also targeting the Swiss Roll with cream and strawberry. Unfortunately my sugar level has taken me to a level I had to stop, but I have never stopped dreaming about it ever since that day. Go ahead treat yourself to World class dessert. It's definitely worth letting go of your diet .