On WTF this week, I sat down to eat some yummy Chinese food, where the portions are lavish. King Prawn is a new baby down Galle Road Mount Lavinia. King prawn has a large seating area, it's perfect if you want to block an area just for you or for any celebration. The service is good and staff are friendly, you even see them smile under the face mask. Food items are available in 3 portions small, medium and large and they are very reasonably priced. Sometimes when you have to drive into Colombo to enjoy a good restaurant it's annoying, especially with the traffic. By the time you get to the location, you just want to go back. It always happens to me because I live in Piliyandala. I sat down for a chat with the 3 boys Vivek Jayasuriya, Ashean Karthelis and Gehan Perera who are making this brand shine, to ask a few questions.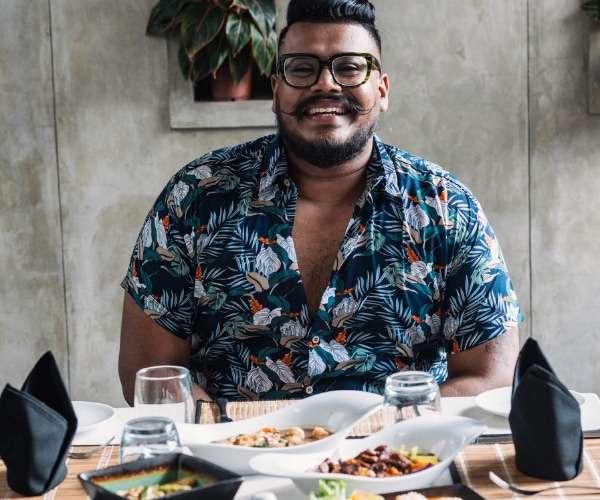 Q

WHAT'S THE STORY BEHIND KING PRAWN?
King Prawn was inspired by the original restaurant done in Nuwara Eliya 30 years ago by my dad Mr Vasantha Jayasuriya (says Vivek). He removed the signboard because people started calling his hotel King Prawn instead of Hotel Glendower. I always wanted to follow my father's footsteps and run a restaurant of my own. This was a 3-year project for me and a tick in the box. Once everything was set up I invited 2 of my friends to come in as investors. It works well because we are able to split the load. Our plan is to open up a chain of such restaurants.
Q

HOW DID YOU WORK ON THE MENU?
We did a competitor analysis, target market analysis and decided on what type of dishes would be most popular. We took lessons from the veterans out there and structured the right price point and recipe's to come up with a well-balanced menu. We are working on improving it every day. A lot of YouTube lessons from top chefs helped in getting some of the sauces right.
Q

TELL ME ABOUT THE FOOD YOU SERVE, WHAT'S THE INSPIRATION?
Most of our dishes are from King Prawn Nuwara Eliya blended with authentic Chinese recipes. The recipes are a bit different from what is available in every other restaurant. People seem to be coming back for more.
I wanted you to try out the hot favourites. The Singapore Chillie Crab, Ginger Garlic Prawn, Home Made Bean Curd with Ginger and Spring Onion, Sweet and Sour Fish, Oyster Beef and Belly Pork with Green Beans.
Q

TELL ME ABOUT THE VENUE, CAN ONE BOOK IT FOR A PRIVATE EVENT?
We can accommodate up to 60 people seated indoors, and up to 110 in total. We have 2 indoor private dining areas and 1 outdoor dining area. We try to reserve an area for our regulars but do undertake private bookings. We do outdoor catering as well.
Q

HOW IS IT GOING AS IT'S A TOUGH TIME TO OPEN A NEW OUTLET?
We can't keep our doors opened without having the skeleton staff that we have. We can't reduce their packages, they won't be able to manage. We can't increase staff even though on a good day we are severely understaffed. Our landlords have been very kind to us but they too are finding it difficult to subsidise rent any longer as they are retired. We have been bombarding social media and any form of generating revenue. The 2nd wave makes a tough situation even tougher.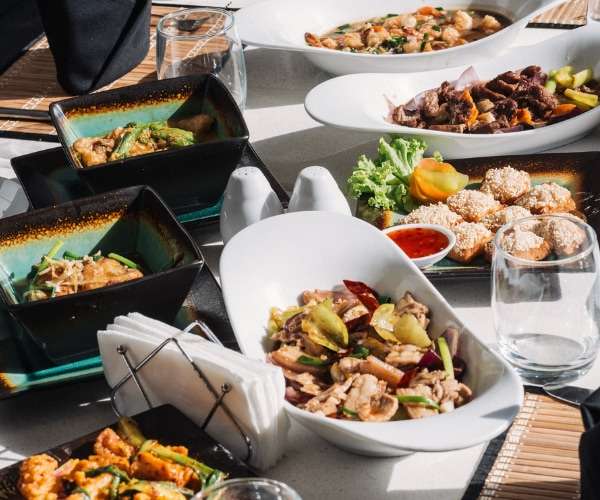 Q

WHAT WOULD YOU SAY ARE THE TOP FIVE DISHES EVERYONE SHOULD TRY?
The Singapore Chillie Crab
Prawn Toast
Belly Pork with Green Beans
Chicken Wonton Soup
Rhubarb and Apple Crumble
Q

WHAT ARE YOUR FUTURE PLANS?
Surviving the storm with the Grace of God. We are looking at adding on a sushi and salad kitchen as a 2nd business unit. But there is very little we can do to start this.
I must say I so enjoyed the Hot Butter Cuttlefish it's so different to all the other places, it's crunchy and a bit sticky. The Home Made Bean Curd with Ginger and Spring Onion, is a treat, it's so light and so fluffy you will want round 2 for sure.
If you like pork, the Belly pork with Green Beans is just so good. It's quiet and it's easy on the wallet, a place with love. Truly a family place to dine in. Follow them on social media for some amazing deals. Senior citizens can enjoy a 30% discount on lunch every day.