WHAT - Cafe Bagatalle
WHERE - No. 18 Bagatalle Road, Colombo
WHEN - 9.30 am to 8 pm
WHO - Fouzul Hameed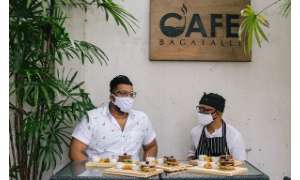 Today on WTF I wanted to see what's new after the COVID lockdown and I got to know that dear Fouzul Hameed is now busy in the kitchen making some healthy dishes for us to enjoy. This also has a Lankan twist to it, making it very original and authentic.
Just imagine biting into a hot, hot Atta roti burger with a yummy, juicy patty adding all the flavours. I must say I love the combination and freshness. It's an open kitchen concept so you know that everything is fresh and clean so it's a good choice if you are looking for a healthy, clean change. I had a small chat about these tough days and what's hot on the menu.
Q WHAT MADE YOU START CAFE BAGATALLE AS PART OF A FASHION OUTLET?
I had a passion for men's fashion and I always wanted men to look powerful, slim, and smart. I noticed when they are in their 20's they focused on maintaining their bodies. Once they get married, they lose focus and some of them really suffer from unhealthy lifestyles and medical issues. Some have even gone into various other personal problems and go out of shape and look very bad in their appearance. When I analyzed, I found, one of the reasons is that they consume unhealthy food. In order to educate such people, I thought I should start a place of my own. That is when the café idea came in with this beautiful surrounding it just worked perfectly. Now it's a place with fashion and healthy food.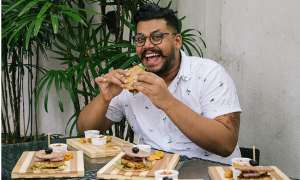 Q YOUR MENU IS VERY SRI LANKAN AND HEALTHY - HOW DID YOU WORK ON IT AND WHAT WAS THE PROCESS?
If you look at the food and food habits we have in Sri Lanka, there are so many nutritious combinations that come from our traditions. And it's perfect for some of the health issues we have. Without looking at options overseas and fast food, I thought we can use our own Sri Lankan traditional recipes. Our own delicacy and add a touch of FH.
Q WHAT'S NEW AND WHAT'S MOST SELLING ON THE MENU?
We have come up with a new healthy burger menu which will take you back to traditions and to good old Grand- Ma's kitchen. Sometimes what you need is to go back and implement them. We felt rather than using bread-based top and bottom bun, to use kurakkan based and pol roti base to give that extra feel and taste. On the menu, we have few Grilled items like Jumbo Prawns and Grilled mullet which seems everyone's favourite. Also, the soups we have are actually very different and made from pure fresh ingredients. Also, Italian pasta and risotto. Also try the Masala Chai … with cloves, cinnamon, cardamom, and fresh tea leaves.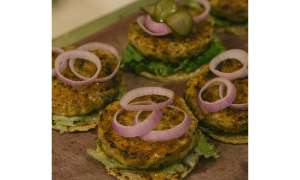 Q COVID HAS MADE US ALL RE-EVALUATE OUR BUSINESSES, HOW HAS IT WORKED FOR YOU GUYS?
Yes, the new normal and the new way is to find solutions to handle future challenges. Be innovative - be out of the box and finally come up with VFM solutions to have a competitive advantage. But you should never lose hope or give up or try less. Life is all about resurrection. Fall down many times but stand up stronger with don't give up attitude. We had healthy Roti using Kurakkan and Atta mixed Flour. "This can also be converted into a Burger using local organic ingredients mixed with spices & herbs," says FH. We use fresh Chicken, Beef, or Vegetables which is much tastier and healthier than the normal burger.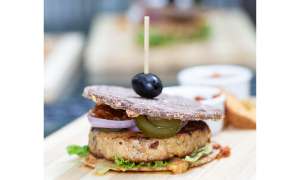 Q WHAT HAS COVID19 TAUGHT YOU?
Less is actually more if you know how to be happy and maximize. We had the opportunity to realize what a beautiful country we have. The natural resources we have... the lush green, agriculture we have: and how valuable it is to protect and preserve it for the generations to come, to love and lead a life with ethics and values. Finally to give something back to society as we all have no certainty in life. I must say - the Masala tea was a surprise as it was sharp and just what we need as we need to have a lot of hot drinks during these times. Now that things are opening up, make a visit to the cafe, sit under the big trees, and enjoy a healthy meal. "YES, the new normal and the new way is to find solutions to handle future challenges. Be innovative - be out of the box and finally come up with VFM solutions to have a competitive advantage"