What - The Cricket Club Cafe
Where - 12 Flower Road, Colombo 03
When - Breakfast / Lunch / Dinner / Snacks from 7.30am till 11.30pm open on Poya days
Who - James & Gabrielle Whight
On WTF this week, we checked out a place in Colombo loved for years, the Cricket Club Cafe. It's a place with a statement and fabulous food. Over the years I think I have fallen in love with many dishes off their menu and Sanath's Triple Century has always been my favourite. As you would have already seen they have shifted from their iconic building which housed the Cricket Club Cafe for 20 years and moved to the all new place which has its own new charm. I always wanted to know what's so special about Cricket Cafe that makes people keep going back, now I know it's the once who own it and their amazing personalities - no wonder the staff is always so happy and full of smiles I sat down to have a chat with Gabrielle Whight - better known and loved as Gabby what a sweetheart - if you feel bad to dine alone at the cafe ask her to be your date you will have an amazing time.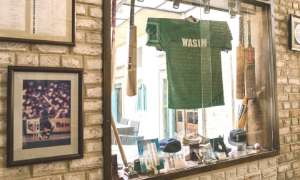 Q

How did you work on the menu?
We created the menu by incorporating Western dishes while taking advantage of the beautiful herbs and spices Sri Lanka has to offer.
Q

How often has the menu changed over the years?
The menu over the years has not changed that much it has just evolved into a diverse culinary experience to suit all palates be it Western, Fusion, Sri Lankan and International which came about from listening to our customer needs, desires and to appeal to the the whole Sri Lankan, expat, cricket loving and tourist community.
Q

How do you incorporate the names of cricketers in all the dishes?
We wanted the restaurant to be fun and inviting. Sri Lankans love their cricket and we knew they had a wicked sense of humour so it was only natural that we should make all the dishes rhyme with famous cricketers names to give our restaurant a relaxed comfortable, fun feeling as it was a brand new concept that we introduced to the dining scene in Colombo.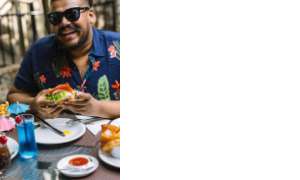 Q

How did the LOVE for cricket and good food merge in making the Cricket Cafe?
My husband started visiting the Island in the late 70's in search of the ultimate surfing wave which he found in Arugam Bay. He fell in love with Sri Lanka and always wanted to do something here business wise. When he made it to Colombo he found that apart from hotels there were no free standing reasonable priced restaurants for local clientele. The Cricket Club Cafe was born purely from Sri Lanka's love of cricket from the many chats James had with local people he began to understand how passionate they were about their cricket.
Q

Who are the famous cricketers who have come to dine at the restaurant?
We have had the entire 96 world cup winning team, Murali, Arjuna, Aravinda, Kalu, Jayasuriya, Vass, Dharmasena etc… Russell Arnold, Marven Attapatu, Roy Dias, the entire Aussie team Steve and Mark Waugh brothers, Shane Warne, Glen Mc Grath, Ian Healy, Ricky Ponting, Mike Hussey, Tom Moody, Zimbabwe team, New Zealand team, England Team, South African Team, Tony Greig and many more…..every test playing nation Bangladesh team, Indian team, and a few from the Pakistan team.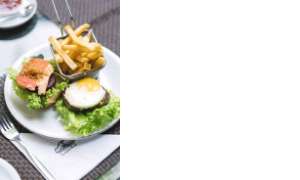 Q

How many collectors items do you have displayed? And what's your favourite?
We have over a thousand pieces of memorabilia all with original signatures some signatures date back to the 1930's and can never be re produced we thought it was important to have original memorabilia to emulate a cricket museum as we know Sri Lankans would appreciate the effort we put into collecting the real deal and not a fake piece. Our favourite would be the original signatures of Sir Donald Bradman they are special and the Sri Lankan world cup winning team bat with signatures
Finally I asked Gabby What would you say is your favourite off the menu, and the top 5 most selling? The ultimate favourite is our signature dish "Cricket Cafe Nachos " they are an all time favourite with everyone. The top five selling items would be cricket cafe Boundary Beef Nachos, Jayasuriya's triple century, Baked Crab, Percey's Prawns, All Pies topped with home made puff pastry are always a winner.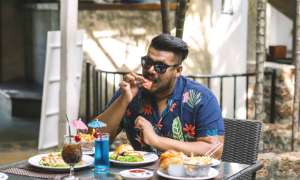 Let's get down to what I had I enjoyed the Border Burger, they make sure you have a yummy bite with it every time. Ponsfords Prawn and Avocado Salad, Maiden Over Chicken and Mushroom Pie topped with home made puff pastry which are my favourites too. There is something homely about this place for me, if it's not for the food and you love cricket you need to make a visit as it is filled with cricket memorabilia including bats, balls, hats, gloves and shoes used by famous cricketing personalities dating as far back as the 1940's which include personal items used by Sir Don Bradman, Ray Lindwall, Shane Warne, Arjuna Ranatunga, Sunil Gavaskar, Joel Garner to name a few. The walls of the cafe are covered with framed original newspapers from the 1930's, plus photos, posters and pages detailing cricketing mile-stones throughout the ages. It's a place you will enjoy and who can say no to cricket and good food.
Today on WTF
Pics and production - You're My Favorite
Dressed by - LiCC Jeans and Culture by ARI
Hair by - Capello Salon