What -​ Geek HQ
Where - 131 Maya Avenue, Colombo 5
When - 11AM to 11PM
Who - Angelo Pereira, Shafeek Shuail and Liam Senathirajah.
Today I get my geek on at Geek HQ which stands for geek headquarters. It's a home for everyone who is addicted to all kind of pop culture and who seek a place to chill and discuss with likeminded people. So say the big boys who put this cool place together.
From the time I went all that I saw Angelo do was polish all his collective's with the utmost joy.
Geek HQ is the first geek-themed restaurant in Sri Lanka. Be it comics, games, movies or food, it has it all with YUM food which I totally recommend.
Unfortunately I'm not so much of a geek but I must say the menu was funky and cool. It is comprised of thick yum smoothies, coffee, milkshakes, salads, soups, desserts and a bunch of mains, with all of the names looking like they come from a geeky chef's cookbook. I needed some help in ordering!
I sat down with these 3 big boys to have a chat while I enjoyed my food and everything around it
What made you guys get into this business? - When you look at most cafes and restaurants in Colombo, you realise one thing, they are all the same. Doesn't it bore you? Doesn't it bore anyone?
Well, it certainly did bore us. After eating at different cafes, we realised that there are only very, very few places in Sri Lanka that serves us with a different take on the environment. And that's where it hit us! We realised that there weren't much themed cafes in Colombo. Therefore, we did our research to try and innovate and produce a new, better, unique themed cafe. We researched, and researched, and researched, until we realised that the solution to our research was right under our noses. We were literally surrounded by comics, collectibles, statues, movies and games! Then we knew that we needed to give the Sri Lankan community a brand new, first ever Geek themed cafe!
Most other countries around the world already have their own geek themed cafes. So why didn't Sri Lanka have any?
Our fellow Sri Lankans have to spend so much money to travel abroad and dine maybe only once at a foreign geek theme café, so why not create one in the heart of Colombo and make it available to every Sri Lankan?

Most Selling on your list?
The most selling items on our menu comes from our burger range. From the Endgame burger to the She-Hulk Burger, customers tend to enjoy feasting on our delectable burgers. However, if there is one particular item that stands out for being the most ordered dish, it would be the Clobbering Time Burger.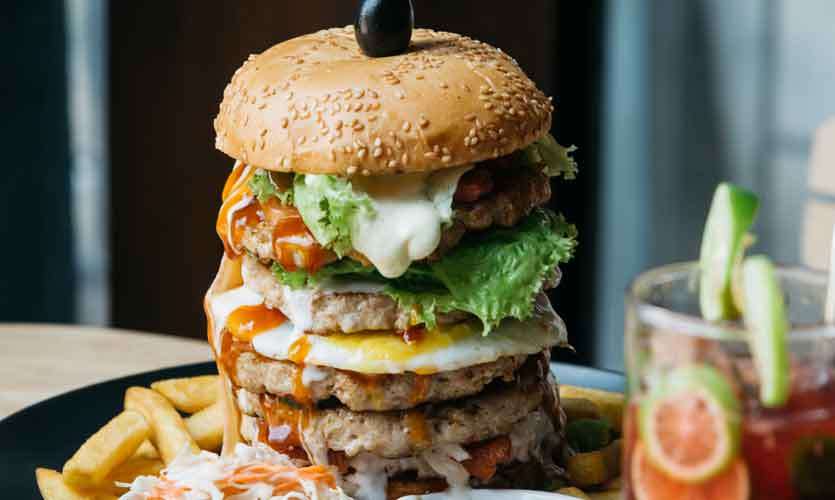 What should one try when they visit?
Well, we really recommend that customers should always try the Endgame burger or the Clobbering Time burger. Those are the only burgers that require you to use a fork and knife, the sheer size of the burgers also makes it more interesting to feast upon. It is quite an experience compared to the regular burgers.

How long did it take to master this?
Geek HQ was a longtime dream and we are still learning new things about customer behaviour and interests every day.

The story behind the name?
Geek HQ stand for geek headquarters. It's a home for everyone who is addicted to all kind of pop culture and who seek a place to chill and discuss with likeminded people.


Tell me how many collectables you have?
The collectables that we have are owned by Shafeek Shuail, Angelo Pereira, Shakeer Ali Monsoor, Sean Amarasekara and Vishwa Thilina Herath. They house the most valuable, rare and epic collections in Sri Lanka. Some of these collectibles are one of a kind in Sri Lanka, and are one of the 500 pieces around the world. We also house the largest collection of the Lord of the Rings in South Asia, as well as the largest Spawn collection in all of South Asia.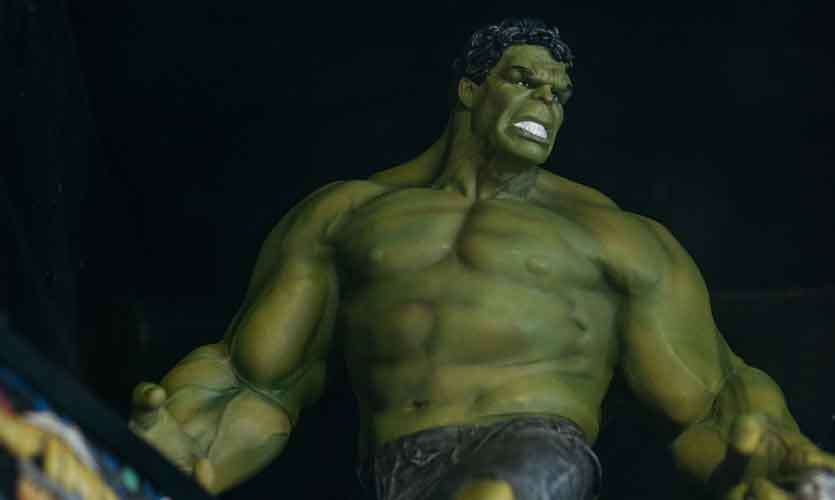 What's next for the place?
Since we just opened up at Maya Avenue on the first of September, there are no current plans as of yet. But we assure you, as time goes on, and new ideas are brought to the table, the plans that we have for Geek HQ will amaze you.
Before I left the place I needed to try this monstrous burger. It's piled high with four, massive patties I took the chicken but it's also available in beef. It has the works; from ham, sausages, cheese, lettuce, and a bullseye. Yum!
It's super tasty and if you want a simple funky date night I'm telling you, go on a double date, you will not finish it - but if you are really ready for a challenge you can set a new record!
I must say the food is YUM and love the portions. It's from the heart and they do have a simple vanilla cake at the counter. It's a True Sri Lankan birthday cake it's so Yum you need to try it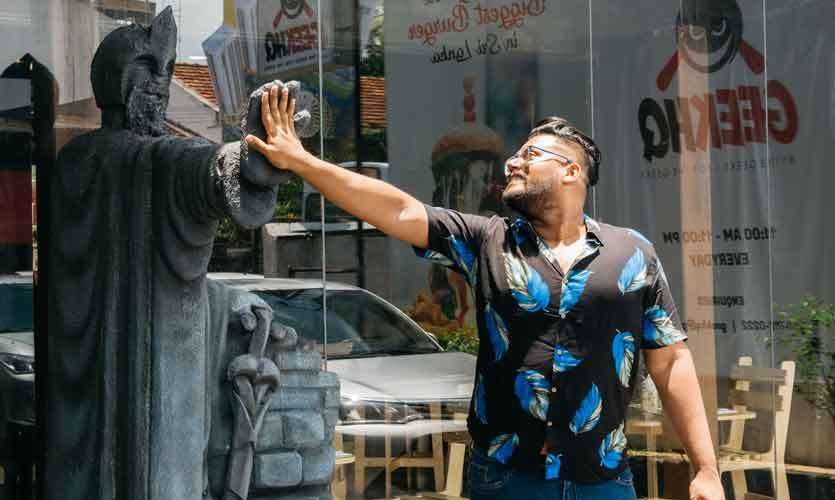 Today on WTF
Pics and production- You're My Favourite
Look by - Culture by Ari
Dressed by - LiCC Jeans
Hair by - Capello saloon