I have a few forms of addiction and one I have tried to get out of for along time is collecting stationery – even during the war in Jaffna when Mummy used to yell when the bombs got too loud, "Pack up we have to run" all I was busy packing was my set of pencils and note books.
I went to the design market last year and saw this true Lankan product and I was over the moon, not only did the books look nice, they also looked edible, strangely enough.
So I wanted to feature Piyumi who is the brain for the brand Pothaholic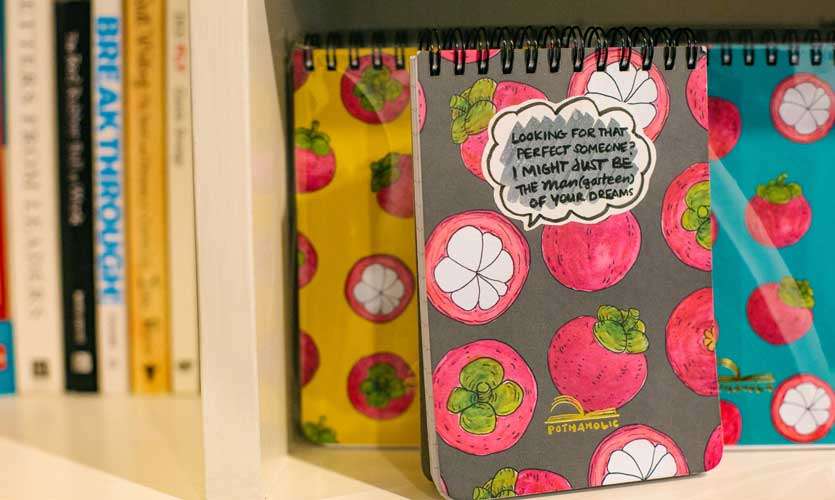 1. What made you start Pothaholic?
I came back to Sri Lanka in 2017 after my MA and rejoined the advertising industry, but there was (and still is) a lot more I wanted to do as a creative. It's very difficult for millennials to get by with just a regular job in today's economic climate, and the creative industries are even more difficult. Honestly, I just needed a side-hustle to keep me going while I took on all the other projects I had in mind. Little did I know that my side hustle would quickly become my main hustle!
2. How has it been?
It's been a climb... it's still a climb! I think the learning curve for any entrepreneur is tough, but it's particularly steep for creatives who are suddenly faced with managing finances and other things we're not really accustomed to thinking about so much. That being said, it's great to feel this sense of ownership, and I'm quite proud of our little brand.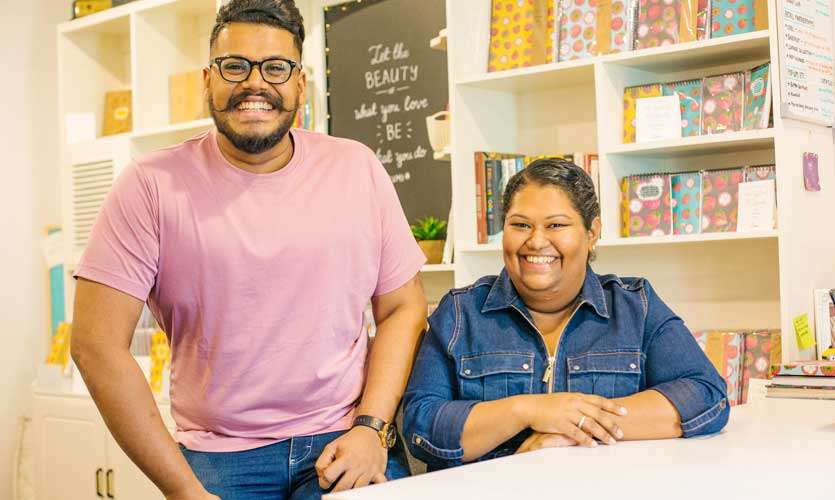 3. You have kept it very local - how has the feedback been?
The feedback has been fantastic! The Sri Lankan stationery lovers have been very positive, and everyone loves the prints and colours. We've been approached by so many retail partners, and now retail at Barefoot, The Design Collective, Arienti, Pendi, and are currently in talks with more retailers. I've also had lots of suggestions for expanding into more kinds of stationery, which is definitely in our future plans for Pothaholic.
We've also had a lot of positive feedback about our socially conscious business model. Pothaholic is not just about great stationery but also about sustainability and giving back. We believe education and empowerment are key for the betterment of Sri Lanka, and every one of our products gives Rs.50 or more towards empowerment through education in underprivileged communities, and our customers are really happy about this, We are currently focusing on equality education, and hope to raise enough to run our first project in 2019.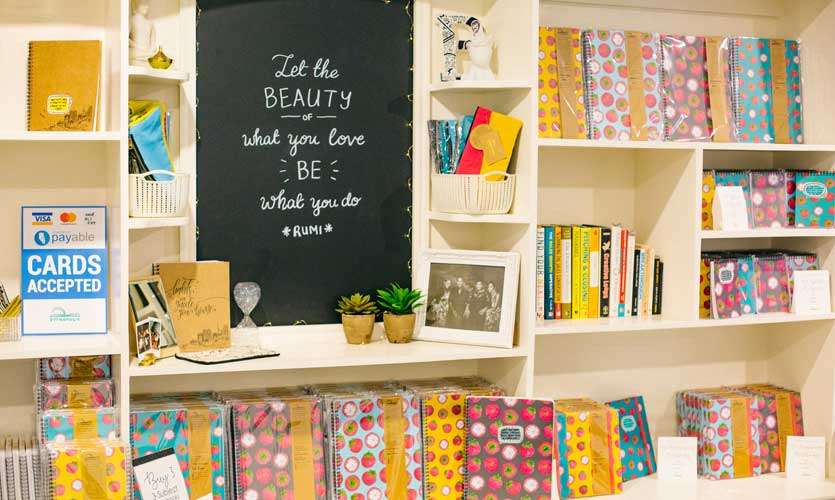 4. How do u work on the prints and colours?
I look around me. Sri Lanka has so much to offer in terms of inspiration, and a lot of it is taken for granted. This is something that really hit home for me around 6 years ago, when I had the fortune of seeing Sri Lanka through the eyes of a friend who had never previously been outside of her home country. Her experience of everything little thing was so amplified that it made me see the magic in the little things that we overlook because to us it's something day-to-day. I strongly believe if you look at everything with curiosity, like a child would, there is magic to be found even in the seemingly mundane, and that is now how I choose to look at Sri Lanka.
For example, mangosteens have been dubbed the Queen of Fruit, but get so little attention. The world has embraced the tropical craze, but there is so much more to tropical fruit than the pineapple! I just wanted to explore something different, and I have fond memories of mangosteens from my childhood that just made me think, yes, this is where I should begin.
5. How do you maintain paper quality?
It's so important for books to be good quality outside and inside. I think there is something really nice about writing or drawing in a good notebook, particularly now that everything is slowly turning into technology and virtual experiences. Screens are great, but sometimes you really can't beat the glide of a pen on smooth, clean paper. Pothaholic books are made with the finest Indonesian paper available in Sri Lanka. We'd love to use Sri Lankan paper, but the level of quality cannot be matched but local paper at the moment. Hopefully, there will be high-quality local paper available here soon!
6. Apart from the prints - would you be moving into more basic prints and designs?
That depends on your definition of basic! Honestly, we're trying not to. We like local art and motifs, so I think as a brand we will try to stay vibrant and different. Pothaholic is also intended to be a platform for local artists to showcase their art, with our stationery and lifestyle products as a sort of collaborative canvas. We will be releasing our first artist collab collection this year.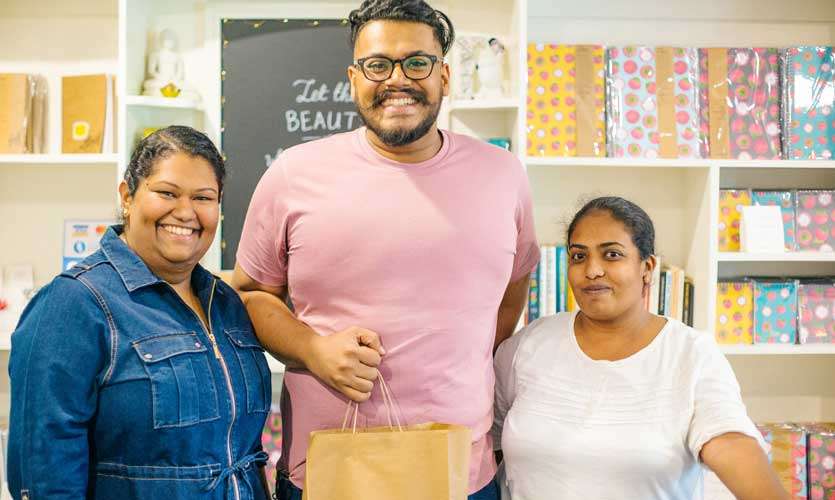 7. How was it working with Sonali Dharmawardhana?
Incredible. Sonali and I met at the Colombo Design Market in July this year, a few days after I had launched the brand. She fell in love with the Mangosteen Collection, and our collaboration was born. She created some beautiful one-of-a-kind pieces inspired by our colours and mangosteen motif, and we also did some lovely batik covered books for the collection. I never expected Pothaholic to gain this kind of ground within the first few months, so it was an honour.
You can check out Barefoot for the latest collection or find them online to make that order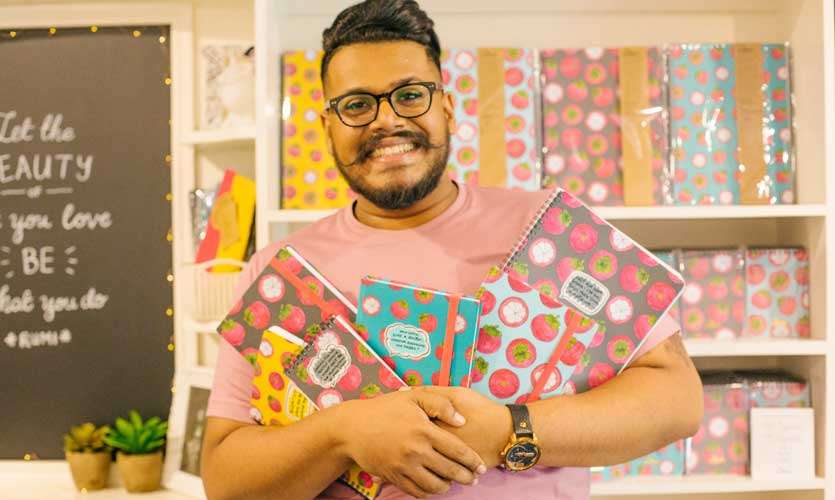 Photographs and video by – you're my favorite
Hair and
Make up
–
Capello Salons
Dressed – Licc
Look by – DXL