What – IRONMAN
Who - Gregory Burns
When - FEB 2019

As we rech the end of 2018 I had the privilege of meeting a man who needs no introduction. He is a man with great positive energy – I met him at Shangri-La as they are the official host hotel for IRONMAN 2019. Gregory Burns a three-time Paralympic athlete, Burns has won gold medals and set world records in swimming pools from Barcelona to Sydney. As a painter, he has carried canvas and brush across five continents. Whether searching for new vistas to paint, travelling on business during a stint in the corporate world or flying to meet one of his many motivational speaking or charity commitments, Mr. Burns spends a lot of time on the road. This time he is taking Sri Lanka to the world.
Burns is Shangri-La hotel's first artist-in-residence. During his residence, he will give guests a first hand experience on his techniques in his creations.The choice of Mr. Burns as the first artist-in-residence rests with his longstanding relationship with Shangri-La Hotels and Resorts. He was first introduced to the family as artist-in-residence in 2010 and 2011 at Shangri-La Maldives and later at Shangri-La Tokyo in 2012. Recently, his latest collection, Painted Journeys, was also featured at The Gallery at Pudong Shangri-La, East Shanghai. In early 2013, Mr. Burns also joined the hotel's efforts in engaging the community. He is a great inspiration to many of us. When we let small challenges trouble us, he has seen the world in a way that's remarkable – he says sometimes we have to do small things to see a big change, even taking the garbage out is a step that can change the bigger picture. And this iron man champion spoke about how tournaments like this can bring in the best in us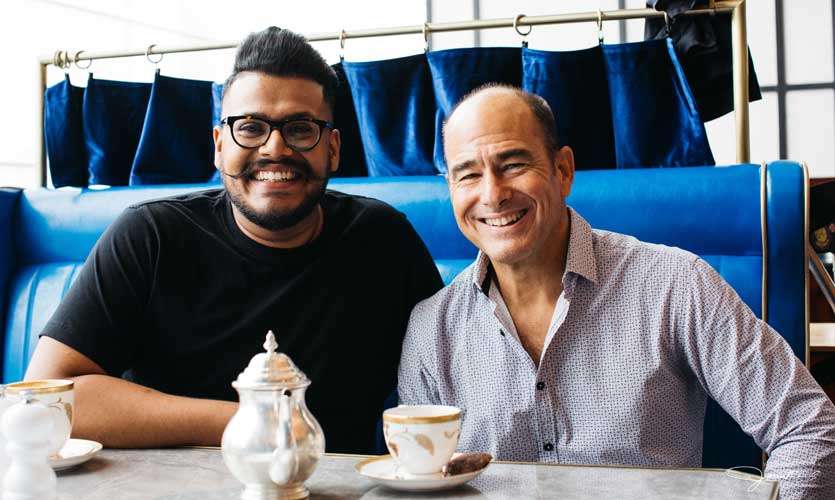 Speaking to Yasas Hewage the brains behind IRONMAN – he says
"last year was a challenge, as it was our first year and now its amazing we have been rated well by the world for a well organized event and this year its going to be more exciting"
IRONMAN 70.3 Colombo will take place in the heart of the city. The 1.9km ocean swim will be held at the historic Galle Face Green, followed by a well paved, flat and fast 90km bike course that will take you through the Port of Colombo.
Yasas says IRONMAN has potential to peddle Lanka as premier Sports Tourism spot
A force to be reckoned with, Yasas Hewage, the Director ofPro Am Serendib, which is the organizer of the Sri Lanka Wonder of Asia IRONMAN 70.3 Colombo, gave up a successful career in banking and decided to pursue his passion for cycling and everything related to the sport. His passion to go green was what started his love for cycling, with him cycling to work every day to lead by example. It gave birth to one of the first cycling communities in Colombo called WROOM.

IRONMAN 70.3 Colombo – this triathlon festival taking place in the heart of Sri Lanka capital city on 25 February 2018. With a 1.9km swim - 90km bike - 21.1km run and anyone and everyone can be a part of it, a new-year resolution to remember
Yasas says
"IRONMAN shows you that you're an athlete at any age. In fact, our oldest athlete is 81 years old. Sri Lanka is figuring out that IRONMAN gives you the Olympic atmosphere to push your limits and live like an athlete and not to be judged against somebody else but to push yourself against your own limits and make that your inspiration or to inspire somebody else. So this is a paradigm shift which isn't about you winning against another but about you finishing something you never thought possible; it's about you."
Dressed by – Licc
T-Shirt – DXL
Photographs – You're my favorite