Amid the Covid-19 pandemic with lifted restrictions and reopening economies, Sri Lankans now have the option of leaving the shelter of their homes to holiday and dine out in some form. Following the reopening guidance with rigorous physical distancing and cleaning protocols, restaurants and hoteliers are equipped with infra-red temperature guns, masked staff in hand with sanitisers, instead of appetisers. As the majority of the restaurants are open throughout the country, one thing is clear, COVID-19 has changed dining. And your next restaurant meal is very different from that last dinner before the imposed lockdown back in March 2020.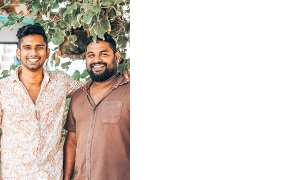 Discussing the new normal with Shehantha Goonesena, Founder of The Social, Unawatuna walks us through the post-pandemic reopening process by adhering to the guidelines granted. The Social, Unawatuna is the brainchild of Shehantha Goonesena and Hasantha Sanjeewa the two friends, who come from two completely different spectrums in life, but who share the same vision and mission of improving hospitality in the country. With nearly 15 years of experience in the industry, Shehantha's ultimate goal is to bring together the local community, by embracing Sri Lanka's rich culture and share it with the rest of the world as our island has the potential to give visitors an experience of a lifetime.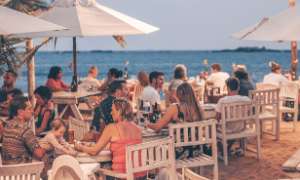 Hasantha who resides in Unawatuna had a hard time growing up. However, with the support of his brother and the strongest women by his side, his mother and his spouse, Hasantha was able to contribute a great deal towards tourism in Unawatuna.
Starting the initial steps in hotel school at the age of 17, Shehantha soared away with internships in various five-star hotels in Colombo and Singapore and gained experience in dozen other various food outlets that serve a vast variety of cuisine and beverages. This exposure and experiences gained, sparked the interest to start his very own venture. Despite having experience and realising that running and operating a restaurant would be the hardest, his courage to step in the deep waters of the south of Sri Lanka is the best decision ever made. Speaking in his true words Shehantha states that he "hopes this inspires other young entrepreneurs in Colombo to step out of their comfort zone and seek endless opportunities down south. Not just in hospitality but in so many other aspects."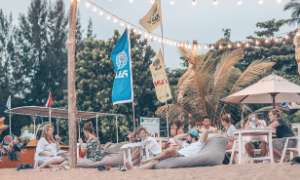 Shehantha has been very lucky to have a great kitchen team since its inception back in 2018. "Nadishka Dayawansa who is a food consultant, helped us create some amazing food and trained the kitchen team in order to get us on our feet initially. Our new executive chef Basil Fernando, a pioneer in the industry, gives me no reason to step into the kitchen unless we are planning new menus."
The restaurant focuses a great deal on comfort food by serving mouth-watering dishes such as herb buttered seafood, prawns in a burger, mango chutney on chicken wings and Tuna with avocado puree. Speaking of the hottest item on the menu Shehantha says "the Prawn Burger, Sesame tuna and pesto pasta have definitely been the crowd favourites."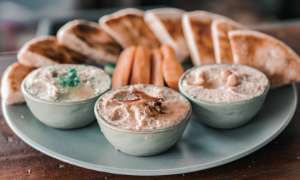 Nearly 70% of the guests at the restaurant are visitors to the country who have discovered The Social, Unawatuna through TripAdvisor. "A good social media presence with positive guest feedback on TripAdvisor has almost doubled our revenue during the second year of business."
explains Shehantha.
COVID-19 has made a huge impact on the entire restaurant and hospitality industry all over the world, with thousands losing their jobs. Reopening entirely is seen as complicated as chefs and restaurateurs need to navigate their way with new rules and regulations that are bound by this pandemic. Most outlets are operating with limited seating and or shorter dining timings, whilst another set is more focused on takeaways and deliveries instead of dine-in. "Over 70% to 80% of our guests are travellers and with the airport being closed our main source of revenue is affected," says Shehantha.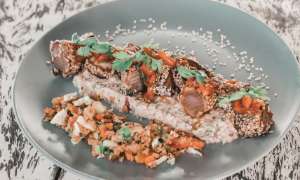 He further explains that "in devastating situations like this, while small run business like us try to keep running and keep our employees intact, we still have not received any help. But as they say, every dark cloud has a silver lining and we have got some great new leaders. We are confident with their knowledge and out of the box thinking and great leadership qualities, the tourism industry would change drastically in the coming years."
Familiar comfort food has reigned through the pandemic and the restaurant aims at continuing the momentum despite the pressure of picking up the business and getting used to the new normal. "We did an 11-month plan when the pandemic started, and it was to sustain, implement and develop. However, with pay cuts and concession from our very understanding landlord, we are confident we could be in operation further on till 2021."
Make a date, head over to The Social, Unawatuna and make it your next best place to hang out by exploring down south of Sri Lanka. Shehantha hopes to set foot towards the accommodation sector. However until the world recovers from the ongoing pandemic, he's glad to welcome everyone to The Social, Unawatuna.
Text: Fazmina Samat