Sigiriya, known for its green surrounds and the magnificent monolith attracts tourists all year round. While the village itself is adorned with beautiful lakes and gardens dating back to times of royalty, there are various sights to visit during your stay. Last week, Life Escapes travelled to Sigiriya and one of its highlights was our visit to the Minneriya National Park. Apart from that, here are five other places you must visit while spending your time in Sigiriya.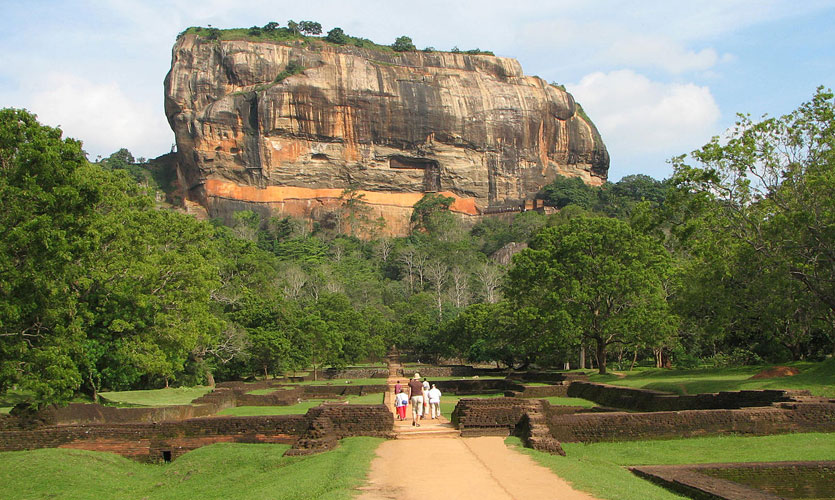 Located in the Matale District near the town of Dambulla is the gigantic column of rock nearly 200 metres high. According to the ancient Sri Lankan chronicle the Chulavamsa, this site was selected by King Kasyapa for his new capital. He built his palace on the top of this rock and decorated its sides with colourful frescoes. On a small plateau about halfway up the side of this rock he built a gateway in the form of an enormous lion. The name of this place is derived from this structure —Sīhāgiri, the Lion Rock.
1.

Minneriya National Park
The Minneriya National Park is a dry season feeding ground for the elephant population dwelling in forests of Matale, Polonnaruwa, and Trincomalee districts. During our visit we were so eager to see its resident giants and we were lucky to see around 12 of them that day. The park was crowded with safari jeeps who wanted to take a closer look at their behaviours. On a normal day, the park is usually frequented with elephants. Along with Kaudulla and Girithale, Minneriya forms one of the 70 Important Bird Areas (IBAs) of Sri Lanka.
This is an ideal site for hiking enthusiasts. It is another massive rock formation directly opposite the Sigiriya Rock. The Pidurangala rock gives an equally majestic site of lakes and land vistas. Other than being a climbable rock, Pidurangala is also known to be a meditative retreat for monks. It's said that when King Kasyapa built the Sigiriya rock fortress, he relocated the monks there to Pidurangala, and then refurbished and expanded the monastery under his patronage.
Located about 30 minutes from Sigiriya, the Dambulla Cave Temple is another place of religious significance. The recorded history of this cave temple dates back to over 2000 years to the time of King Valagama. The beauty of this cave temple is its setting into five huge caverns on a mountainside. Inside are 153 Buddha statues in various reposes, three statues of ancient kings and four other statues including those of Vishnu and Ganesh.
Nature trails and boat rides
Observe the lush greeneries often harmonized by sounds of peacocks in the backdrop. There are various endemic flora and fauna in these surrounds. Have a cup of plain tea and jaggery or even beli mal as you explore this heritage city. If you want to pluck some fresh water lilies, you could go on a boat ride at a lake nearby and pluck some vibrant water blossoms during your stay.