Shenelle Rodrigo (@sheneller) and Shehaan Thahir (@shehaan23) are not your typical Instagram travel junkies. Shenelle, a model by profession and now together with Shehaan, have proven to be one of the most innovative content creators, both video and photography, in capturing some of the breathtaking moments and sceneries across Sri Lanka and several other countries.
In June and July 2019, the couple took a whirlwindof a trip around Sri Lanka for 22 days, portraying the islandin a light that was not seen often before, through a series artfully edited videos that eventually caught the attention of travel enthusiasts abroad and the local tourism industry with their enticing title '#THISISSRILANKA' (Check more on it on their YouTube channel - Shenelle Rodrigo)
As a result, they attracted the right kind of people who wanted to create unique content on Sri Lanka. While they wrapped up a monumental tourism promotion project for social media last year, we are told wait for similar and if not bigger collaborations with international personalities for year 2020 under their trending title, #THISISSRILANKA.
Life Online got a moment to chat with the pair in between Shenelle's photo shoots and Shehaan's new venturesto get to know more about their explorations in the next 10 questions!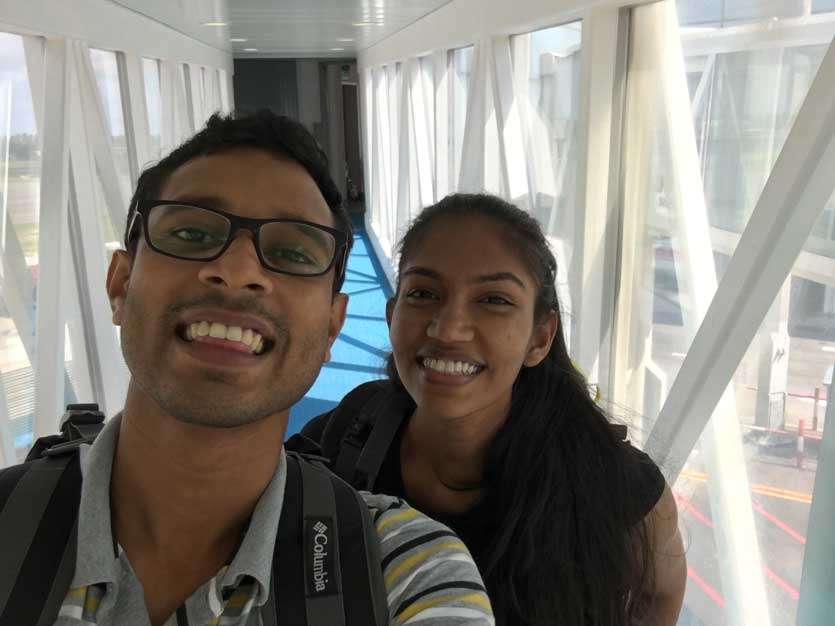 How did you get into travelling and why?
Shehaan–I was fortunate to be travelling from the time I was born. My parents would take us on a trip locally at least oncea month, so it was natural in me to want to travel as I grew up.
Shenelle – We both have a mutual love for travel and adventure. From the time we met we would always prefer to travel over a weekendrather than stay in Colombo & party during our late teens. Since I was already on Instagram to showcase my modeling portfolio, I thought to share our travels through there as well. That gradually began to incentivize us to keep traveling and doing what we love more frequently.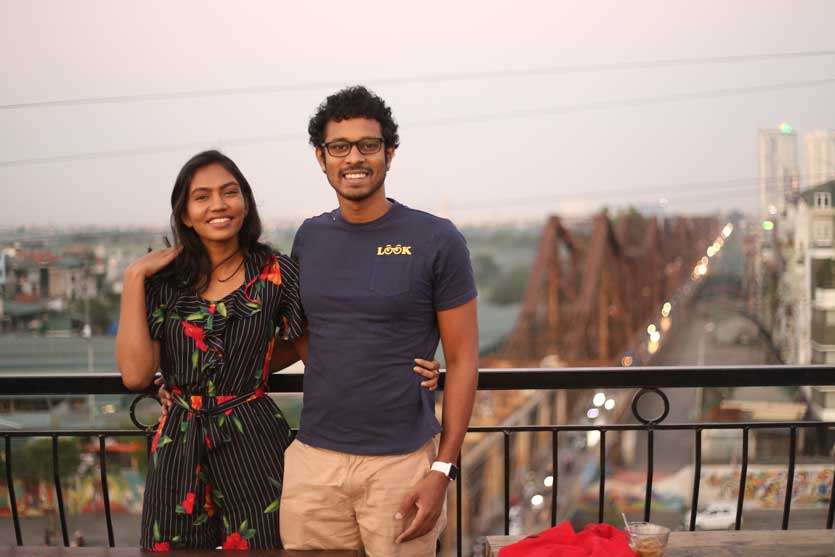 How did you're travel diary on IG evolve to what it is today?
Shenelle–Since I shared a lot of my travels on IG,I started getting a lot of engagement from people asking us how we planned our trips and what we'd recommend for them to check out in places we've visited before.It was when IG stories became a feature that we caught more traction, with people reacting to our travelstories and creating more genuine engagement. Shehaanshares his views in a mannerthat I cannot communicate on my page. I would be politically correct, while he would directly address a concern, and we balance off that way.
Shehaan - Shenelle got into Instagram first and posting her modeling shots were the main thing. I was reluctant to go public at first because I felt like one person's account is enough to share our joint travels. But now I have have gotten used to sharing my views on trends, things we need to be aware of, self-development and sustainability. I like to address sensitive topics and experiment with the content I create. This was something I tested in extent on our recent Bali trip, which was an eye-opener. It was there we realized how similar it was to Sri Lanka and how we could help create awareness on both the success and pitfalls of the Bali tourism model to the Sri Lankan tourism industry.
How do you decide on which places to go to?
Shenelle- We travel more locally than internationally since we spend more time in Sri Lanka but not complaining at all since its half the cost and also because there is so much see and do here. Sri Lanka is not explored by many and is an exotic island not majorly commercialized yet. But we make it a point to travel abroad as often as possible so that we always get a fresh perspective.
Shehaan - We look for places that are less frequented in Sri Lanka and outside. We love to travel abroad but we equally love it to explore within the country. It is important to understand that sometimes you have to witness what happens outside ofour country to realize in perspective how small we are and how big the world is.
How do you manage your time and expenses as a frequent traveler?
Shehaan - The more you travel the more you learn to manage both your time and expenses more effectively. We use a bunch of apps and spreadsheets to keep some method to the madness. But we also make sure we have plenty of room to travel freely and change our plans accordingly based on the present. The last minute change of plans most often provided us with the most amount of memorable experiences on each trip.
Shenelle- We make it a point to travel at least a month at a time. Before we fully committed to this, we couldn't find the time especially with Shehaan's job. We realized we did not enjoy working like that anymore and that we could and should spend more time travelling, which enables us to grow personally & create much better content than most who explore a location for only a few days.
What kind of traveler would you say you are?
Shehaan -Things like taking the train, budget travel, Air Bnb'ing, camping are all an experience itself. We surpassed caring what people thought about the way we chose to travel which was a tough one.It's crazy because when we first started doing these travel plans even our friends had a hard time.In summary though I would consider myself the traveler who travels to learn & grow.
Shenelle - Shehaan told me back when we went to Thailand, before we got into videography, that I should be enjoying the moment and not be fiddling on my phone.That way we were both very different travellers. When I first started filming videos, he wasn't into it but he would see me doing it and impatiently correct me. Now, he brings order to my chaos. I would have wonderful travel ideas but with no means to implement it and he would come in and know how to go about it.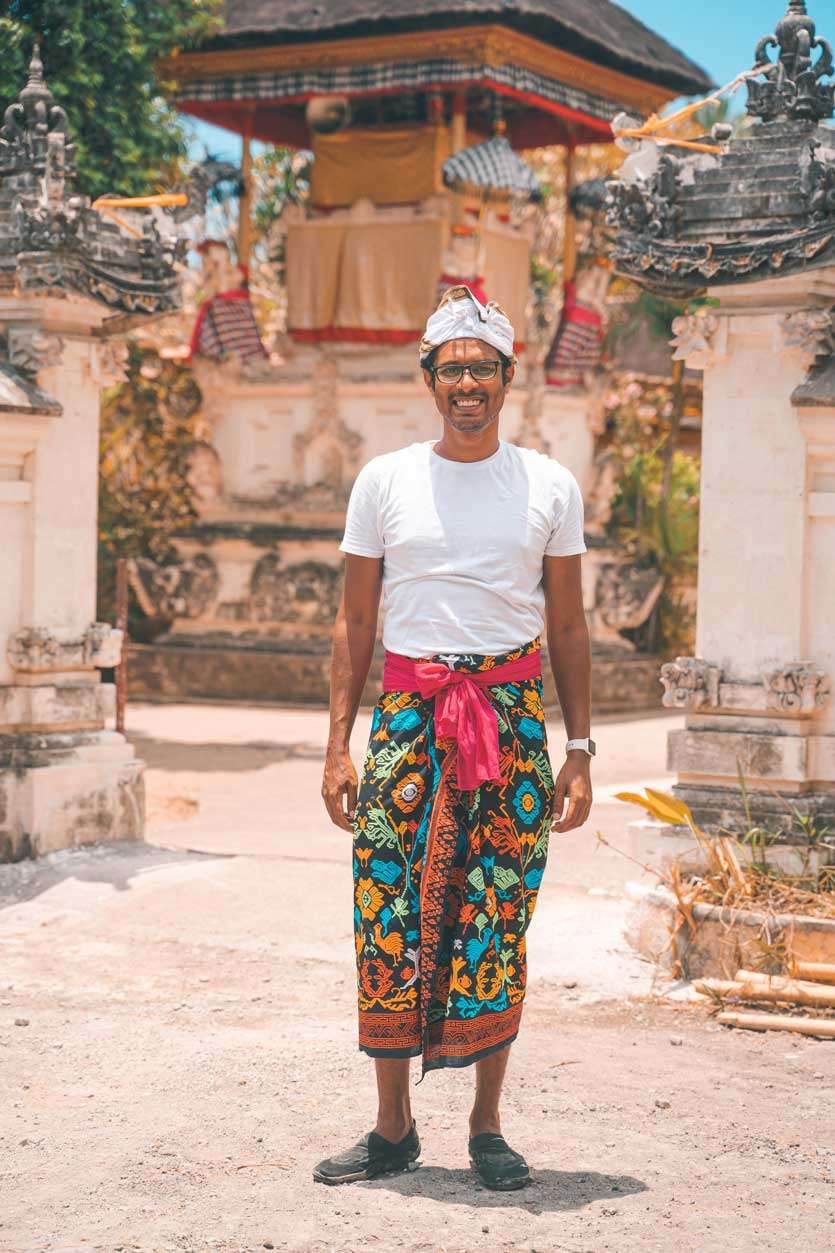 What are your most memorable travels?
Shenelle- In our travels in Sri Lanka, the fondest memory was doing the #THISISSRILANKA series because it was the first big trip we did off the cuff. We hired a vehicle and was on the road for 22 days, we had tents in the back and other equipment since we didn't always stay in proper accommodation. The plan was to camp all around the country but it wasn't easy, so we found some places through Air BnB. Another was our first back packing trip for 30 days outside of Sri Lanka, in Thailand. This was our first time travelling together alone outside of the country. We weren't into videography then so we didn't film our trip like we do now. We did north of Thailand mainly and spent the last three days in Bangkok. We shouldstring together the little bit of footage we captured back thenproperly after we finish working on our footages from Bali.
Shehaan -We always spoke about driving around the island, even with our friends. That was something we wanted to do but no one could get off at the same time. So we finally did it last June, starting from Colombo to Negombo, camped in Kalpitiya, then to Wilpattu, Dambulla and the cultural triangle. Then went up to Mannar to Jaffna, Trincomalee, Arugam Bay and to Weligama. From there we travelled to the hill country, that is Haputale, Kandy, Nuwera Eliya etc. It was tiring but we together with our friend @itsyashvin did a series of six videos with the main three minute video that went viral.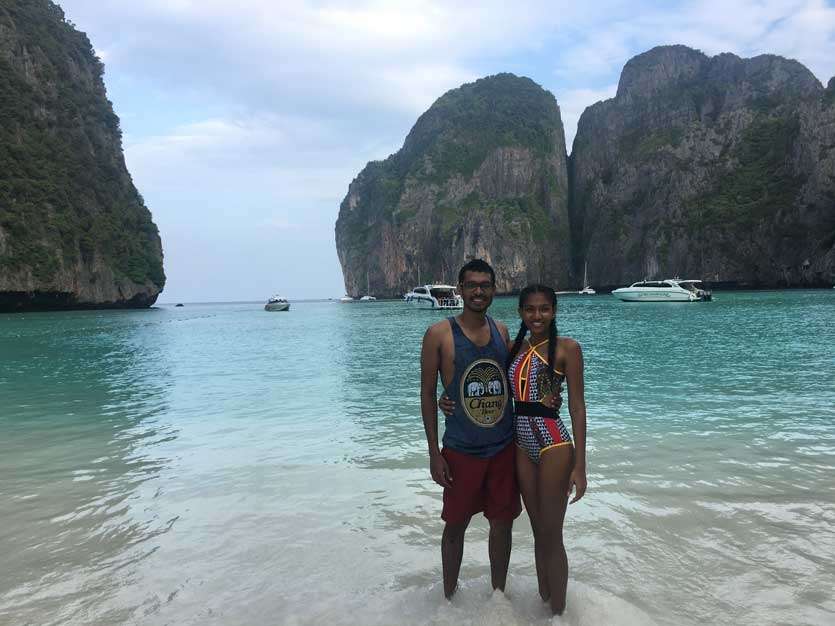 What was the biggest change that came about from creating IG content?
Shenelle - #THISISSRILANKA opened doors for us because we were able to outdo our own limitations and create new and improvedcontent than what we previouslyportrayed on IG and alsotake on even more challenging projects. We love to do projects where we are given the creative space to bring out our vision. The more we get involved the more we get familiar and improve the quality of our content to show that there is a difference over everything else that is out there. It's easy to get immersed in it when you are doing what you love day in and day out. I had that struggle of deciding what to edit and what to keep but you realize you can't go forward like that.
Shehaan – Biggest change for me is the wealth of knowledge and awareness we've gained since getting into content creation. From how tourism works in other Asian countries and how it is over here, the different cultures found around the world, to how&why places like down south and Ella are evolving in comparison to the rest of the country. We have also become aware of over tourism and how poorly it is managedin Sri Lanka & the region. We've also learnt a lot when it comes to working together when it comes to Photography/Videography/editing; I usually want to get it out there as soon as possible. Good thing with handling big projects is that it trains you to work faster in editing footage because you have to keep it relevant and release at that window of opportunity. With #THISISSRILANKA, we took more than3 months to get the video series done. If it was up to me, I would have cleared it in a week. Yet it may have not had the same quality& reach.But then with the larger corporate campaigns that we managed we had deadlines to meet;and we realized that together we could work faster and still create amazing quality. Most often Shenelle and I perceive things differently whichalso brings two perspectives into our projects. What is encouraging is as a result of all of that is a quality end product that neither of us would have been able to create alone.
What countries have you'll travelled to for content creation?

Thailand
Malaysia
Singapore
Philippines
Vietnam
Indonesia
Top favourite places in Sri Lanka

Cliff Lodge camping in Haputale
Yala National Park - Camping
Thambanni beach - Beautiful Location
Jaffna - Culture, Scenery, people!
NuwaraEliya - Weather, greenery, strawberries, architecture
Riverston - perfect for a scenic drive
Kalpitiya - Adams Bridge, Kite surfing!
Trincomalee - in the season the beaches are unmatched
Mannar - Awesome experience from food, weather, donkeys and flamingos!
Wasgamuwa - National park here is beautiful
Ratnapura - Rock pools!!
Your recommendation of less frequented places on the island

Ratnapura
Mannar
Riverston
Thambapanni
Knuckles mountain range
Sinharaja
Meemure
Batticaloa
*Watch out for Shehaan's most recent community project @itswellabeach and Youtube interview segment #TrashTalk, an initiative to revamp the Wellawatte beach into a series of artistic and photo op spots. In #TrashTalk, he invites prominent personalities in Colombo to help bring awareness on keeping the shores clean while cleaning the beach together.
By Melanie Senanayake