At Culinary Ceylon, they believe that when you visit another country, the best way to connect to its history, culture and people is through its local cuisine. Culinary Ceylon would be the ideal place to recommend to anyone visiting Sri Lanka. They would be able to try out a mix of cuisine originating from different parts of Sri Lanka and also learn a little about the food. This is totally different to going to a hotel and ordering something you would like from the menu. It's a whole new culinary experience.
Our visit to Culinary Ceylon was a very interesting one and quite unusual from the regular food reviews we go for. We were taken on a journey of exploring authentic local cuisine prepared in a 'home-cooked' style using family recipes passed down from generations. The curator guided us through the menu relating little snippets about the origins of what we were about to indulge in. We actually learnt quite a lot of interesting facts about our local food that we take so much for granted.
Ambience
Finding this place is not actually difficult. Fortunately there is only one petti kade on Hospital Street and you are supposed to walk into it or rather, through it. Who would think that walking into this very regular petti kade would avail you of an experience you'll remember for a long time?
The start
We started the journey cleansing our fingers with rose water and cinnamon infused wet towels. Then each guest had to introduce himself / herself to break the ice so that everyone around the table was comfortable with each other. The curator we had was the very talented Glen, and his knowledge of food and history combined with his wit made us have a good laugh whilst enjoying the delectable food. While relating stories of Old Ceylon he also made it a very interactive session by asking us questions. This made everyone participate in the experience.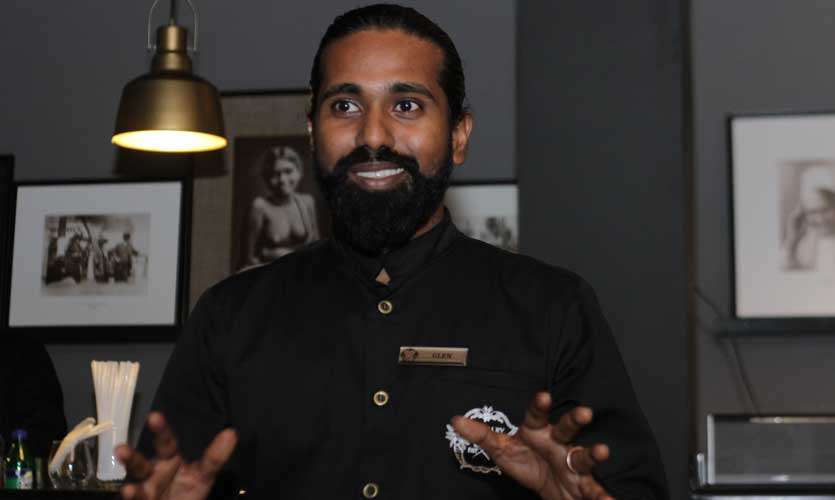 Food
The seven course degustation menu comprised of miniature portions of well-presented diverse preparations from the north, south, east and west of our little Island. We started with a very spicy Crab Rasam which came in a tiny little cup. It had the right amount of everything and everyone enjoyed it very much.
Next came a little platter which had a small crispy Isso Wade - a common feature you see at Galle Face, Hot butter cuttlefish, Ulundu vadai, cold grilled sweet potato which was topped with eggplant salad.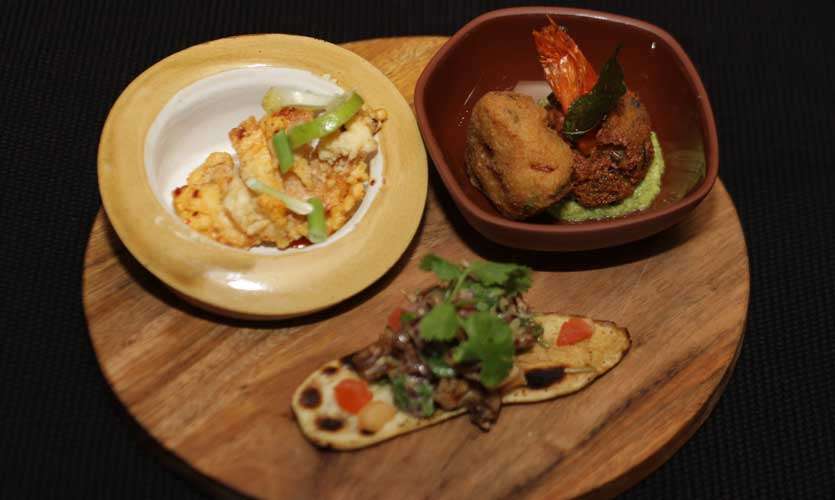 The third course was my favourite with the pol rotti stuffed with a delicious Black pork curry accompanied with lunumiris and Seeni sambol.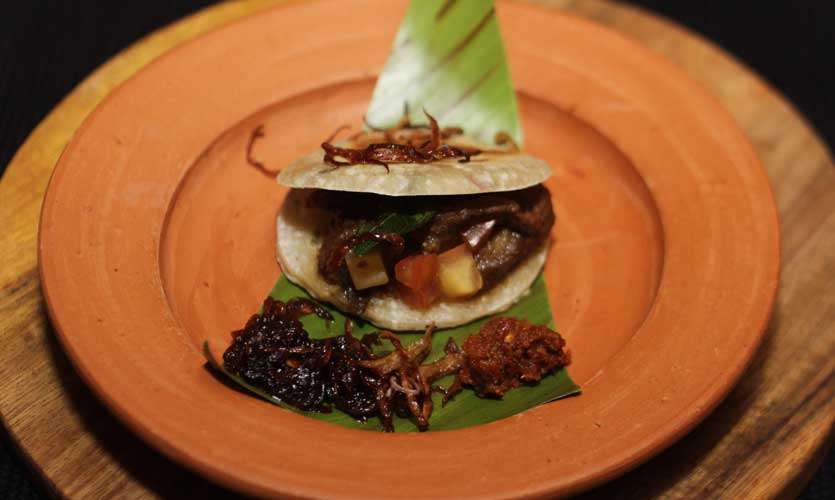 And then came the cute little lamprai in a woven basket. Lamprais were introduced to us by the Dutch colonisers and now it has become a Sri Lankan favourite. It had the meat, the cutlet and everything that needs to be there.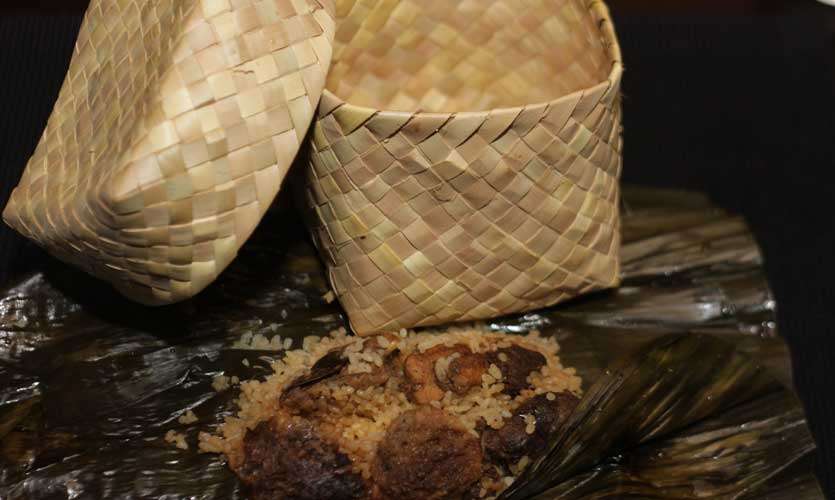 The popular street food String hopper kottu and Koththu roti with roasted succulent chicken wings was served next.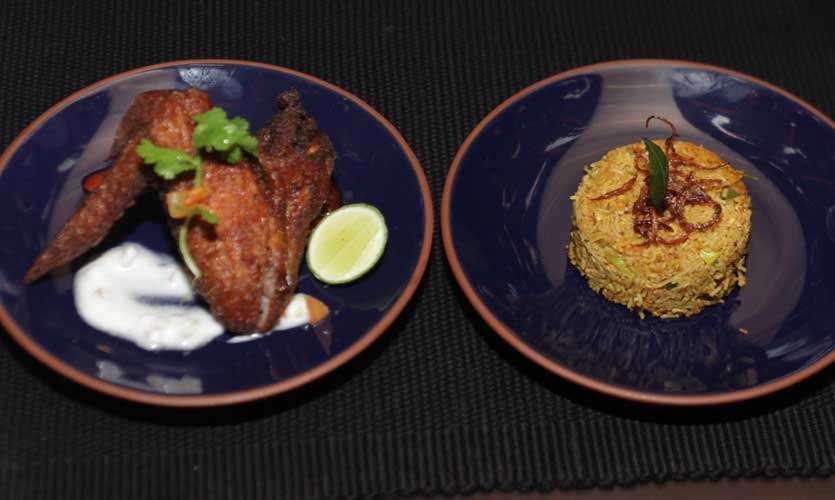 After all this we were really full but could not resist the Thosai. It was straight off the pan, so it was hot and crispy. We relished it with tomato chutney and coriander coconut chutney.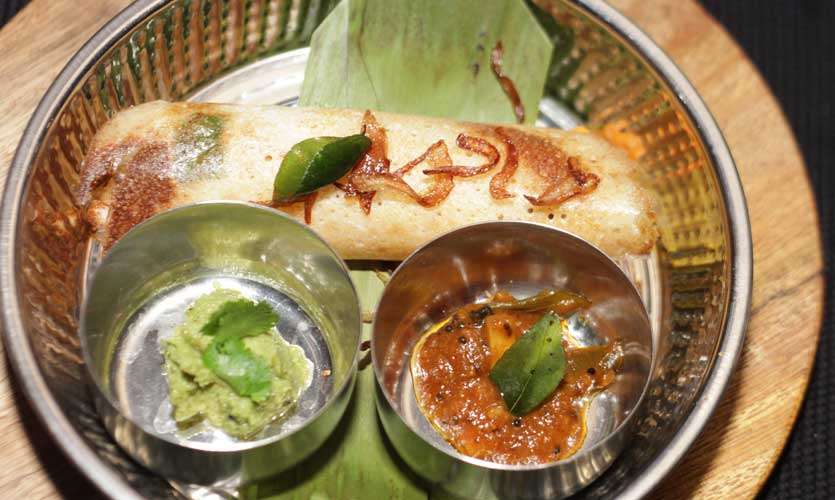 Dessert
For dessert we tried out the Pol pani pancake and Buffalo curd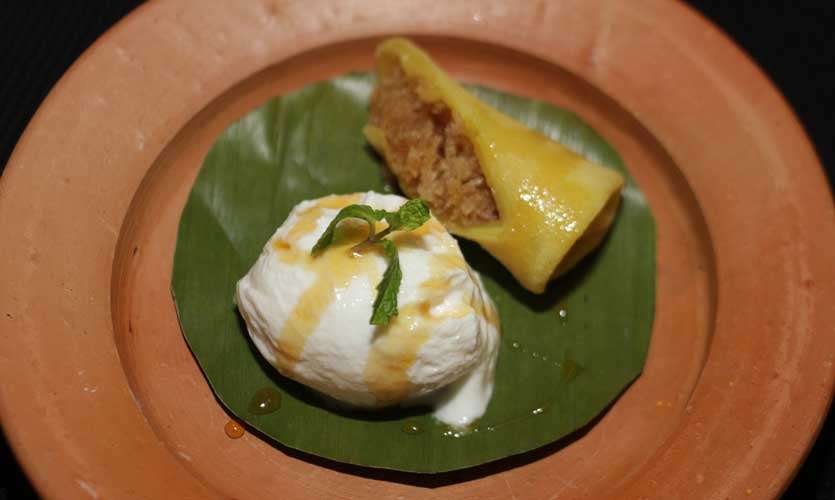 The curd helped to balance the full stomachs and we thought that was the end. Then to our surprise a Bombai Motai man walked in ringing a bell carrying his container and the 'Nice' that he serves the Bombai Motai on. This was a familiar sight in the days gone by but we hardly see it now.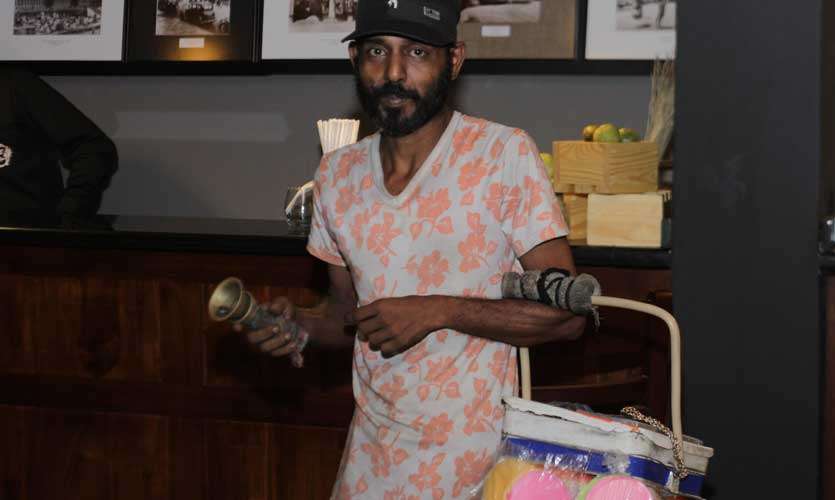 For those of you who are wondering what this Bombai Motai is, well it is something close to candy floss but not quite. This was such a pleasant surprise as I can't remember the last time I had Bombai Motai.
Thankfully everything came in miniature portions otherwise we would not have been able to taste all these delectable items from the menu. It was such an enjoyable experience!
Culinary Ceylon is owned and operated by Leopard Trails (Pvt) Ltd
Pics – Nisal Baduge