How do our food experts cook and eat? This week, digital content creator and food blogger of CRAVED by Ashan takes our Q&A!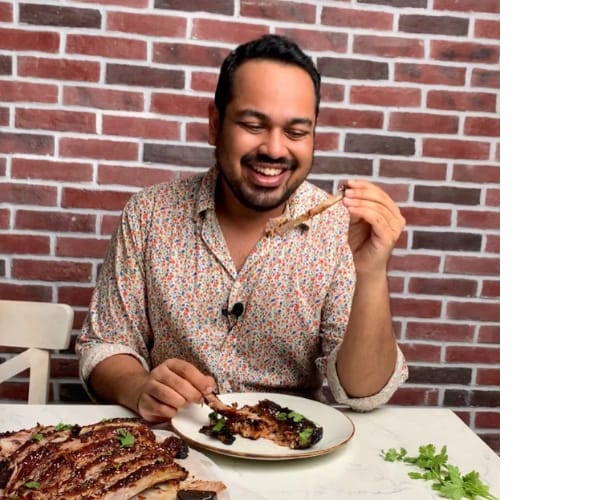 What started Craved by Ashan?
The sheer love for food and cooking. I have always loved watching cooking shows since I was a small kid. As my love for cooking started to grow, I wanted to document it and take it out into the world. I also wanted to normalise men cooking as I wanted to bust the thought that only females should be in the kitchen as unfortunately in Sri Lanka that is still mostly the case.
What kickstarted your passion for cooking?
I was lucky to be born into a family of foodies. My grandmother and mother both are amazing cooks. Most of the men in my family are great cooks too! But my real passion for cooking started when I was doing my higher studies in the United States. Living alone does make you want to cook by yourself as much as possible. I am a visual learner, so I watched so many YouTube cooking videos and started to recreate some of the dishes and that's how it all started.
What is an ingredient you are always guilty of sneaking into most of your recipes?
Garlic. I mean if a recipe says to use 3 garlic cloves, I chuckle a little and use 10 instead.
Your signature dish?
A classic Chinese fried rice. I have always loved to make Chinese food especially the ones that involved a wok. I have recently unlocked the recipe for a restaurant-quality classic Chinese fried rice and I just love making that.
Can you make a fancy dish with Rs. 500?
Let's be honest. With the prices of food these days it will be a challenge. But I'm sure I can make a very nice breakfast with that amount. Creamy and buttery scrambled eggs on a buttered toasted slice of bread and fresh guacamole made with an avocado, tomatoes, onions and freshly squeezed lime juice will go nice with it. Wholesome and sort-of-a fancy start to the day.
It's your last day on earth, where are you and what are you eating?
This is a really hard thing to ask from a foodie… but I would love to have a meal my mother would prepare at home. Preferably, Ghee Yellow Rice, a really good Chicken Curry, Egg Salad, Potato Tempered, Devilled Prawns and some Papadums and a slice of Pineapple. YUM!
A meal to impress?
Oh wow, lots of ideas! Maybe Thai because the explosive flavours will seal the deal! Start with a Thai Prawn Toasts with a Sweet Coconutty Sauce, followed by a Red Curry Fish made with the freshest homemade curry paste, a Minced Pork Stir Fry with Thai Basil and a fresh Papaya Salad all served with hot jasmine rice.
The most exotic food you've eaten?
The last time I was in Bangkok in 2019. When I was walking in the middle of this big supermarket with so many ingredients that made me want to move to Thailand, a little kiosk was selling crocodile meat. Yes, to my horror there was a whole crocodile on display too. I decided to just go for it so had some grilled crocodile meat. It tasted actually like a hybrid of chicken and fish.
Your proudest food invention?
I made these killer BBQ pork ribs in the oven using a sweet and savoury sauce which I invented. It was absolutely amazing, the meat was falling off the bones and juicy. The sauce was so great I make this all the time.
If you are trying out a recipe for the first time – what is your process?
I love cooking savoury dishes mostly and Asian dishes at that. When I find a recipe I like, I want to make it immediately. Once I have everything, I always start with the Mise en place (a fancy French chef word for prepping the basic ingredients). Then I go with the flow to the end. I like to always photograph what I cook so styling the food and plating them nicely is essential.
Follow the recipe VS. just wing it?
Definitely do not follow the recipe unless it's something like baking a cake or desserts which you have to be precise. Most of the time I look at a recipe once and then just wing it.
Your proudest lockdown food invention?
I made pasta with corned mutton which was the bomb! Basically, you use canned corned mutton available in supermarkets and make a nice spicy sauce with garlic and curry leaves and mix with the pasta.
Your favourite recipe that has been passed down to you from family?
As I said, most men in my family are great cooks too. When my 87-year-old grand-uncle got to know about my love for food, he handwrote his recipe for Banana Bread and handed it over to me. I think that was the best gift I have received, and I treasure that recipe with my life. Also, FYI, it is the BEST Banana Bread recipe I have ever had!
What's your hallmark for 'good food'?
Fresh ingredients and the right seasoning.