Looking for a reasonable place to eat crabs in Colombo?
The Fat Crab is a restaurant that has been around for a while and has gained quite the reputation for its seafood. The restaurant is a part of the Don Stanley group and offers guests an informal dining experience with fresh, quality seafood at its core.
Here's our dining experience at the Fat Crab.
Ambience
The Fat Crab is located upstairs of Don's Deli down Marine Drive. It's a cosy little space offering customers a direct view of the Indian Ocean. There is a small outdoor balcony area prettily set up for a quick drink while the inside offers a more intimate space with dim lighting and a vintage touch with massive posters of movies and Broadway musicals adding a pop of colour in the background.
We popped in early for their dinner service around 6pm and got to enjoy a nice sunset and a cool breeze with our meal.
Drinks
The Fat Crab has a fully stocked and decked out bar at one corner of the restaurant with their very own in-house Mixologist Shan who is super friendly and entertaining if you want to have a quick cocktail before your meal. The beverage menu offers all kinds of alcoholic drinks including a variety of classic cocktails such as the Margarita and the Arrack Sunset that can also be ordered as a mocktail. They also have juices and sodas.
Food
The Fat Crab is, as the name indicates, all about the seafood save for a few dishes such as their biriyani, Mongolian barbecue and steak. Their menu offers a variety of seafood dishes of which the highlight is placed on the crab – which is undoubtedly their specialty.
We started our meal off with their signature appetizers; the Baked Crab (Rs. 950), Panko Crumbed Tiger Prawns (Rs. 925) and their Signature Seafood Chowder (Rs. 775). The panko prawns were wrapped in bacon strips and cream cheese then deep fried and had a great combination of flavours and textures while the seafood chowder was thick, rich and creamy. But what we really loved was the baked crab which was served in its shell packed with crab meat in a creamy sauce and a golden cheese topping that was absolute goodness from start to finish.
Before digging into our crabs, we opted for their Chili Prawn Pasta (Rs. 1900) which gave us the spicy kick we needed after our creamy appetizers. Thick fettuccine ribbons were coated in chili sauce and tossed in with a generous amount of prawns and topped off with a dash of parmesan. The pasta was smooth and rich and had a light spicy kick to it that we enjoyed.
We were quite confused as to what a pot biriyani was doing in a seafood restaurant but upon our inquiry the manager heavily recommended us to try it as it's one of their best-selling dishes. Their Copper Pot Biriyani can be ordered either vegetarian or with tiger prawns or masala chicken. Having had our fill of seafood and awaiting our finale crab dish, we opted for the Masala Chicken (Rs. 1600). The biriyani is a dish that is easily shared by two people and is accompanied by a cold raita and while we had no complaints about the dish, it wasn't spectacular either and we would personally recommend the seafood options over this dish.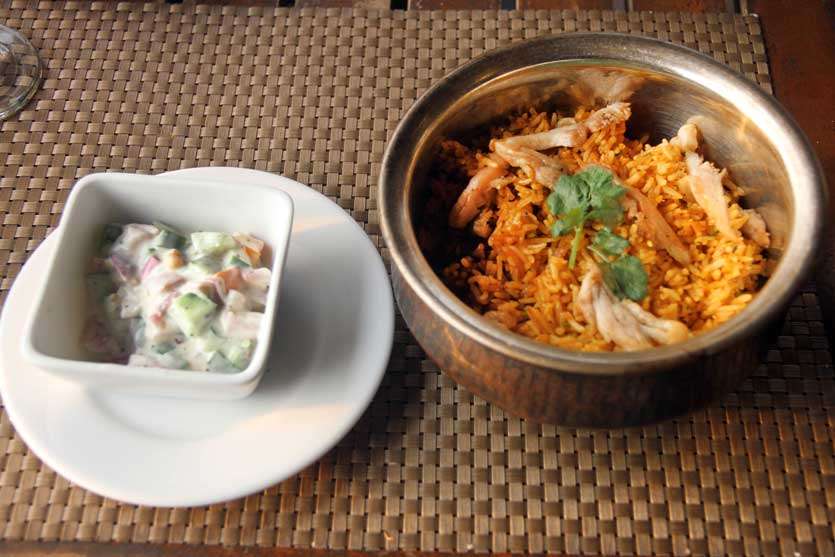 Our finale crab dish was what we were excited for the most. Fat Crab uses export quality lagoon live crabs and allows you to pick and choose your own live crab, weigh and pick out the style of cooking. The crabs range from Medium (35og each) at Rs. 2800, Large (500g each) at Rs. 3600 and Extra Large (1kg portion) at Rs. 6900.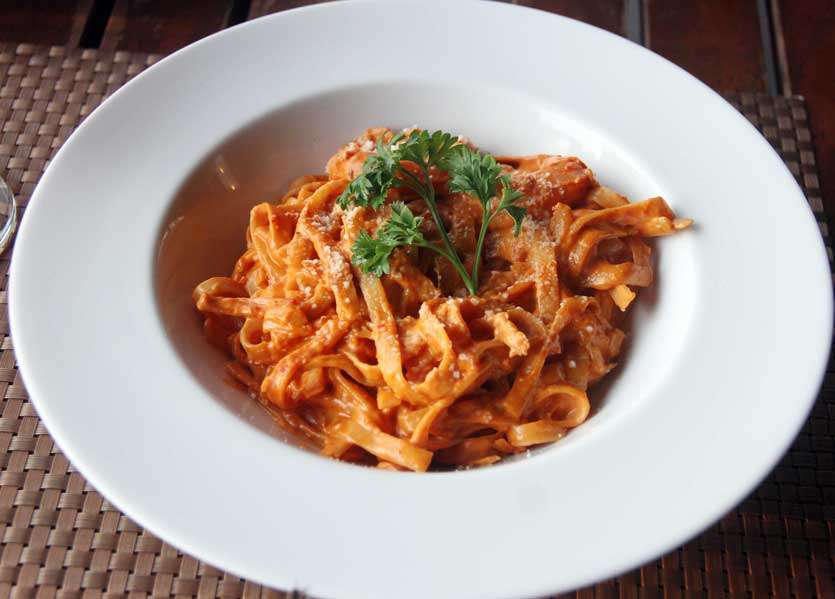 Once you've selected your crab, you can opt to choose from 6 different styles of cooking; Lankan Murunga curry, Black Pepper, Steamed Crab, Garlic Butter, Singapore-style Chili Crab or Spicy Negombo Devilled Crab. The Lankan Murunga Curry and the Singapore Chili Crab are two of the most requested styles at Fat Crab but if you are looking for something milder, they recommend the garlic butter crab. At the last step, you have to pick your choice of accompaniments from either kade paan/ steamed rice with dhal and pol sambol or fried rice with stir fried kankun and chili paste.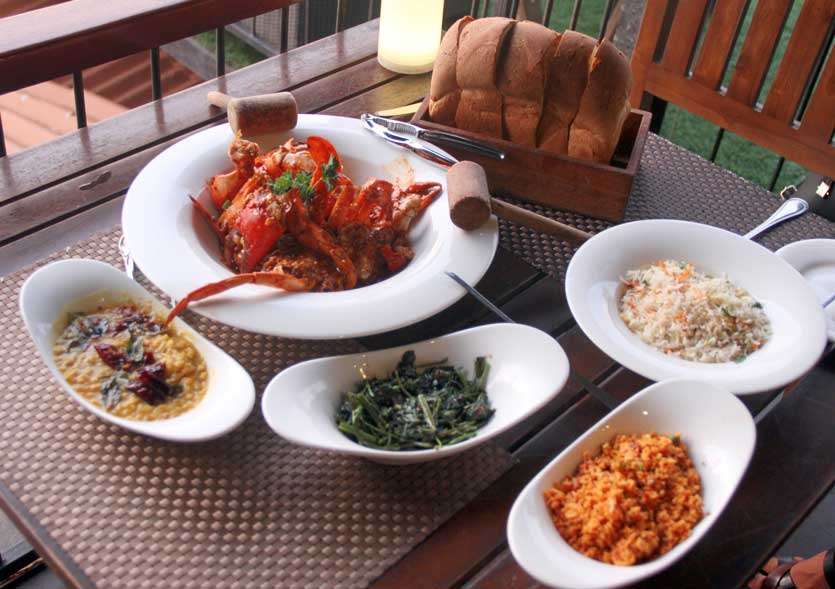 For ourselves we ordered a Large crab cooked in Singaporean Chili Crab style with both options of accompaniments. As the food reached the table our server gently tied a bib around our necks and assured us that 'any messes we make while eating is more than okay'! While the hot kade paan, dhal curry and pol sambol were great – we soon abandoned our carbs to dig into the crab and were happy to find our crab fleshy and succulent. The crab has absorbed all of the flavours from the chili sauce and a great balance of sweet and spicy elements and as a result – we couldn't help but make a mess as we devoured our crab.
Service
Service was one of the main reasons why we enjoyed Fat Crab. Their manager, Theresa, was a very friendly host and ensured that we had a quality service throughout our dining experience. She also makes good recommendations which were especially helpful to us when we were picking out our crab dishes as she guided us through what styles of cooking, we may enjoy and how much crab would be enough for us.
Overall
Overall, we enjoyed our meal at the Fat Crab. The ambience was soothing and relaxing, the service was friendly and the food was hearty and delicious. Colombo has very few places that does crab well and most of them are quite expensive so the Fat Crab offers a more reasonable alternative and the option to make a mess while you are at it!
Pics by Pradeep Dilrukshana