It's universally agreed that one of the most important survival hacks for any parent with growing babies is having snacks on hand. Not only is it the easiest way to pacify your hangry (hungry + angry) little one in between mealtimes, healthy snacking is a big part of your child's growth as a nutritious diet plays a huge role in their brain development. Nutrients like protein, fibre and healthy fats must be present to give your child the energy they need. Unfortunately, finding genuinely 'healthy' baby snacks is difficult in Sri Lanka and not to mention, utterly too expensive for imported baby snacks to be a regular treat for your baby.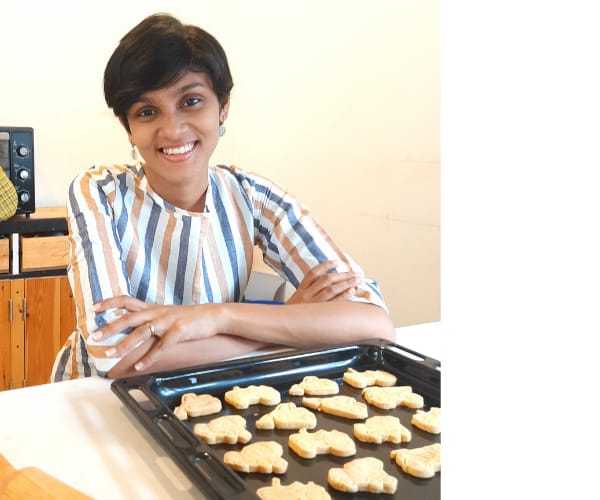 Posha Crunch, a local brand by new-mom Andrea Alex, is making snacking for your toddler and child healthy, easy, yummy and affordable. Andrea, who was working in corporate jobs in the fields of research and education for around 6 years, chose to resign from her job post-pregnancy to be with her baby boy, and between lockdown and experimenting with snacks for her boy she found herself starting a home business that got popular among parents in no time. "During the first lockdown in April, I couldn't source the usual rusks for my baby because they were imported and there were restrictions in place so I started making my 'Posha Cookies'. Baking has always been a hobby of mine so I took the lockdown to experiment and my baby loved it, so I continued to make most of his snacks at home.
Then, it struck me that if I had been struggling to find local, healthy, homemade snacks for my baby, this should be an equally pressing issue for other parents as well. Within that week, Posha Crunch was born" shares Andrea.
Posha Crunch is a Good Market approved brand that offers homemade baby and toddler snacks made fresh to order, packed with vitamins and minerals. All their handcrafted snacks are fortified with cereals, grains, cheese, fresh fruits and nuts with no added preservatives, additives, artificial colouring or flavouring with the added option for parents to control sugar levels on request. Their products are ideal for babies and toddlers as it targets important food goals for kids as they are local, homemade with healthy, fresh ingredients and presents endless educational and snacktivity possibilities!
"We made sure to source our ingredients from local suppliers so all our ingredients are fresh and as a result, the nutrients are preserved. Our products are made from very simple day to day ingredients. In a world where artificial ingredients such as egg replacers or margarine are used to cut costs, I am happy to say I continue to use very fresh, safe ingredients."
Posha Crunch's most in-demand product is the Posha Cookies Range. The base of the cookie is made with local baby cereal, trusted by parents for generations and government-approved with no GMO and packed with vitamins and minerals. The cookie is a great nutritional supplement for babies and toddlers and the creative cookie forms make it more attractive for kids. The Posha Cookie range includes various natural flavours made with banana, almond butter, peanut butter and coconut. Their jam peanut butter cereal cookies are a crowd favourite, among both children and adults! Their newest range is the Cheese range which focuses on snactivity as it is cut into various shapes of animals, letters, numbers and vehicles for kids to have a learning experience while snacking.
They also have a Vegetable snack range of breadsticks made from organic, locally sourced vegetables such as spinach, carrot, beetroot and herbs – making it a fun and easy snack to encourage kids to eat their veggies. The most recent addition to the brand's growing menu is the extension of the Posha Cookies range to Teething Sticks that has been hugely popular among parents with babies in their teething stage as they become fussy eaters during that time.
"Since we launched, we've received such great feedback. Parents find our snacks convenient, travel friendly and a go-to snack for fussy eaters. Most of my snacks are focused on baby-led weaning which encourages babies to eat on their own. My snacks allow them to conveniently hold and consume on their own and they are extremely soft to prevent choking. I have had countless messages from parents saying their kids love their Posha snacks and we've been chosen by kids as their travel choice of snack, for gifting and even as a part of their birthday tables! Being a very unique product in the market, I am absolutely thrilled by the positive feedback and happy to see how well the Posha Crunch brand has grown over the months. We send orders all across the country".
In the future, Posha Crunch looks forward to introducing more ranges to their menu and is currently working on accessibility so parents can have the option of immediate purchasing, meal plans and subscription packages.
Follow Posha Crunch on Instagram (posha_crunch) for more details. Direct ordering is available through their Instagram page and they are also available on JustGoodness.co, Orchard Organics Thimbirigasyaya and Gusta. Delivery within 1-2 days in Colombo and 4-5 days outstation.