Ichi Zen joins as the latest addition to Japanese Restaurants in Colombo at Ward Place, Colombo. The restaurant launched late January 2022 and was declared open by the Japanese Ambassador for Sri Lanka Mizukoshi Hideaki. Ichi Zen is the brainchild of Chandana Silva, the CEO of the establishment and a businessman with decades of experience in the F&B industry, having owned several restaurants in both Japan and Sri Lanka. Living in Japan for over 30 years, Chandana brings not just his business expertise to Ichi Zen, but also his personal experiences, knowledge and insight into the Japanese food culture and traditions. He is joined by Executive Chef Manjula Kurunduwatta, whose 20 years' experience working at some of Colombo's best luxury hotels and Japanese restaurants has led him to be known for his sushi skills.
Ichi Zen, meaning 'One Meal' in Japanese, aims to be a true reflection of Japan's dining culture. "Japan has a huge after-work drinking and dining culture where after 5 pm, people will go to a BBQ or a casual eatery for food and drinks instead of going home. We want to create a similar concept with Ichi Zen" shares CEO, Chandana.
Living in Japan, Chandana's exposure to quality ingredients ensures that Ichi Zen delivers the most authentic dishes. Nearly 95% of the ingredients used at the restaurant are imported with a special focus on bringing down fresh, graded quality fish - the mainstay of all Japanese foods. "Good sushi is characterised not only by fresh fish but also by the right rice and the right ingredients so it is important for us to only use high-quality ingredients to offer our customers sushi in a quality rarely found outside of Japan."
Ichi Zen's menu reads like a book with over 100 items to choose from – appetisers, tataki, sashimi, maki, temaki, uramaki, donburi, yakitori, salads, rice and noodle dishes and a variety of Ichi Zen signature rolls. While sushi and sashimi are the highlights of any Japanese restaurant in Sri Lanka, Ichi Zen's yakitori BBQ has poised itself as a top contender as a customer favourite.
Salmon Sashimi
This imported sashimi-grade salmon was expertly prepared; fresh and slightly chilled, allowing us to appreciate the richness of the salmon. It didn't have a strong fish odour nor did it taste fishy, which we have been told are good indicators of fresh seafood.
Ichi Zen Signature Spicy Tuna Salad
This dish is a chef's speciality that is an in-house favourite. We are big fans of spicy tuna maki and this salad is essentially the same, minus the rice. Sashimi-grade tuna is mixed with a special spicy sauce made with spices and Japanese mayonnaise and topped off with panko crumbs for a crunchy texture. It has a mild and fresh flavour with a slightly spicy kick that doesn't overpower the freshness of the tuna.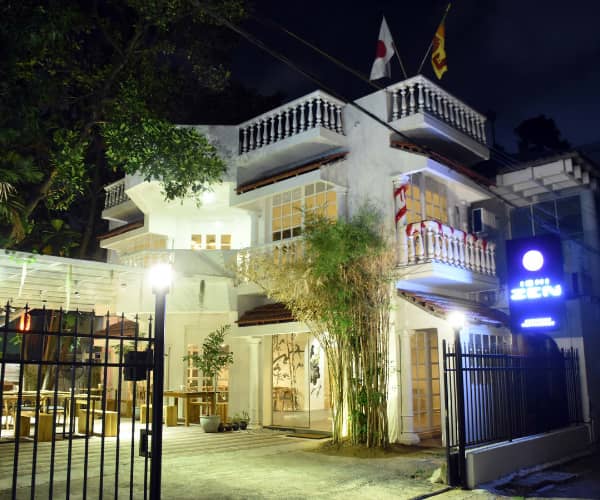 Signature Maki
California Dream - This signature maki set has 9 pieces prepared three ways; crab stick and avocado, salmon and avocado, tempura prawn and avocado. Though avocado is not traditionally a part of Japanese sushi (it's a fruit foreign to Japan), it was adapted into the cuisine in replacement of toro (the fatty part of the tuna) in order to replicate a similar melt-in-your-mouth feel and is a mainstay in California rolls. Paired with different seafood, the avocado complements the various textures by allowing the seafood to be the highlight of the dish while balancing the flavours.
Signature Fire Roll
The Signature Fire Roll is an inside out sushi roll with an avocado and tempura prawn filling topped with a thin layer of tuna and a spicy-sweet sauce lightly drizzled on top. Contrary to the name 'fire roll', the maki is actually more on the sweet side. Tempura
Curry Udon
Curry udon is a spicy noodle soup that balances the umami from traditional dashi stock broth and the rich flavours of a slow-cooked Japanese style curry. As a Sri Lankan, it was somewhat of an experience tasting a different style of curry than our own so in all honesty, we did take some time getting used to the Japanese style curry broth. Our udon was served with a generous portion of batter-fried prawns and vegetables.
Yakitori
It was easy to understand why this was an Ichi Zen speciality because there was not a skewer on sight that we didn't clean off. Ichi Zen has an outdoor BBQ station that keeps the grill going to serve hot, glazed yakitori that is simply delicious. If the smoky smell of the BBQ doesn't entice you, the fact that the yakitori is priced low so you can indulge without worrying it would cause a dent in your wallet should surely tempt you to give it a try. We had their Pork Belly Yakitori, Chicken Yakitori and Chicken Skin Yakitori and we can sum it up in one word – YUM. The Yakitori flavours come from a tare sauce made with soy sauce, mirin, sweet cooking wine and sugar for a combination of umami and sweet flavours. Once it's cooked over charcoal, it has a slightly smoky flavour that completes the dish. A must-try in our opinion.
Overall
Overall, we had a great dinner at Ichi Zen. The food was fantastic – fresh, prepared to order with a good balance of flavours and the portion sizes are value for money. They are well-staffed with a team of trained chefs which meant that despite the restaurant being busy, our dishes arrived well ahead of the usual waiting time. Ichi Zen offers both indoor and outdoor seating with a relaxing ambience for a casual dining experience.
photos Kushan Pathiraja