If you're just as surprised that 2017 finished so fast, you're not the only one. I feel like I just bade 2016 farewell, and now the Millennium is officially an adult! While gorging on Kiri Bath and chicken curry at the beginning of the year, many resolutions were made, trends were set, new relationship goals were attained.
While I reached new heights with Clinomania, many couples have set social media trends in 2017 that are here to stay. Let's take a look at seven highlights of the year.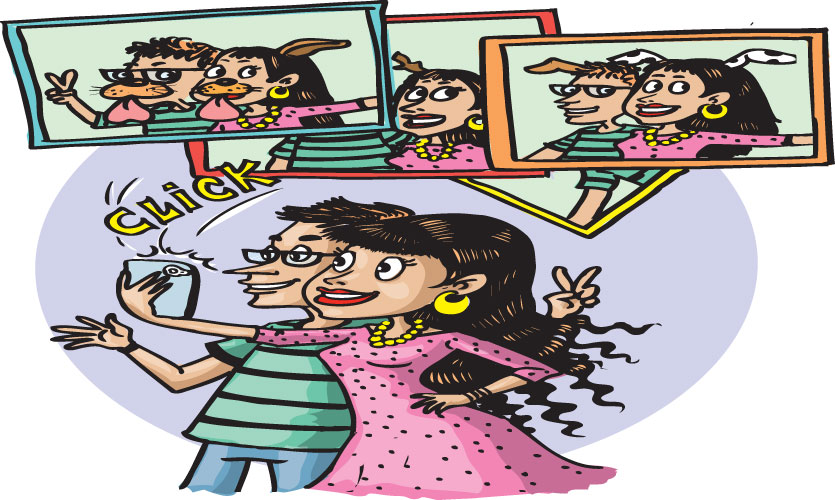 1.) The Longer-than-Constitution Nuptial 'Thank You'
If you've heard the state budget being read out in the parliament, you know how long and tedious that can get. This trend is when the couple no sooner has claimed their I Dos, honeymoon while typing elongated thanks to their Sudu Akkas, Maamas, Nandis, and the photographer's family dog on a Facebook status. I've seen this status growing from 3 sentences to 3,000 characters this year and it doesn't look like it'll end.
2.) Vacay Mode
Remember this awesome photo of a Caucasian couple that traveled the world that had the lady hold the guy's (photographer's) hand and him documenting their epic journeys? Except, now, Sri Lankan couples who go as far as Malay Street also experiment this. It was cool four years ago. I feel for the guys who have to do re-takes of this because it didn't capture her dimple enough.
3.) Gym Buddies for Life
Do Sri Lankan couples ever really work out? It seems that they keep romancing with the gym mirror taking selfies and 'advertising' one another. While this caught on in 2015, it's been on an increase over this past year.
4.) The Animal-Faces
Adding dog ears and tongues to your pictures, cat eyes, and other forms of bloopers - how did that even become a trend? It doesn't look like this will disappear for a while.
5.) Exotic Photoshoots
For the lack of a better word, I've termed it 'exotic' – there's nothing exotic, just nauseating. Today I was treated to a pre-honeymoon shoot that was clearly inspired by 50 Shades of Grey. Except, this was 50 Shades of Gong! The lady was swathed in a bed sheet which looked more like a Diya Redde and the guy sported a zesty boxer for the most of the shoot.
The pre-wedding shoots are becoming almost as expensive as the wedding itself, with several changes in costumes, locations, and extensive editing, the couple could even nominate themselves for awards at the next Ridi Raya. These video shoots have now evolved from the casual stroll at Viharamahadevi or Galle Face to hiring other persons to play specific roles in the 'movie', and copy-cat Bentley for the A La 007 look.
6.) Because He wanted me to
Who are they even kidding? This is the case when one party posts a relatively nice picture of themselves with the tag that their SO wanted them to. Right. Purely because you were asked to. Whatever happened to the good old Sri Lankan male instinct that didn't allow their woman to be seen in public unless 97% of their bodies were clothed? Who would ever want anyone to lust after their kumari? While there seems to be an influx of these semi-nude photos, the clothing on the said persons has taken a sharp decline.
7.) Long Lyrics
This was okay in 2009 when no one realized what you were doing but when it's almost 2018 and people post entire song lyrics with their posts to declare their undying love for one another, you question progress as a nation. Somehow, One Direction loses its value.
Between the selfies, incessant filming and documenting, one must wonder if they have time to be a couple, doing what regular couples used to like bicker about insignificant things, drive one to madness because of a text from an Ex, or fight about which movie to watch.
What are the other trends you have noticed over the year? Let me know in the comments below.
Don't forget to hit the 'share' button and send this to your squad.

Follow Ms Confidential on Facebook, Twitter, and Google.
Links:
https://www.facebook.com/msconfidentialcolombo/
https://twitter.com/MsConfidentl
https://plus.google.com/+MsconfidentialcolomboBlogspot
Hashtags:
#DailyMirror #LifeOnline #Colombo #MsConfidential