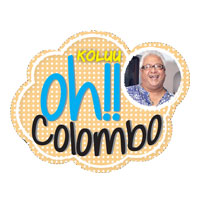 Oh! Colombo
From the extreme heat we have now had to the torrential rains that have caused havoc in the country. Floods, many people dying due to rain related issues such as landslides, trees falling, roofs collapsing etc., are some of the issues due to the rain. Many are displaced with their homes flooded and nowhere to go or even able to find a meal. Many of those used to the art of giving out of the good of their hearts and with no self-serving motives have stepped up offering shelter in their homes, providing either dry rations or prepared meals and clothing etc., generously.
Vesak is this weekend and many who were planning on dansals have now decided to divert the funds collected to help those who have been affected by this bad weather. Hope this noble thought catches on and more people step forward with their contributions.
Speaking to a Buddhist priest the other day I learned that the thinking behind a decorative lantern was to prepare it with the cheapest materials, such as bamboo, banana bark, tissue paper and homemade gum and see it disintegrate in a few days, conveying the message that 'nothing is permanent'. However, this important teaching of the Buddha does not seem to have been understood. I see, for sale, lantern frames made of plastic or similar material and synthetic material that do not disintegrate easily being used to make the lanterns. And once again, I am sure, we will see such Vesak lanterns covered with plastic being displayed on the streets and at homes. Nobody, I am sure, questions how this plastic is disposed.
With this Vesak weekend, kindness is the easiest and most abundant gift we have to give away. The list is endless. Kindness brings joy to the giver, receiver and anyone witnessing the act!