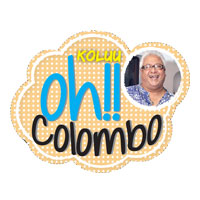 Oh! Colombo
After many years of research Ajai will be presenting Asia's first fashion week dedicated to swimwear."It is an untapped market in this part of the world", says Ajai."Seeing the number of tourists who visit Sri Lanka enjoying the sun and sea, they will definitely be happy to buy a bikini or some other sort of swimwear. This island has certainly been the most conducive environment for designing swimwear. For most designers to venture towards swimwear would require expertise in technical manufacturing, and we in Sri Lanka possess state-of-the-art manufacturing facilities producing for world class brands."
Looking around the world, the most influential shows for swimwear fashion are Miami and Sao Paulo. Ajai realized that Asia was not taking a stand on this although Sri Lanka had the manufacturing mindset. Hence, after studying the signs he realized the need to fill such a vacuum by creating a fashion week in Sri Lanka that will be dedicated to swimwear fashion and make it Asia's answer to Miami and Sao Paulo.
Sharing this vision with Sarinda Unamboowe, Managing Director at Linea Aqua, early last year who absolutely loved the idea since he too had been entertaining thoughts on similar lines, the journey started. What follows is inviting a strong set of Sri Lanka swimwear designers to show in Sri Lanka, along with global swimwear influencers coming to Sri Lanka to discuss trends and international media. The end product is to showcase the top-end swimwear manufacturing facilities that are like a one stop for any designer looking to manufacture.
At this year's Swim Week there will be five very important designers showing: Heidi Klein (UK), We are Handsome (Australia), HAH (Hot as Hell) New York, Shivan & Naresh (India) and Aviva (India). Fashion TV will be here to cover the event along with Harpers Bazaar and Vogue.
Ajai has identified 10 designers who have had the desire to expand their scope into swimwear. Linea Aqua as the swimwear partner will manufacture and create international quality swimwear for them. This showcases Line Aqua's manufacturing and Sri Lankan designers stepping into strong swimwear design territory; steady steps to expand the portfolio of Sri Lankan swimwear designers. The Sri Lankan designers are Upeksha, Charini, Darshi, Arugam Bay, Maus, Meraki, Charlene, Rum Punch, Rachel Raj, Amante, Juxtapose.
The models for Swim Week will be from Australia, Russia, Thailand, France and Sri Lanka. Swim Week will be hosted at the most unique location, the ECT terminal of the Colombo Port. It is expected to showcase Colombo and Sri Lanka beautifully to the eyes of the world.
Ajai expresses his joy and good fortune to have partners who have bought into this landmark international vision of making Sri Lanka an international swimwear fashion destination. Olu Tropical Waters, manufactures of mineral water from the cloud forest, as the title partner, American Express as the fashion card and the Colombo Hilton, Land Rover, Ramani Fernando Salons, Vaseline Healthy White, Leo Burnett/MSL, Illy Coffee, Emerging Media, Sri Lanka Ports Authority, Daily Mirror, Sunday Times, Daily FT, Hi, Life Online and Wine World.
Unlike Spring, Summer or Resort Wear collections that could be manufactured in a small unit or factory, swimwear require state of the art manufacturing to compete on the world stage and not all designers have the technical capacity to design swimwear, Ajai wants to open that door in Sri Lanka for younger designers to enter this field.