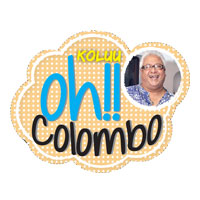 Oh! Colombo
It was not on a whim that I decided to venture into the hills with Stefan but on an assignment to check out some work in the new hip town of Ella. I had heard so much about the trendy cafés and how the night becomes alive and the atmosphere terrific in this town. Travelling via Ratnapura towards Bandarawela the beauty of the hill country can still be enjoyed since billboards along the way are not that many and, somehow, the air seems to feel cleaner.
On arriving in Ella I was not overly taken up it with it since it is a small village, even though the signs of many cafés, albeit seemingly dead, were very visible. These cafés, however, come alive at night, serving a wide variety of inexpensive food and beverage and create a terrific atmosphere.
At 98 Acres you enter a very simple reception area where the view through the Ella gap hits you in the eye. Such unspoilt beauty is quite amazing and breathtaking. 98 Acres is an elegant, chic hotel which offers five levels of chalets, all large and very comfortable rooms with en-suite toilets. All rooms are well equipped with modern amenities to ensure a luxurious and comfortable stay. Be it relaxing on the spacious verandah or having a shower one is ensured of a panoramic and fabulous view. The uniquely designed resort blends well with nature and consists of charming chalets, mostly built with recyclable substance. Discarded railway sleepers are put to good use in the building of decks and walls at the resort. Rough, hewn granite lends simple elegance to the floors of the chalets covered with thatched roofs of 'Illuk' straw which adds to their rustic beauty. In the early morn one can spot the tea pluckers at work. This resort is uniquely designed to blend well with nature and stands on a scenic ninety acre tea estate. Its restaurant is situated on the highest point of the estate where good food and beverage is available and just below a great pool where you can soak and unwind in the crisp refreshing water. The resort also has a great Ayurveda spa that offers a menu of very relaxing massages guaranteed to de-stress you.
Ella is probably one of Sri Lanka's best kept secrets that offers plenty to keep you fascinated during a few nights' stay. In addition to simply unwinding in cool climes with hypnotic views, you may even set out on a hiking adventure to explore some of nature's wonders such as the famed Little Adam's Peak. Ella, being a remote hamlet located among the peaks of the country's central highlands, is surrounded by a countryside perfect for walks or cycling adventures. Amongst the numerous things to do in Ella, one could also explore tea gardens and factories, the nine arch bridge, waterfalls, ancient temples and historic artefacts.
It was one of the most fabulous places I have visited in Sri Lanka; pure relaxation and great comfort, the exquisite country side, breathtaking views. Add the exciting nature trails for the more adventurous to assure you of a memorable holiday in one of the most breathtaking hotels in Sri Lanka.