Pet's Details
Name - Volley
Breed - Mix small breed
D.O.B - 1st November 2001
Age - 14
Owner - Official owner: Mr. Ritsy de Silva (Dad), unofficial owner: Norma de Silva (Mom), additional owner: Me (yes, she's got too many owners!)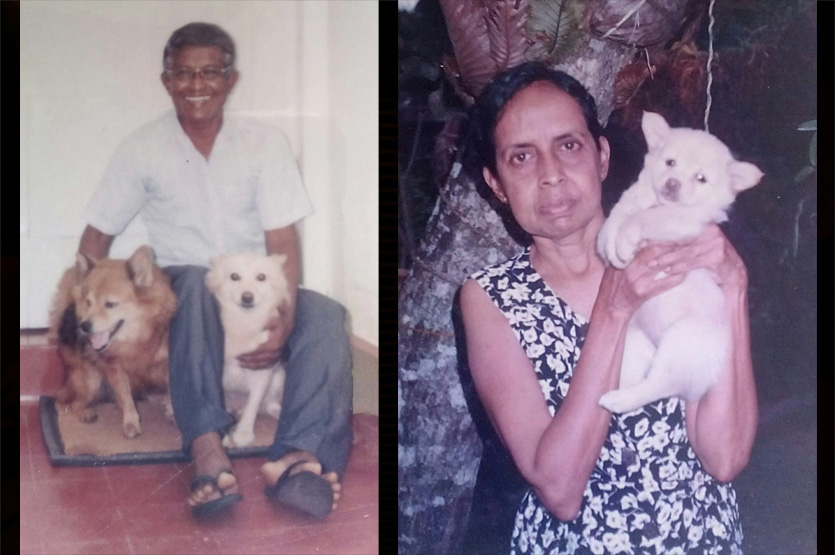 How was Volley brought into your home?
Volley was born at home to our late loving doggie "Randy". When she was expecting, my father said that he'd love to have a tailless dog, like the one he had as a kid. But since Randy was a cross breed of Japanese spitz and German Shepherd and since Volley's father also had a long tail, it was impossible to expect a puppy without a bushy tail.
But when Randy gave birth to five puppies, Volley the youngest, was born without a tail. This was a great surprise to us all. And it's needless to say that my dad didn't want to give her for adoption, since she was his "dream-dog".
What's the story behind her name?
My dad selected it because he felt it was cute, although it sounds like something you'd name a male pet. But Volley's a bit hot tempered at times and we found the phrase "volley of anger" in the dictionary funny!
Later on, a special language was developed at home to address matters related to Volley. Most of these words have the word "vol or vul" in front of them.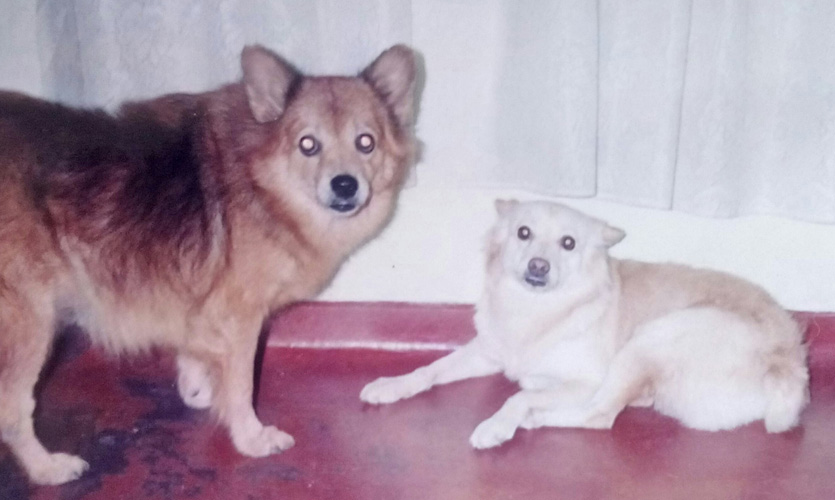 What are her meal times and bath times like?
My dad treats her like a baby. She is fed by a small spoon, a mixture of yoghurt and papaya every morning. After a stroll in the garden, her breakfast is given around 8AM. For lunch she has rice with fish or chicken. In the evening she has biscuits or hoppers. Then, at around 7PM she's given her fish soup and dinner at around 8PM which is rice and fish. Milk is given on days she refuses to eat much.
She doesn't fuss to bathe as long as my dad bathes her and as long as she wears her "vul-met", which is a little plastic-bag helmet to avoid water going into her ears.
How does she spend her day?
She loves my dad the most and sleeps in his room, which she thinks is her room. No one is allowed except my dad and me. But even I'm not allowed after she decided to sleep at night on her little bed which is under my dad's bed.
Volley's day is spent with my mom. When she's gardening, Volley likes to stare from under the gate at the doggies walking on the road. Rest of the time our lazy fur rug sleeps in different places.
What is your most surprising memory of her?
When Randy was expecting, we showed her a soft toy which looked just like Volley and jokingly said "we want a tail-less puppy that looks like this!" When Volley was born it was difficult to tell her apart from that soft toy. Not only was she tailless but also had a pink nose. It was such a rare coincidence.
What is the naughtiest thing she has done?
Volley used to hide and watch us when we petted our late cat "Pootin". Once we left she would go and bite the cat. Although she got along well with the cat, she didn't like us petting her.
What has been your most unforgettable memory with her?
When Volley was very small, she got tick fever although there were no visible ticks on her and she was kept clean. What was more surprising was that the normal treatment didn't work on her and she was to be given a special injection, which back in those days was only available at a clinic in Mount Lavinia.
We took her there daily from Nugegoda for her treatments. She was extremely weak and survived by eating only ginger biscuits for over a week. But she miraculously recovered.
How does she react when you return home?
When my dad gets home she comes out howling, jumps towards him, runs back in and repeats this a few times. This is done for my mom and me as well, but not as intensely. Now that she's almost 15 years, her sight and hearing has become weak but her love remains the same.
Volley has been with us for 15 long years. She's a member of our family in every sense and although she's very old now we still love her dearly, as much as she loves us. We would specially like to thank Volley's Vet Dr. Muditha Manohara for helping Volley to stay healthy since the day she was born.