When asked about Theodore, Kartini has nothing but good things to say.
"I would say he is most precious cat ever. That he's naughty and playful and has such a distinct personality. He's loyal and loving and is also very self-sufficient.He's like a member of the family"
she says, adding that she'd invite them to come see him and experience the magic.

Age: 1.5 years
Owner: Kartini / The Booso's

- How did you find your pet?
Theodore's mom was living in our home and gave birth to him there. He's been with us ever since -- and shifted houses with us to where we live now.


- What's the story behind the name you've given?
It's a mix of things really. Theodore was the name of my favourite chipmunk from Alvin and the Chipmunks. More so, from his kittenhood, I was convinced he has a presidential air about him. So, partly he's named after Theodore Roosevelt. If you meet him he IS a Theodore - it's a perfect fit.

- What are meal times and bath times like?
He has three big servings per day. But he insists on almost hourly snack servings of his food. He is very in control of his meal times and will meow the house down till he's satisfied.

- What's his favourite thing to do?
Sleep. He curls himself up in one of his chosen sofas or surfaces and sleeps. The piano is a favourite spot to majestically sprawl on too. If you wake him up, he'd give you a death stare.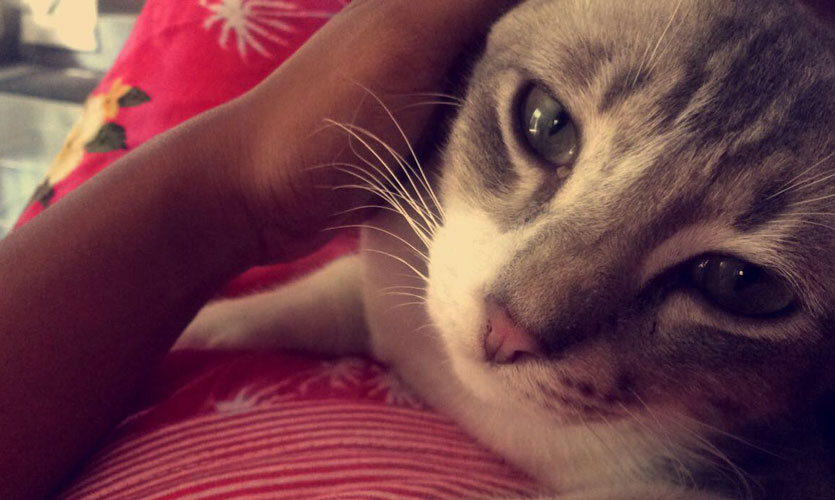 - What's the naughtiest thing he has done?
Too many things! He was instrumental in destroying a sofa with his claws. He goes into the gardens of other houses and attacks their resident cat. And the trademark cat behaviours of stealing food, and plotting murders of birds.

- How does he react when you return home?
If he is at home -- he gets up from his perch, mewing quite loudly and then rubs himself against our legs. He does this in a way that he steers us towards where the cat food is ;)

- Does he do anything out of the ordinary that fascinates you?
He has an obsession with the tops of things. He would jump on top of the pantry cabinets, almirahs, mirrors, even the ledge above the window - and look down at us and mews away. He seems to like the view.


- What's the best thing about Theodore?
He makes everyone - even Non-cat persons, love him. He is loyal and loving and cooperates with me when I need to hug him and bug him for love.

- What was the most unforgettable moment you've shared with him?
Too many to pick from. Every moment is perfect with the cat :)