Breed - Golden Retriever
Age - 1 year and 3 months
Owner - Rasika Jayasinghe
Named after actor Leonardo Dicaprio, Golden Retriever Leo is Rasika's best bud. Whether he's being his usual hyperactive self, or digging potholes in Rasika's landscaped garden, there is never a dull moment in both their lives.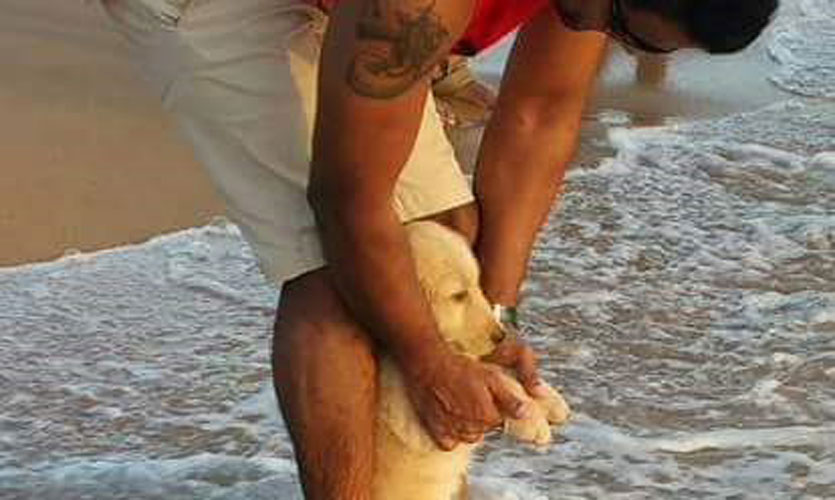 1. How did you find your pet?
I use to have a few dogs from time to time when I was schooling in Bandarawela. Most of them are brought over from Nuwara Eliya. The last dog I had in Bandarawela died soon after my work placement in Colombo. It was so shocking and I was pretty sure that I didn't want another heartbreak. But the inevitable happened when I moved to my own place as I was effortlessly drawn into the thought of wanting a companion. Obviously dog tops the list and I bought him from a breeder last year.
2. What is the story behind the name you've given?
I'm a big fan of Leonardo DiCaprio's story of persistence and triumph in winning an OSCAR (finally) last year, which chronicles my life journey to a large extent. His pet name is 'Leo' and I pirated it and named my dog after him. He in fact has a fully-fledged name Leo Baluson Jayasinghe.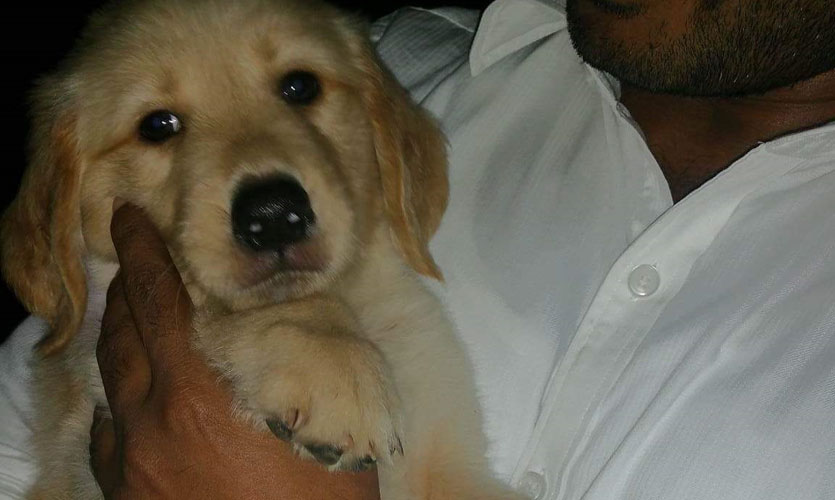 3. What are the meal times and bath times like?
Three main meals. A combination of dog food, rice and milk. A considerable amount of protein and daily intake of necessary vitamins and calcium. Occasional sugar during walks and when I feel sorry for him.
4. What's his favourite thing to do?
Running all over the neighborhood sniffing all corners and playing ball with the next door kids. He waits till I wake up in the morning and also return home from work to go out with me. He is a very bubbly guy who is blessed with abundance of energy. Can't keep him still for 1 second. The entire neighborhood adores him, so I feel very secure to unleash him.
5. What's the naughtiest thing he has done?
Digging potholes in my landscaped garden for no apparent reason. May be to make me annoyed or to seek attention. And he knows that he is doing a naughty thing but it seems like the thought is not completely off his head yet. LOL.
6. How does he react when you return home?
He is quite the hustler when I reach home. Gets super hyperactive craving for petting. I end up getting my daily dose of face licking. Once he is done with the routine, he is ready in his running shoes at the gate to jump out.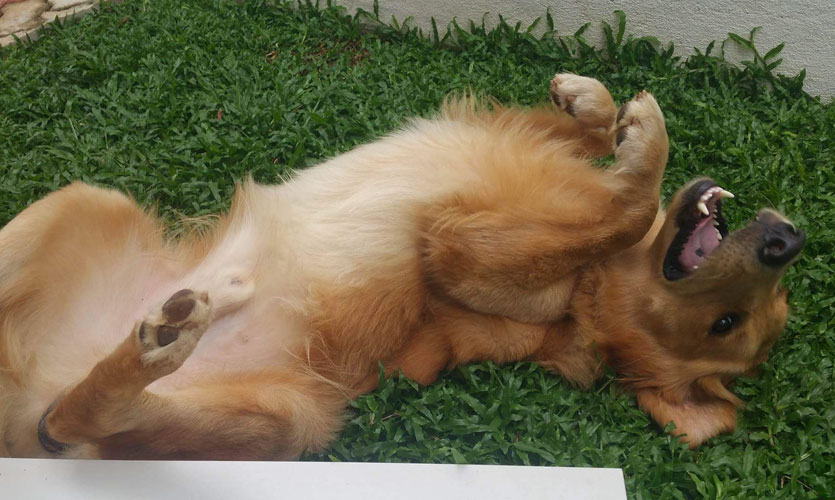 7. Does he do anything out of ordinary that fascinates you?
Every day with him is an extraordinary day. But the first day I took him to the beach I had to hold him from front placing the hind legs on the beach (just like holding a baby during the first steps) for him to enjoy the ocean waves. It drew a lot of attention to him that day, and the memory still fascinates me.
8. What is the best thing about him?
He is just another GR, but his charisma and ability to get love and attention from whoever he comes across, is his forte. He even has a fan club at my workplace. My best friend is paranoid about dogs, but Leo is the first K9 (canine) to break silos with him.
9. What was the most unforgettable moment you've shared with Leo?
The short yet sweet journey with abundance of memories.