Traditional medicine has been at the core of Sri Lanka's bygone heritage. Ayurveda and Deshiya Chikitsa systems were used to treat various ailments and illnesses. Many of these herbal remedies were derived from ancient texts passed down to generations. However, the advent of Western medicine created certain ideological differences among people and they opted for simpler, instant remedies. Today, Sri Lanka is facing an acute shortage of critical and life-saving drugs due to the foreign exchange crisis. Even though the traditional medicine industry too has been affected due to this crisis, traditional medicine practitioners believe that encouraging people to grow medicinal herbs in their home gardens could be a sustainable, medium, and long-term solution.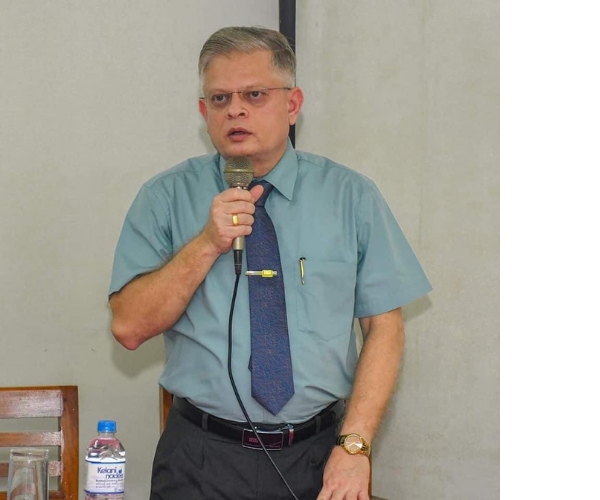 Pictured:  Dr. M. D. J Abeygunawardena
"Many herbal plants required in traditional medicine cannot be imported as we cannot open Letters of Credit," opined Dr. M. D. J Abeygunawardena, Ayurveda Commissioner at the Department of Ayurveda. "The fuel crisis has made it difficult for people to access medicines apart from the fact that cost of medicines too has soared. We, therefore, implemented several programmes in an attempt to face this crisis. The export of raw materials has stopped. We import a lot of medicines including herbal medicine from India. The medicinal herbs industry is such that some could be grown here, others could be grown but there's less manufacturing while certain other plants cannot be grown and therefore have to be imported. For example, Perumkayam, Fenugreek (Uluhal), cummin seeds (Suduru), Mahaduru, Katuwelbatu, Snap ginger (Heen araththa), Senehe Kola, and coriander are being imported from India. In fact, except for Venivel Geta almost all other medicinal herbs are being imported."
Sri Lanka's medicinal herbs industry comprises farmers, collectors, and people who add value to the derivatives prior to supplying them to the market. "For example, there are those who grow Aralu, the ones who collect them, and those who crush the seed, separate the bark and supply them to the market. But there were instances when we had to import Aralu, Bulu, and Nelli as well. Many of these herbs are recommended for various ailments and illnesses including chronic kidney disease and chronic illnesses. Over the past few months, we conducted awareness programmes in rural areas with the assistance of regional medical officers of health. Already medicinal herbs such as ginger and turmeric are being grown in home gardens but if you take a herb like Heen araththa, the variety that grows here is of poor quality when compared to the herb imported from India. Around 135 medicinal herbs are being used frequently and traditional medicine practitioners use various medicines on a daily basis to be used as treatments for snake bites, fractures, etc.," he added.
Dr. Abeygunawardena said that in most instances doctors make their own medicines and at times they would provide the prescriptions for patients and patients have to make the medicine. "But today we are in a situation where we have to substitute some of these herbs. However, the prices have soared exponentially. A kilo of Perumkayam that costed Rs. 12,000 is Rs. 32,000 today. Instead of red sandalwood, we have to import a substitute and already we are discussing with experts how this could be done. However, the exchange rate is going to affect these transactions. What was Rs. 1 is Rs. 5 today and therefore even patients have opted for Western medicine but due to the prevailing shortage they have no other choice."
Many traditional medicine practitioners have been used to referring to ancient texts and deriving medicines recommended in them. But the situation is such that now they have to redo the recipes and make them simpler while substituting alternatives to medicines that cannot be found. "We now encourage the public to grow medicinal herbs in their home gardens. The Department has also started a social media campaign educating the public on the therapeutic properties of various herbs, seeds, and fruits. This way they can treat/manage diseases such as worm infections. Due to the fertiliser and weedicide shortage, we were able to source Keekirindiya, Gotukola, and other green herbs from local farmers but there was a time when we had to import Nut Grass (Kalanduru) as well. On the other hand, if we place some value on a tree that grows in the wild, people tend to sell it for commercial purposes."
He further said that except surgeries, traditional medicine could be used to cure a variety of ailments and illnesses from fractures to snake bites, paralysis, stroke, chronic pain especially in the elderly, rashes, skin diseases, treatments for dandruff, and so on. "We can produce our own ointments from plants such as Mee and Domba. We can use raw materials used in making toothpaste, medicinal herbs that could replace soap, Dil seeds, and lime to replace shampoo, and so on. There are simpler cures for various illnesses. We are a green country and we should first appreciate traditional medicine that has been passed down generations," Dr. Abeygunawardena underscored in conclusion.