Today I went to the most tagged request, Chaiwala Colombo. I must say it's a smart business model with a lot of scope. I'm so not the tea drinker; I'm not the guy who HAS to have his afternoon tea at 3 o'clock. So I was kind of reluctant when I had to try the tea but they made me eat my words. The Masala tea really did have the kick and the right kind of balance and I ended up having two cups. I like the very simple easy menu which is not cluttered with too many options but just the right amount to keep everyone who is down Marine Drive have a quick refreshing cup of tea.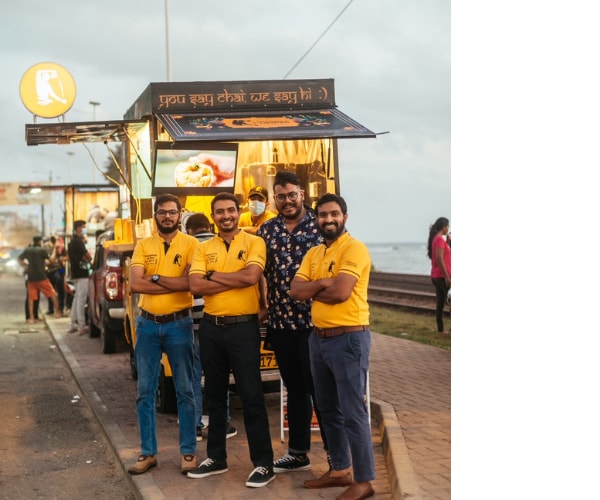 Six good friends Shehan, Imran, Rishard, Omer, Shamil and Roshan started this business so I had to ask
them a few questions. They have a few locations, I met them at Marine Drive. They are open from 5.00 pm to 12.00 midnight.
What made you start Chaiwala Colombo?
It all started with 6 good friends who have been together in good and bad times. We shared a lot of memories together, but as life demanded everyone had to take different roles and responsibilities and had to locate to different parts of the world and got involved in diverse sectors and professions with plenty of different exposures, experiencse and testing new things all around the world. At a point, we thought we need to do something together to keep us connected always. And also with the pandemic affecting our lives and facing a lot of challenges, we thought we need to put ourselves together again to help each other at this time.
With our roots embedded in Sri Lanka Shehan, Imran, Rishard, Omer, Shamil and Roshan are from different professions. One of us is an Airline Captain, another is from a leading telecommunication company holding a top managerial position and others are all entrepreneurs from different fields. We had one thing in common. Wherever we go or whatever we do we take a "chai break". This is a must between our hectic schedules. With this clicking in our heads, and wanting to introduce a new concept to Sri Lanka, is where it all started.
How did you master the Flavours?
It all comes to a cup of tea as a "Chaiwala"- our identity. So Without just adopting a tea recipe and reproducing it for public consumption, we wanted our product to be unique and to give the best Chai experience to our local people. So each partner put more emphasis on product quality and creating unique flavours using the traditional recipes of Indian and Sri Lankan tea with our own twist.
Simply saying that - it was not easy: We spent many hours and sleepless nights to get the flavours right. A lot of research, test and trial went in to get the exact proportion, temperature and right spices. With all the partners coming from different exposures and travelling around the world with different taste palates and Chai experiences, we were able to get the right product and launch this project.
What would you say has made this a success story?
I think the success story is purely the purpose behind the "Chaiwala Colombo" project. As friends, we had genuine reason to start up a business venture to keep us connected and venture on to something where all 6 of us would be involved in and support each and everyone during these hard times. Although we tried many businesses some failed and some were milked during the initial stages.
With the Covid-19 pandemic affecting people all over the world, some of our friends were struck by this pandemic. Shameen (pilot) lost his job temporarily and this is where us friends put our heads together and started "Chaiwala Colombo." Although this was already planned this time there was persistence, patience, right ambition and unity. None of these would have been possible without support from the public. They really acknowledged and encouraged us as a small business during the hard times and supported us enormously through various ways to keep us going.
After we had just launched the business the lockdown affected us hugely. With our fixed cost running which we had to overcome, we didn't give up. We tried many alternatives to keep our business running with drive-through/delivery etc... This proved how our team was committed to making this a big success and taking this brand globally and also serving the best to our customers. We never compromise on the quality of our products. We maintain the standard and use 100% natural ingredients and highest grade handpicked spices. This is one core element of our success as well.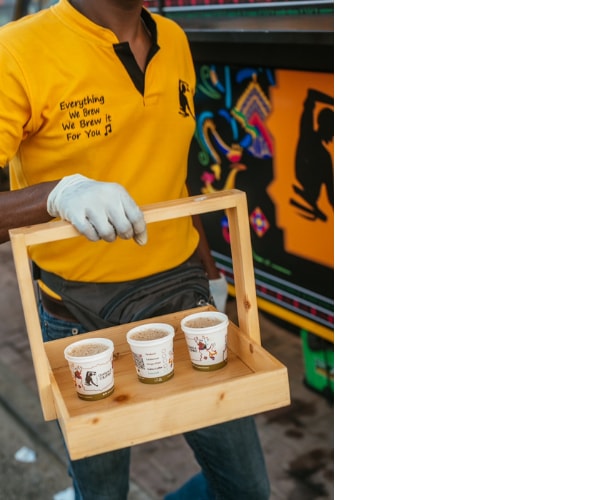 What's Next for your Brand?
We try to give new experiences to our customers every day. "Chai" is now becoming the new trend beverage, we find new and interesting proposal in the market for tea. So we will continue to develop our product range and introduce more flavours to our portfolio.
We will increase our presence locally to give our customers convenience and experience. And as a local brand we are working on taking this global, and hopefully becoming a brand with a chain of outlets around the world. We already have some foreign F&B chains contacting us.
What is a must try when we visit you next?
All our products are well accepted by all the customers. All the products have their fan base. Our products are introduced in such a way it can be enjoyed any time of the day, to fix any mood and fulfil any "Chai" cravings with a concoction of flavours. The range of snacks is a perfect duo alongside a cup of freshly brewed chai.
We would recommend you try -
Signature flavour Chai's: Tandoori Chai, Cardamon Chai
Snacks: Cake Rusk, Cup Cake, Podi Maalu Paan, Fish Tawa Roti
All our savouries are freshly homemade.
Who was your first customer - family or friends? What did they say?
Our first customers were a set of friends and we had mixed reviews since this was something new to some of them. We took the positives out of it and improvised our products.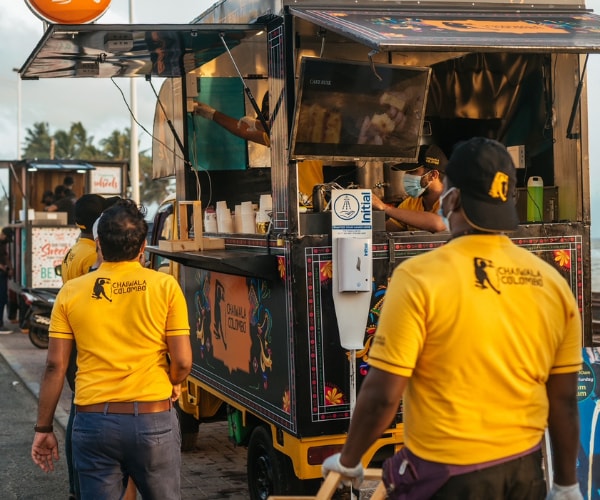 Would you create more places with your brand?
Yes, as mentioned before our main focus is to have a good presence locally and take this brand global.
Photography by- You're my favourite