A paintbrush in one hand and a drink in the other – 'sip and paint' sessions are becoming increasingly popular worldwide. Though this trend actually made its debut over a decade ago with Sip and Paint franchises budding everywhere in the western hemisphere; the coronavirus pandemic has heralded a renewed appreciation for the arts and an even bigger demand for experiences over things.
A 'sip and paint' session is exactly as it sounds: an artist offers step-by-step instructions on how to paint a certain image (with one's own creative twists, of course) and provides all the art supplies needed to execute a masterpiece. All one has to do is simply turn up and unleash their inner Da Vinci while sipping on any beverage of choice. At the end of the session, they get to leave a little tipsy with an artwork that's perhaps worthy of being proudly displayed at home.
In Sri Lanka, the Tipsy Da Vinci's is bringing this experience to the doorstep. Aindri Morahela (25) started Tipsy Da Vinci's after a sip and paint-inspired birthday two years ago. "I'm not an artist by profession but I always loved getting lost with paint" she shared. While working and studying full time, Morahela runs Tipsy Da Vinci's on the side; hosting a monthly public sip and paint event that anyone can join and accepting private bookings for birthdays and events. With no experience needed, these art and wine sessions are much sought after as more people opt for an intimate celebration or gathering over going out. "My favourite feedback was that they would recommend this over a night out!". In conversation, Morahela talks to us about her sip and paint sessions and what it means to put the 'tipsy' in Da Vinci.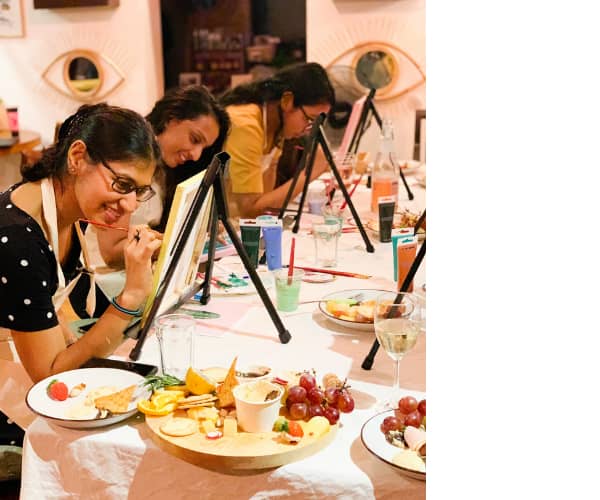 What started Tipsy Da Vinci's?
- Two years ago, I wanted to do something fun but chill to celebrate my 23rd birthday and thought of calling a few friends home for an Art and Wine night. It was very simple, I bought a drawing book and some paint and we all sat on my balcony and just painted on paper whilst sipping on wine and while we were doing this, we realised how therapeutic it was. Everyone was enjoying it so much so I wondered how this was not popular already. I did some research and realised it was actually already done globally and was called 'Sip and Paint or Art and Wine' and considering how much fun it was just doing it at home I wanted to see how it would be as a start-up business idea. We had our first public event in June 2020 for 6 participants and that's how Tipsy Da Vinci's began.
What makes Art & Wine the perfect combination?
- It's not really the perfect combination but anything that gets you tipsy is a great combination with art because for someone who thinks they can't paint or has never held a paintbrush in their hands - it really gives them the confidence to just go wild on the canvas in front of them.
How does a Tipsy Da Vinci's session work?
- It's pretty simple, you choose your preferred package and fix a date with us and we organise the rest. We normally try to have a public event once a month and we also have private event packages starting from 4,000 LKR per person up to 7,000 LKR per person – depending on whether we are providing only the art supplies or handling the location and food as well. A session is normally 1.5 to 2 hours and we provide all the art supplies from canvases, paintbrushes, aprons, paint, palettes, etc., so all our clients have to bring is just their inner Da Vinci.
What surprised you after starting the business?
- Definitely didn't expect it to be something everyone could and would enjoy and to be the only one to have done it when we first started. What surprised me the most was the repeat clients who loved how fun it was and wants to do it again with different friend groups.
Are the arts only for the artists?
- Of course not, it is for everyone! Art is subjective as it is an expression of personal perspective. Before each session, we would ask the clients what their experience with art is and we give a few options for the group to choose from and provide paintings that are suitable for everyone so that it is more fun and doesn't turn into an art class!
Ever since the pandemic, we see that the arts are coming back – big time. What makes arts and creatives so popular and accessible now?
- I think it's because it is so therapeutic and you get to forget all your worries for a good two hours – you won't understand it until you experience it. After the pandemic, people took a step back and thought more about their well-being, and art helps with that because creativity is inventing, experimenting, growing, taking risks, breaking rules, making mistakes, and having fun. Art as a hobby has no boundaries; you can start and stop at any time but when you come back to it, it feels like you never left. Art gives you the freedom to express your feelings. Plus, there is no right or wrong way in art!
Why experience an art and sip night?
- Honestly, it is A LOT of fun. I stumbled on a quote recently which said that 'art enables us to find ourselves and lose ourselves at the same time.' After a session, I've had so many people asking me where they can buy art supplies and start painting – which says so much!
What has been your favourite sip and paint night hosted so far?
- I have quite a few but maybe the most memorable was this event we did for someone who organised a sip and paint event for her boyfriend's birthday at Butlers pub. A few minutes into the session, a girl who saw this group painting came and inquired about what was happening and said she loved the concept and went back. A few minutes later she came back and wanted to join. Because it was a private event, I checked with the host and since she was alright with it and I had extra supplies – a complete stranger joined in! Ultimately, we had such an amazing time and since Colombo is small, we found out that we had mutual friends and we even went out for dinner afterward to celebrate this guy's birthday!
What's been challenging about running Tipsy Da Vinci's?
- Would you believe that the challenge is actually getting people tipsy?! Most of them get so engrossed in painting that they forget the 'Tipsy' in da Vinci, so much so that I have now started putting five-minute reminders for them to paint AND sip.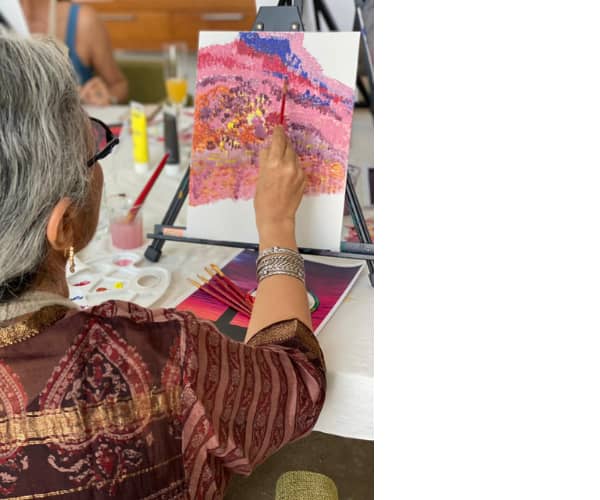 What's in the works for Tipsy Da Vinci's?
- In the immediate future we are looking at ways to increase the number of participants we can have for an event. Right now, the maximum we can have are 12 participants at a time. We would like to grow beyond that. Someday in the future, I would also like to open up a studio.
Instagram: @tipsydavincis