Café Francais, perched at the very front of Park Street Mews, needs little to no introduction. The quaint French bistro has had its doors open since 2014, serving the finest dishes that are quintessentially French and Mediterranean cuisine. From casual and outdoor dining to private spaces that elude a finer dining ambience, Café Francais caters to a variety of diner requirements both in terms of its versatile ambience as well as through its carefully crafted menu.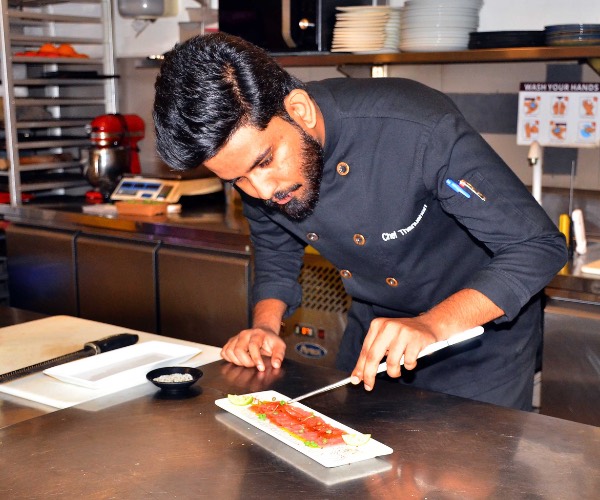 What has kept Café Francais atop the gastronomy scene in Colombo is their refusal to compromise on their quality. Nearly a decade since they've established, Café Francais remains true to its ethos of sourcing the finest ingredients to execute its dishes. From the imported premium olive oils, vinegar, dressings and meats to the locally and organically sourced vegetables and seafood, Café Francais delivers good food - done simply and well. We recently had the opportunity to try some of the restaurant's new dishes and this is what we thought.
Tuna Crudo
[citrus, olive oil, caper, pimet d' Espelette]
This Italian sashimi is the perfect appetiser, combining raw sashimi-grade tuna at the peak of freshness with premium Italian olive oil, Moroccan capers and Espelette pepper together with a citrus dash of lemon juice. Grown only in the Basque region of southwest France, the Espelette pepper is a sought-after chilli that packs a lovely smokiness to it without much heat. Though a simple enough dish, the Tuna Crudo would fall apart without the finest and freshest ingredients. At Café Francais, we got finely sliced fresh cuts of good quality tuna, generously topped off with premium olive oil and a dash of the Espelette pepper and it was a light and fresh start to our meal.
Sliced Beef Tenderloin with Truffle & Parmesan Fries
Quality ingredients are at the heart of what Café Francais has to offer which means that all ingredients are imported or organically sourced. The menu offers a standalone Beef Lovers section for those who enjoy their meat with imported premium Australian beef as the star of the dish. We opted for the sliced beef Tenderloin as the loin beef cuts are personally our favourite given that it's the juiciest and most flavourful cut of all. Cooked medium rare, Café Francais did justice to the loin cut by ensuring that the quality of the meat spoke for itself, opting to season the beef tenderloin simply with just a dash of salt, pepper and smoked rosemary. Complimenting the dish were their thick-cut fries with truffle sauce and parmesan shavings.
Bouillabaisse
[halibut, scallops, prawns, potatoes & aioli]
New to the menu, this dish was one of our favourites. Bouillabaisse is a traditional French fish soup made with seafood, considered one of the glories of Provençal cuisine having originated on the Mediterranean coast of France. The dish included a host of fresh seafood the likes of halibut, scallops, prawns, mussels and cuttlefish tied together with a broth made with a tomato base, cream and fish stock. The broth was light yet rich with flavour and we couldn't help but scoop it all up until the bowl was all empty. Simply put, this was comfort on a dish, and we can't wait to try it again.
Pavlova & French Chocolate Mousse
For dessert, we tried their new Pavlova and the French Chocolate Mousse. Café Francais take on pavlova presented itself as an outside-in pavlova; with a stiff meringue shell that housed a variety of fresh fruits within. The French Chocolate Mousse topped off with gooseberry was incredibly rich and decadent, made with premium quality chocolate.
Visit this Meditteranean Restaurant & Bar at 48, Park Street, Colombo 02.
Reservations: 94 114 502 602
Open from Tuesday - Sunday [10am - 1am]
PHOTOS Waruna Wanniarachchi