How do our food experts cook and eat? Colombo's most candid food bloggers and best friends of over 20 years, Raahya Lafir and Nadira Cassim of @foreverbadagini take our Q&A!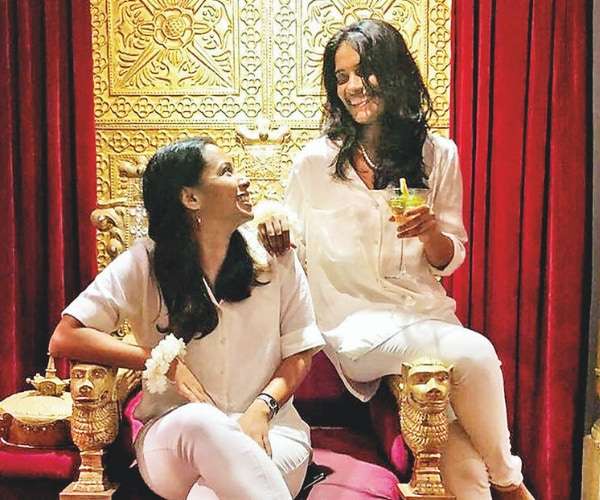 Your food philosophy?
Our eyes are always bigger than our stomachs when ordering!
Similar or opposite taste in food?
In some ways, we are the exact same, and in some ways completely different! Nadira is vehemently opposed to vegetables, but all in all, whatever it is, if it tastes good, we will both eat it!
What started Forever Badagini?
Two things; our love of food, and just the need to have a place to post our many, many photos of it!
Your favourite childhood meal?
Whatever the contents of Nadira's lunchbox when in school! Some days it was a plain slice of buttered bread, some days it was plain boiled pasta! The memories of sitting in class and trying to stuff our faces with an ongoing maths class in front of us are priceless!
Make a meal with Rs. 500?
Definitely a plate of rice and curry - chicken curry, parippu, papadum and pol sambol (not taking into consideration our lack of cooking skills of course).

One dish from one restaurant forever?
Ooh, the Chocolate Nemesis at the Gallery Cafe for sure!!
It's your last day on earth, where are you and what are you eating?
No question about this at all –we are on Nadira's bed eating a McSpicy with fries and nuggets!
Name each other's favourite dish?
Nadira's is the Cake Factory Salted Caramel Pot and a plate of Chinese food from Red Orchid. Raahya's is the Beef Char quay Teow from Papparich with an Iced Stevia Coffee and also the Choc-Pineapple Tart from Butter Boutique.
A hard no when you are dining out?
Bad service for sure and when the food is just not worth the calories.
What's the most exotic and questionable food you've eaten?
The most questionable food was definitely chaat from a roadside vendor in India and our most exotic food would be octopus!
Your favourite part about being a food blogger?
The chance to try out food in all its glorious forms and share them with people who enjoy it the way we do!
Your worst dining experience?
It was a Korean BBQ place... we actually don't even know if it's still in business!
Sweet or Savoury?
Probably the hardest question ever. Both, obviously!
What does it take to get a 5/5 from you?
Firstly, the restaurant itself! Nothing beats eating in a beautiful space, and then most importantly the food! We love unusual taste and texture combinations and cool presentations. Good lighting doesn't hurt as well!
Ever think about opening up your own restaurant?
This is actually something we joke about all the time!! The idea varies from opening up a dessert bar to a special brunch spot (two of our favourite things to eat!). As for possible names, we may have to stick with Forever Badagini!