How do our food experts cook and eat? This week, Sri Lankan chef working as a Chef de Partie at a 5-star hotel in Dubai, Chef Don Shehan, takes our Q&A!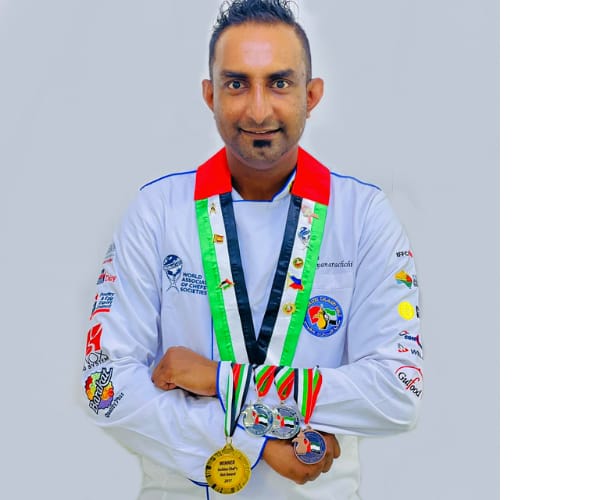 Your first memory of cooking?
- Back in 2001 when I and my brother were in New Zealand for a short while with my uncle's family. My aunt, Chika Liyanarachchi, who's Japanese, tasked us, kids, with kitchen duties, especially on rainy days. I still remember myself, my brother, and my cousin helping my aunt make pizza, cookies, string hoppers, pol sambola, and kiribath and lunu miris.
What do you love about being a professional chef?
- Actually, being a professional chef isn't as glamorous as it is often portrayed in cooking and reality shows. Professional kitchens are very chaotic and stressful at times. What makes it a great job, in my opinion, is having the privilege of cooking for others! It's something I take a lot of pride and joy in. I also love the fact that professional cooking is a team sport. Each and every person in the kitchen, irrespective of their rank, has an important role to play.
A spice, tool and an appliance you cannot live without?
- Cinnamon is a spice that I always need to have in my kitchen. When it comes to tools, I need my set of chef's knives (as most professional chefs do). A good stove and oven are also must-haves for me in a kitchen.
An underrated ingredient?
- Sri Lanka is home to around 56 endemic potato varieties, 76 endemic fruits, 1450 endemic vegetables, and herbs, according to "Mahasupavanshaya" written by our very own legendary connoisseur, Chef Pubilis. The majority of these ingredients are virtually unknown in the culinary world. My generation of Sri Lankan chefs needs to expand our knowledge about these barely known ingredients and put them in the limelight.
Your go-to dish?
- Cured (Gravlax) salmon with pumpkin puree, balsamic and orange pearls, pickled radish, cucumber, and edamame is one of my favourite dishes to make.
Your favourite childhood meal?
- Spicy Saalayo Curry and Pol Sambo with rice was my favourite childhood meal. My grandmother, who lived in Marawila, a small coastal town in Sri Lanka, made the best fish curries I have ever tasted. Unfortunately, she couldn't pass down her recipes. I've tried to replicate her dishes a few times, but they never quite felt the same.
What dish do you love to eat but never cook?
- I love polos curry but I never cook it.
What's something you would make to impress someone?
- I would make pan-fried scallops for the starter, herb-roasted lamb loin for the main, paired with a glass of good wine.
What's the most adventurous food you've eaten?
- During my most recent visit to the Philippines, my wife's home country, I tried Balut, a truly adventurous delicacy. It's basically a fertilized egg that contains a developing embryo. The length of incubation before the egg is boiled and eaten varies from two to three weeks. Let's just say that it was the first and last time for me!
Your proudest food invention?
- Of late, I've been attempting to cook and present popular Sri Lankan dishes for fine dining, as anyone who follows me on Instagram would know. So far, I've done a mutton koththu, a Sri Lankan chicken curry, and pol sambol, fried dried fish with rice dish. I'm very proud of those efforts.
What's a dish you'd love to relive for the first time?
- I'm a huge fan of Kiribath (Milk Rice). I can't remember the first time I tasted it, and I wish I could relive that experience and appreciate it as someone who's having it for the first time.
Which celebrity chef would love to meet?
- Chef Vineet Bhatia (@chefvineet) is a celebrity chef I look up to because of everything he has done for Indian Cuisine from a fine-dining standpoint. Warna Hettiarachchi aka NukeChef is a food personality that I love and adore. His knowledge of ingredients and pairings is astounding. I hope that I'll be able to meet these two chefs one day.
What's does your own restaurant of your dreams look like?
- My dream is to own a fine dining restaurant that serves modernized Sri Lankan dishes as well as international dishes with a Ceylonese touch. I'm yet to come up with a name. Ideally, I'd like it to be in a city that has a large Sri Lankan ex-pat community such as Melbourne, Australia, Auckland, New Zealand, or Toronto, Canada.
You are a chef with a keen eye for presentation - eat with your eyes or think with your stomach – which one wins?
- To be honest, both are equally important alongside our other senses. I strongly believe that dining should be a multi-sensory satisfaction. The taste, presentation, aroma, and the feel to touch all matter equally. Don't you think a good meal will taste better with some good music in the background? We often overlook our emotions when it comes to food. A simple dish that provokes feelings of nostalgia and adventure might taste like something made in heaven. A good presentation is, therefore, very important, but it doesn't stop there.
When you are not working - do the cooking or have someone cook for you?
- If I'm not working or experimenting, I prefer to have someone else cook for me.
You won the Nestle Golden Chef's Hat in 2017 – what does that mean for you?
- It meant the world to me and it will always be one of the highlights of my life! As a young chef, winning Nestle's Golden Chef's Hat Award for 2017 reconfirmed my passion for cooking. It gave me immense motivation and confidence to grow as a chef.
What's a 5 -star meal you could make with just Rs. 500?
- Spicy chicken Koththu, a grilled prawn kebab, and a side of Raita paired with a glass of cold king coconut water. A five-star experience is guaranteed!
What's your comfort dish after a long day?
- Dosai, especially after a long day at work.
As a chef, your thoughts on modernizing traditional food?
- A particular dish needs to be consistent in the experience it offers. However, it shouldn't be consistent in taste or appearance, which makes it boring. I strongly believe that traditional food needs to evolve with the times. As a professional chef, my goal is to find exciting routes to bring the diner to that experience they crave. Modernizing dishes helps me achieve that goal.
Are you a picky eater?
- I'm not a picky eater at all. As a chef, you can learn more by eating than reading. However, according to my wife and mother, I'm difficult to satisfy when it comes to food.