Contentious origins aside - Mexicans, Nicaraguans and many others all claim it - Tres Leches is a beloved dessert with a wide appeal. Unlike your typical cake, it is perforated and soaked in three milks - evaporated, condensed and whole - and topped with whipped cream, resulting in a decadent delight that is light, airy and utterly delicious.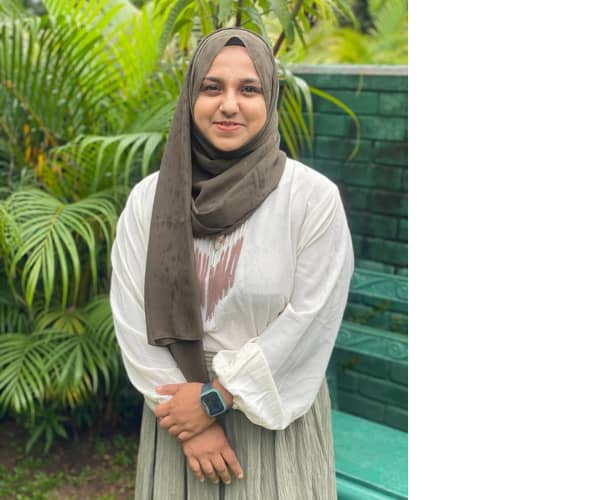 Tea addict and cake lover Nushra Naimdeen used to love nothing more than combining her love of the two by dipping a piece of cake in hot tea "and relishing that soaked, melting goodness. When I came across the recipe of tres-leches, it reminded me of the delicious combination of cake soaked in tea. I immediately wanted to make it and taste it. That first bite of Tres Leches tasted heavenly. Then I wanted to try flavors other than milk and I was able to come up with a variety of flavors. I think of Tres Leches as a canvas on which I could create art using different flavors". And so began her love of creating a variety of differently flavoured Tres Leches.
Nushra's love of food began when she was a child. "My parents would frequently host feasts to entertain their friends, families, and colleagues. My mother would always serve them freshly prepared homemade food cooked by her. Though she was an exceptional cook, she has never tried her hands at baking. I remember I was in Grade 5 when I baked my first cake. We didn't have an electric beater and I used a wooden spoon to make the batter, and my hands were aching by the time the batter was ready for baking. I used to make a lot of toaster cakes, for I am very fond of cakes. And that is how I found my passion for baking".
"The first time I sold my food was to raise funds for a charity project," she recalled. "I wanted to contribute from money earned through my hard work. Afterward, those who bought and tried my food wanted me to take orders and that's how I started my little business. My neighbors and friends online showered me with praises that motivate me to be creative when cooking. I was humbled by the positive feedback I got from people I didn't even know, and I feel grateful to them, because their kind words of appreciation have really driven me to be very passionate about cooking, which I used to consider as a mere hobby earlier".
"I do have a sweet tooth. So mostly I prefer to make sweet dishes. There is a very famous quote 'stressed spelled backward is dessert' so whenever I'm stressed I would make a dessert. I make different flavors of Tres Leches, gulab jamun that will melt in your mouth, cheesecake, brownies, and whatever desserts my customers request".
Nushra sent over a few of her Tres Leches for me to try out, including Rasmalai Tres Leches, Butterscotch Tres Leches, Cookie & Cream Tres Leches, Coffee Tres Leches, Pistachio Tres Leches and Cheesecake. Nushra's Tres Leches were all the right density - moist without being mushy. They had perfectly soaked up the milk, and the whipped cream tempered the sweetness of the cake. What I loved about Nushra's Tres Leches were how "natural" they tasted - supplemented by the relevant cookies and nuts etc - without teetering on artificial-tasting flavours. A lot of bakers, in an effort to emulate flavours, often overdo it, resulting in exaggerated flavoring and a lingering aftertaste that is thoroughly unpleasant and overbearing. The Tres Leches were all excellent and I'd wager it will come down to personal preferences when picking a favourite. A coffee fan, I was partial to the Coffee Tres Leches but also loved the Cookie & Cream and Butterscotch. The cheesecakes too were of a perfect texture - creamy and not gelatinous and rubbery - and were quite tasty! Overall, I was thoroughly impressed by everything I tasted and will definitely be ordering from her again!
Nushra hopes to one day be able to open her own dessert bar, "but as of now, I am focusing on my children who are very young and need my attention and love more than anything. For now, I will be doing my home-based business with the hopes that my clientele increases with time and that I will be able to create my own brand".
Nushra requires that orders be made the day before, especially for Tres Leches that require some time to soak in the milk. To place your orders, you can get in touch via her Instagram page @mix_of_flavours_ .