Uncommon in Sri Lankan cuisine, gluten-free snacks are often overlooked by the majority. Yet, with its health benefits and an introduction to a new lifestyle Onella Claire De Silva and Sachi Gamage have made a successful attempt in popularising gluten-free snacks with their brand 'SO Snacks'. Recognising the lack of healthy and affordable snacks in the market, the entrepreneurs were inspired to make their own range of snacks that could be accessed by anyone. Incorporating popular candy such as Twix and Snickers into healthy ingredients, SO Snacks has elevated the gluten-free game as one can munch on these delicious snacks guilt-free!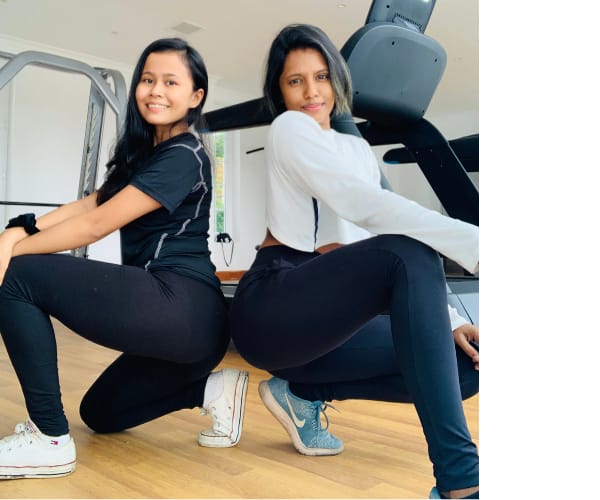 What kind of goodies do you offer?
Here at SO Snacks, we offer a wide variety of sweet low-calorie snacks, most of which can be eaten while on a strict diet, some of these snacks include our best seller Snicker Blast, which is as sweet and tasty as a snicker bar but with lesser calories and gluten-free. We have more guilt-free and healthy goodies on our menu.
What inspired you to start SO snacks?
The main reason that inspired us to start SO snacks was the lack of affordable healthy snacks in the market and we wanted people to realise that the word "diet" does not mean that you have to eat less it just means you have to eat right and healthy.
How popular are gluten-free snacks among the Sri Lankan community? Gluten-free snacks aren't very popular yet in the community.
We don't believe a lot of Sri Lankans have gluten sensitivity but saying that all of our products are gluten-free and sugar-free as if someone does have that sensitivity they can choose our snacks instead of something filled with unnecessary calories.
Gluten-free products are usually meant for people who are very sensitive to gluten this means that gluten can cause bloating and other issues in their digestive tracts hence why we decided to sell snacks that can be enjoyed by people with gluten sensitivity.
What is the item you are most proud of and why?
We are proud of all our snacks because we truly made them using love and making sure it's healthy. We're most proud of our Snicker blast, Twix bars, and Peanut butter tarts because we made something everyone can enjoy without feeling guilty.
What is the significant difference between gluten-free/sugar-free snacks and your typical normal treats?
The significant difference when eating gluten-free and sugar-free snacks are, it's for people who are trying to avoid eating unnecessary calories which could lead to gaining body fat, oily skin, and stomach irritations caused by gluten.
Our gluten-free sugar-free snacks are targeted towards people who are trying to make a positive change in their lives in terms of health and wellness whilst normal snacks people tend to easily gain weight off eating them since it's addictive. That's why we introduced our healthy snacks because it's tasty, fill you up quickly and you can limit yourself.
What kind of benefits can one get from eating gluten-free snacks?
Eating gluten-free snacks even when you don't have gluten sensitivity has many health benefits, including reduced hair loss, it improves your energy levels, reduces bloating, helps your skin, and improves your bone health. So when you include our snacks in your everyday diet it will make you feel better and healthier.
Gluten-free snacks are often perceived to be more expensive than regular treats. How have you navigated through that and does that play a significant role in a customer's decision to buy your product?
It is a known fact that gluten-free and sugar-free snacks are expensive. We have always made it a priority to get the best for our customers, including all our ingredients which are all 100% organic, vegan, and sugar-free/gluten-free. Our customers have confidence that we will always provide them with healthy and nutritious snacks.
How do you come up with these creative recipes?
My partner and I always discuss how to make our healthy snacks more delicious and convenient. We had to experiment a lot with our ingredients since we were limited to only healthy. Our ideas never came right from the first try. We always made sure before introducing our snacks that they had a perfect texture and fewer calories. Since both of us are into the fitness lifestyle, we always had to import our healthy snacks and protein bars from abroad. We knew healthy protein snacks weren't popular in Sri Lanka and we did a lot of research on how to make homemade protein goodies.
How has the response been so far?
The response has been great so far, we appreciate everyone's effort in trying to eat healthily. We always make sure to make our customers our number one priority.
What are some of the challenges you have faced during the operations of your business?
We do come across a lot of challenges; one being we don't and can't use normal ingredients so achieving the best texture is sometimes a real challenge. Another challenge is pricing our products. We want to make our goods affordable which is a challenge because our ingredients are mostly nuts and as we all know nuts are more on the expensive side here in Sri Lanka but that's mostly all the challenges we go through.
What is next for you?
We definitely have a lot in store for the future of SO snacks. We are planning on introducing our products to gyms and stores. We would also like to branch out and sell our products in local supermarkets. Instagram - @sosnacks.lk
text Tiranya Ranasinghe