How do our food experts cook and eat? This week, food blogger Natasha of @cooking_for_nuttys_soul takes our Q&A!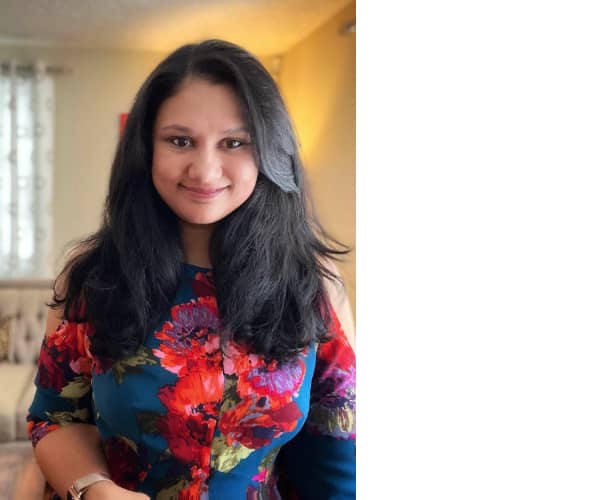 It's your last day on earth, where are you and what are you eating?
At home with my family eating Crab Curry, Pol Sambol, Tempered Dhal and Roast Paan.
What are your favourite leftovers to work with?
Spicy Sri Lankan Prawn Curry. I make a mean Prawn Kottu with leftover curry.
When you are not cooking, what's your favourite restaurant?
I love East Asian food. Hojoko Boston is one of my favourite restaurants and my go-to place for cravings. Funky Chicken Ramen (48 Hour Chicken broth!!), Shrimp Toast and Karaage Fried Chicken is what you'll see me eating!
What was your favourite childhood meal?
Amma's egg and chillie garlic fried rice. She makes it using leftover rice, eggs, butter, garlic and chillie flakes. It's a family thing I guess - my grandmother makes it too!
What's a meal you've made that has a fond memory?
I made Mutton Biryani for my dad 6 years ago when he visited me. It was soon after giving birth to my daughter and I was after surgery. But I really wanted to cook his favourite meal. The rice was a tad bit overcooked, but I still remember how much he enjoyed it. He was just so happy to be with me. That was the last meal I cooked for him. I lost him soon after.
If you are put on the spot to prepare a dish – savoury or sweet?
Savoury of course! Golden and Crispy Fish Cutlets with celery and peppered tuna!
What's your story with food?
Food was a huge part of me growing up. I come from a family of amazing cooks and my dad was a hotelier. Almost all our celebrations were centered around good food. I moved to Boston in 2011 with my husband and realised there was only one way to eat spicy, delicious Sri Lankan food - to cook it myself. That sparked my passion for cooking.
What ingredient is underrated?
Most definitely salt! It's cheap and readily available so no fuss, but in the end, that's what brings the dish to life.
Your fail-safe recipe?
Biscuit Pudding! You can't go wrong with it. Even if you do I doubt there will be any leftovers.
If food was a love language, what would be a dish that says it all? I can think of two dishes. Lobster agnolotti pasta with Mushroom and Guanciale and an Authentic Dutch Burgher Lamprais.
What's the most valuable lesson you've learnt in your time spent cooking and baking?
Practice makes PERFECT! Especially true when it comes to baking. Something I always found hard and I still do, but I've realised it gets easier with experience.
When you moved to the US, what's one thing about their food culture you couldn't get used to?
Spice levels! I knew American food was not spicy but didn't realise how difficult it would be for me to get used to it. I have embarrassed my husband plenty by asking for crushed pepper at restaurants! That's another reason why my rice and curry cravings are off the charts.
What's the most exotic food you've eaten?
I don't know if you can call it exotic but the Omakase dinner at O Ya Boston, an authentic Japanese restaurant, was quite the adventure. It was a 20-course chef's choice tasting menu. I tried Japanese Wagyu beef for the first time and a variety of sashimi, nigiri and cooked dishes.
Your favourite odd food pairing?
Savoury Oats! I eat Oats with curry! Yeah sounds super weird but trust me when I say this, it's the best of both worlds.
What's a food innovation that needs to be left behind ASAP?
Processed Meat for sure. It's linked to so many diseases I wish we never tasted it in the first place (also because my husband loves it too much!)
Your favourite recipe that has been passed down to you from family?
My grandmother's stir-fried Black Pepper Beef using coconut oil. It's a very simple dish but the flavours are just so amazing.
When I'm back in Sri Lanka, the first thing I want to eat is ________ from_____?
Rice, Pol Sambol, Karawala Badum, Tempered Dhal and Deviled Potato fromVeena's Kitchen (that's my beautiful Amma!)
What's a dish you'd love to relive for the first time?
Dumplings!!! My love for dumplings can't be described in words.
Your proudest food invention? Fried beef salad which everyone loves, perfect with ghee rice and my most tried invention, Polos Mallum, Egg and Cheese Sandwich.
Easiest meal to impress someone? A Mutton Dum Biryani with Cucumber Raita, Maldive Fish Sambol, Fresh Mint Sambol and some Fresh Pineapple and Watalappam for dessert.