In this series, we talk to people who turned their passion for food and baking into a business idea amidst lockdown and COVID-19 fears. Some have been in the market for years and others saw the new opportunity and took it! With new challenges presenting themselves in light of the current economic crisis in the country, we talk to home bakers who are navigating through these difficult times and bringing the sweet and savoury to your very own doorstep!

A self-taught hobby baker with a passion and craving for baking, Anjalee Perera, started off by baking for family and friends at leisure and over the past couple of years, has built a small but loyal circle of customers through her home-based business 'Mad Batter'. "The name "Mad batter" is reminiscent of the endless opportunities I could do with a cake batter!" she shares.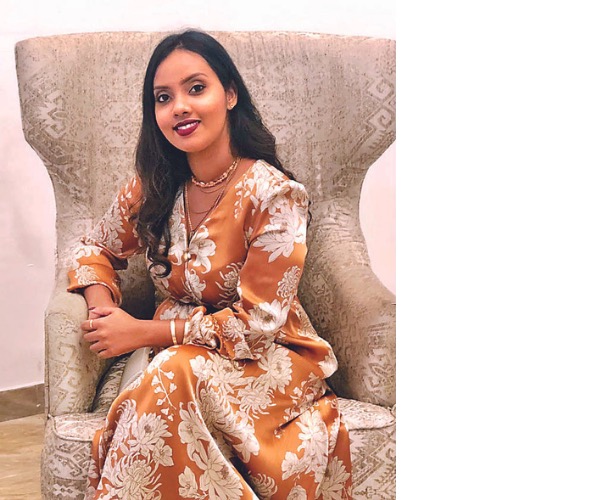 What do you offer?
I do custom cakes and offer a wide variety of flavours to choose from, Vanilla Velvet, Chocolate, Coffee, Caramel, Red Velvet, White Chocolate and Raspberry, Tiramisu etc. I also do Cupcakes, Brownies, and Seasonal Cookies and I love customising cakes with different toppings such as flavoured buttercream, chocolate ganache, caramel, berry compote, and whipped cream etc. My best sellers are my signature, moist and decadent Chocolate Cake and Vanilla Velvet Cake with berry compote. I personally, am a cakeaholic and I adore all of my cakes, but if I am to choose one it would be my chocolate cake slathered with a healthy amount of chocolate swiss meringue buttercream, chocolate ganache and toasted nuts.
What would you say is your signature style in baking?
Buttercream is my forte and my go-to Buttercream is "Swiss Meringue Buttercream" which is what makes people come back for more. I don't do fondant cakes except for using it for extra details simply because it's too much hassle for me, for something that most people end up throwing away. I love playing with different colour palettes, off-the-grid decorative styles, and keeping it simple. Right now, I love doing painted cakes and I think I have a knack for painting with buttercream which I intend to explore more in the future.
When did you start operations?
Initially, I made cakes for family birthdays, gatherings and for friends. Amidst all of that, I fell in love with photographing my bakes, so I eventually started my Instagram page in May 2019 just so that I can create my own photo journal and share it on social media. But ever since that I have been getting orders through word of mouth and the business keeps thriving day by day.
What is it like running your operations in times like these?
Lockdown was in a way, a blessing in disguise. That's when I got most of my orders and the business began to take off really well as I had ample time to explore, experiment and create. Yet sourcing ingredients and delivery during initial COVID Lockdowns were extremely difficult. What's challenging now is the massive rate of inflation and difficulty in sourcing certain ingredients which aren't readily available in the market. Baking has become a costly affair yet I do not compromise on the quality of my bakes.
How are you ensuring the proper hygiene measures are taken in preparation and delivery?
I make sure that quality ingredients are used and proper care is taken to ensure the hygiene of baked goods during the process of baking. Deliveries are done in suitable packaging to assure safe and fresh delivery.
What do you enjoy about baking and operating your own home baking business?
Being a lawyer by profession, baking is an outlet for creativity for me. I wouldn't say it's a great stress reliever because baking part-time and balancing my day job could be a little too overwhelming at times as a single baker but I really do enjoy seeing the end product and love the feedback of the customers. And home-baked goods mean a labour of love and attention to a lot of details. That's what makes home baking confectionaries stand out from the rest.
How do you see home bakers going forward in difficult times like these?
Dealing with price hikes and quoting prices to clients is extremely challenging at the moment, but us bakers have to make sure that we meet the expectations of the client in terms of delivering a quality product no matter what because what goes around comes around. One might have to deal with falling demand in terms of costs involved but still I believe in quality over quantity. I am grateful that I have built up a circle of clientele who knows what I am doing and I have a support system that helps me get things done in time.
What's in store for your brand in 2022?
I'd like to share the little knowledge and experience that I have with someone who is willing to learn the craft so that I could expand this home business a bit more to keep up with the orders I receive. Also, I am brainstorming to introduce a couple of brand new flavours along with a comprehensive Order Form that helps me keep track of orders.
What's a baking hack you've learnt?
Practice Mise en Place –That is have your ingredients measured, pans and utensils prepared and ready before you start baking or even cooking so that it saves your time. I have had times when I had baking disasters by forgetting to add something. This will eliminate that.
Any advice to anyone who wants to start their own business?
I would say there is never a bad time to start a good thing. Don't be discouraged if you haven't done it before and or if you are late to the game, you just need a lot of patience and experience. Baking is a science and there is going to be a lot of trial and error but all of it may be worth it in the end in terms of finding something that you are passionate about.
Mad Batter take orders via Instagram (@amadbatter). Bank Transfers and Cash on Delivery are accepted and delivery can be arranged in Colombo and the suburbs. Due to the fuel scarcity, the mode of delivery to be discussed before order confirmations.