A cure for every Friday night out that makes you just want to laze around the next morning, the folks down at Graze Kitchen - a name synonymous with the Hilton Colombo itself, have come up with a great way of spending your Saturday: All. Day. Breakfast. This weekly event aims to feed the hungry stomachs that go out for a very hectic Friday night and just want some wholesome food without having to wake up before 10 AM.
Hilton has always managed to deliver above and beyond my expectations and as the tone of exclamation in the title may suggest, I was excited when I first heard about their brand new buffet (and yes, buffets in fact excite me: shocker).
Having in fact woken up after such an unexpected night out, I found myself in the perfect position to drop in and see what all the buzz was about. Safe to say, it didn't take me long to realize how much I was in need of a big meal. It was indeed a "hit the ground running" kind of experience. Dishes galore. Sandwiches, Salads, Sushi and so much more. I had to choose my dishes carefully because even a hungry stomach could only handle so much.
Their options vary from cuisines like Western, Japanese, Indian to Asian, Turkish with the likes of a Sandwich and Roti Bar and an actual Breakfast section along with an incredibly extensive Dessert Menu. I would need a few pages to explain how good all the food I had was, so I thought I'd just mention my favourites, which would hopefully get you to go check it out for yourself.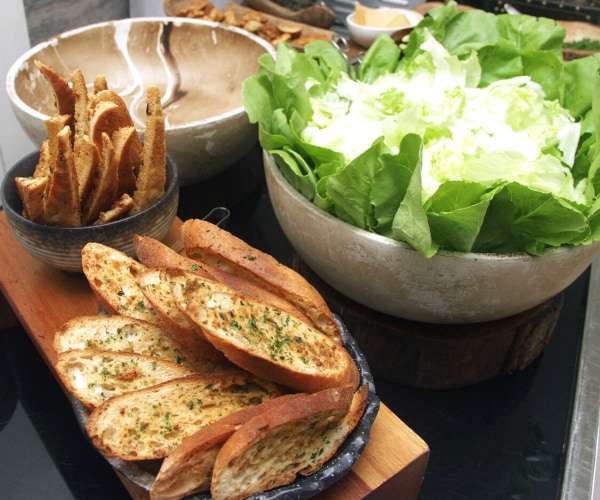 Their Sandwich Bar features three options: Godamba, Roast Paan and your regular Baguette. Their spicy beef and potato godamba had a good dose of meat with a hint of spice and it was quite a good start to this adventure. I went for the Caesar Salad, something I frankly haven't tried before, and was slightly underwhelmed by the large lettuce; finding it a little difficult to eat but what made up for it was the "healthy" serving of bacon and cheese, which I for one will never complain about.
I visited the Japanese section solely because I've been a fan of their sushi since I last visited them for their Japanese Buffet. Great cuts of Salmon and Tuna and I especially enjoyed the Spicy Tuna Rolls. My favourite dish from this entire experience would have to be the "Eggs Royale" - a poached Egg and Smoked Salmon on an English Muffin topped with a super Hollandaise sauce.
The eggs were perfectly cooked and paired with the creamy smoked salmon on the softest muffin was having me in a daze. The Western section also had Pizza, a carvery station and their very own grill which served possibly the best pork sausages I've ever had. I later learned that they in fact make the sausages in-house. Their Turkish cuisine is something you should check out if in case - like myself - you haven't had the chance to try out much of a variety of Turkish food before. I mainly went for their dips and experienced a swirl of different flavours and textures, pairing them with mini pita pockets for a bit of crunch.
I stopped by the "Asian Cuisine" section on the way back from my fourth (or fifth…? I had lost count at this point) round of food and was instantly drawn to what I thought was Hot Butter Cuttlefish and Prawns, both of which were the crunchiest on the outside and cooked perfectly. I also tried out their Honey BBQ pork ribs which, if you're a ribs kind of person, you should definitely have a go at. Having reached the end of the line, I slowly made my way towards the desserts, which at first glance was a whole lot to take in.
Pancakes, Waffles, Assorted Ice Creams, Cake…the list goes on! It was a mini-Wonka's chocolate factory. I saw the words "Snicker Bar" and instantly went for it. A bite-size piece of soft chocolate and caramel made just like a Snicker Bar. Light and sweet. The perfect ending to a very hefty meal.
Safe to say, they delivered! An incredible spread. Made for people to just enjoy some wholesome food and relax to some sweet tunes. I highly recommend you go and try it out for yourself! Hats off to Chef Robert Mujagic and his team for their amazing work.
The buffet is on every Saturday from 9 AM to 3 PM, giving you enough time to catch it!
text Vihan Wickramasurendra