Taking her own spin on artisan cookies, Radeesha De Silva has revamped KUKIFIX to be a hip, trendy cookie spot that aims to please your sweet tooth. At the heart of KUKIFIX resides hard work and dedication to constantly innovate new flavours such as Crème Brulee and Kinder Joy which are quite hard to find in the current Sri Lankan cookie sphere. Utilising the powerful tool of social media, KUKIFIX has garnered a substantial number of followers over a short period of time which is proof of KUKIFIX's success. Taking confidence in their soft and gooey cookies, KUKIFIX is definitely not to be overlooked as they continue to appeal to the taste buds of the public with their artisan cookies.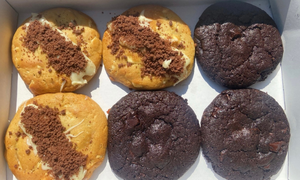 What kind of baked goods does KUKIFIX offer?
Homemade artisan cookies
What inspired you to start this business?
I really liked baking since I was very little, so I started my initial baking business when I was 16. Then, stopped the business because of the external challenges in the country. But my customers kept asking me to restart KUKIFIX. My cookies were a major hit already and I thought of using that strength and doing something unique and new in the Sri Lankan market.
What would you say makes you different from other home-bakers?
I believe I'm the only home baker doing artisan cookies. I have researched and found unique flavours and have experimented with my own creations. For example, the Kinder Joy and crème brulee cookie are one of my biggest hits. My cookies also lean towards the soft and gooey side rather than the crispy chewy kind – which I find that a lot of my customers really enjoy.
How do you plan to stay competitive in the dessert market?
I have a unique marketing strategy to keep my customers hooked, by introducing a limited-edition cookie flavour every week, which has so far been a major hit. I also have a knack for social media content creation which I have built into my marketing strategy, such as fun videos and ways to engage my customers. I also don't cut corners when it comes to the ingredients I use. I make sure to use the very best quality ingredients but also keep it affordable.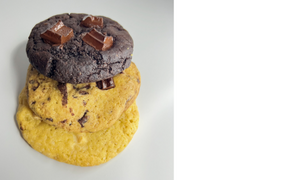 In the post-Covid era, what do you think has changed the most for home-bakers?
COVID has shown people that they don't have to go to a shop to get what they need or want and that anything is available online at their fingertips, delivered to their homes – this has given home bakers the opportunity to grow their businesses.
What is the most fulfilling thing you have felt during the operations of your business?
The feedback from my customers really keeps me going even on challenging days. Usually, it seems that my cookies brighten their day and makes them happy – generally, they say it is the best cookies they have had – this in turn is really fulfilling and is exactly why I wanted to become a baker.
What is the product you are most proud of?
I am proud of all the unique flavours that my cookies comprise.
What kind of orders do you take? Are they often customised or do you have a standard menu?
I have a standard menu, but customers are able to create their own boxes picking from the range of cookies available on the menu. I also do a limited-edition cookie every week – which is not permanently on the menu. But at the end of the promotion period, I will be giving customers the chance to vote on what cookie they would like to keep on the menu permanently.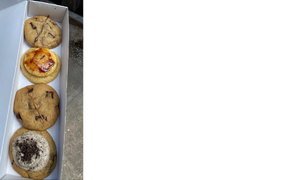 What has been the biggest challenge you've faced as a home-baker?
The economic crisis really hit a lot of home businesses, including mine in which I've had to shut down my previous operations due to the cost of ingredients and fuel price hikes. The fuel issue also affects me now because delivery charges are pretty high, which sometimes can deter customers away from ordering cookies.
What are your future plans for KUKIFIX?
I would like to one day open a cookie bar – with a unique style and offerings so that customers can walk in, sit in and enjoy their favourite cookies with a nice hot cup of coffee or tea!
text Tiranya Yalindee Ranasinghe