1. What's the story behind NükeChéf?
Actually, my professional background is in Nuclear Physics, having worked many years in renewable and nuclear energy in Canada and NASA. Since my university days in California in late 1980s, I have been combining my scientific understanding at molecular and cellular levels to create unorthodox culinary dishes to become a self-taught Chef. That became my trade name NükeChéf!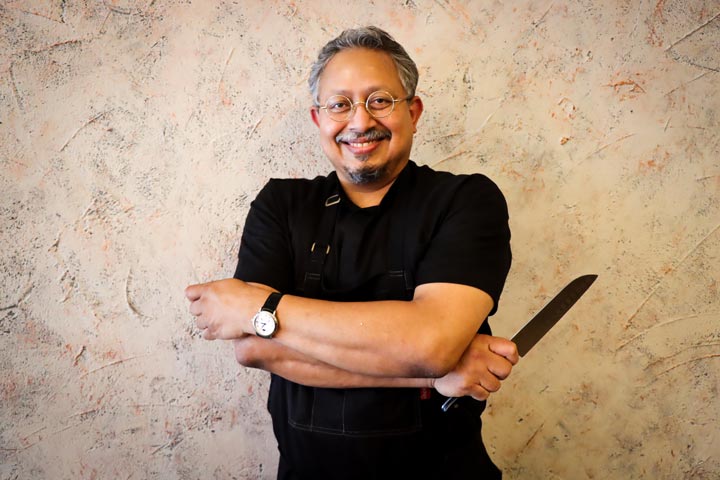 2. How did you get into cooking?
- In my philosophy, I am a culinary explorer, rather than just cooking. I have been exploring and studying culinary ingredients, traditions and ethnic dishes in different countries across Europe, the Mediterranean, Asia and North America. I also learned culinary methods of indigenous communities in many of these countries and became an avid forager.
The nature has bountiful edibles aplenty in our forests that are medicinally beneficial, nutritionally and aromatic ingredients for many dishes I create. As a kid growing up in Kotte, I eagerly watched my extremely talented mother Hema cook, with meticulous detail and passionate attention. Her dishes always turned out-of-this-world in taste, aromas and textures. Then I met Dorothy, my Host-mother in California, who got me into the kitchen during my university days. This was the beginning of my culinary journey.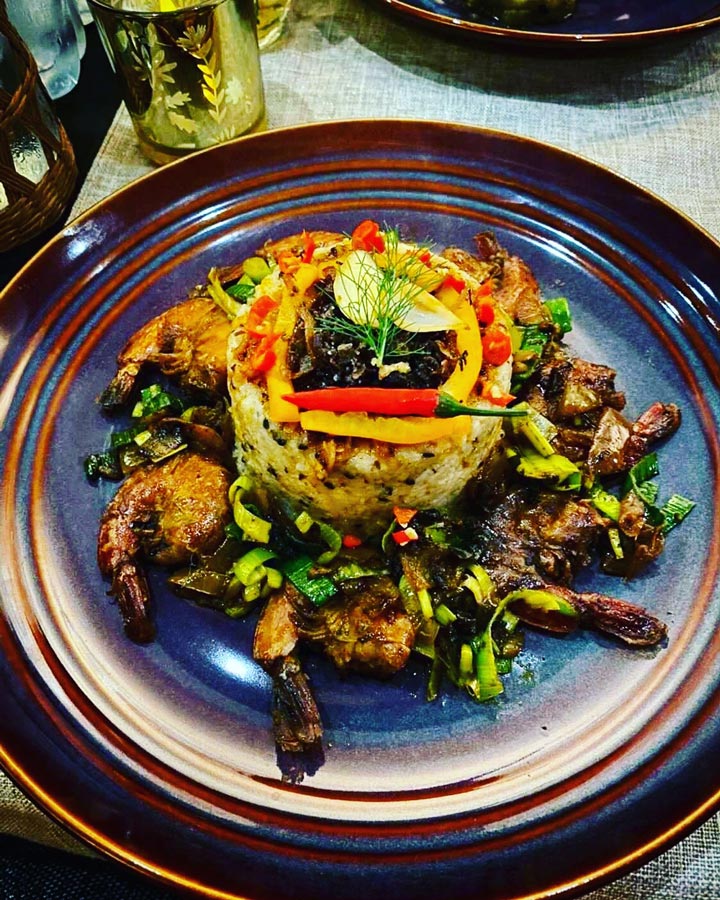 3. As a chef, what does it mean to innovate on food?
- I always strive to create dishes that have never been prepared in specific flavour, texture, aroma and taste profiles, while breaking "Traditional cooking Rules". My culinary creations incorporate subtle spices and herbs, raising the natural flavour and taste platforms higher, maintaining complex textures.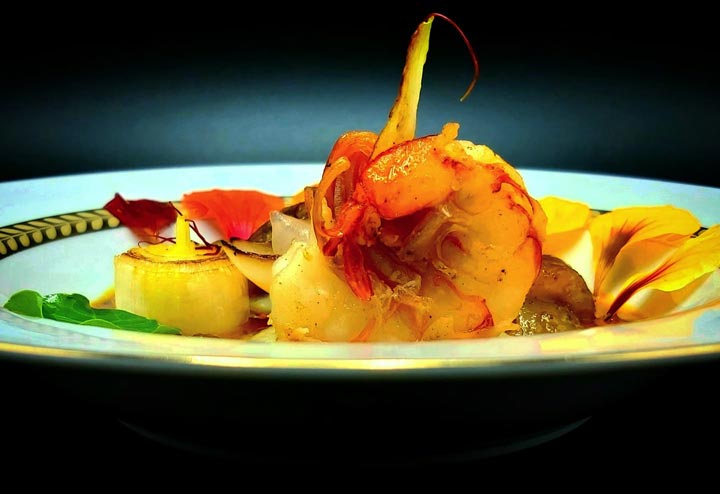 4. What is the Nüke Chéf's signature style in food?
- I knew you were going to ask this! Well, my exact signature style is "all-sensory palate dining experience". The culinary fine dining is experienced in the sequential order of optics (presentation), aroma, touch (hands or cutlery and tongue or palate), taste (sweetness, saltiness, bitterness, tanginess and umami) and auditory (hearing). I believe in achieving a balance of all these components in my dishes.
5. It's your last day on earth, where are you?
- In my kitchen in Peterborough, Ontario, Canada eating Sea Urchin in Mirin and Sushi Vinegar, together with Hokkaido Jumbo Scallop in Black Garlic and Longan (Morae) reduction prepared by myself paired with Georgian Kindzmarauli full-bodied, fruity red wine!
6. What's the most exotic food you've eaten?
- You had me wondering about which dish it could be. There are many, but I must point out Sea Urchin (UNI – in Japanese). I had this for the first time in Hokkaido, Japan while I was on a business trip many years ago. I could not swallow it, as its strong flavour resembled licking the ocean floor due to highly rich alkaline minerals in it. However, I started craving for it when I returned to Canada, so I had to find the best Sushi restaurant offering it. Now, its taste is highly desirable and pleasurable for me, and what a fine, smooth, velvety dish!
7. Your favourite odd food pairing?
- Once I grew "Gandapaana" berry in my garden, using its fragrant, sweet, tiny berries in abundance to make a compote with maple syrup as sweetener. When I paired this Gandapaana Berry compote with slow-cooked Lamb shank along with lots of Rosemary, it was extremely complimentary!
8. Dis-invent a food?
You are not going to believe it, but nothing in the food world disgusts me as much as those large, tall, colossal hamburgers with oozing melted cheese and sauces shown on social media. Not only it is very unhealthy, but I would not mind if I never had to have a hamburger and French fries again, especially from those corporate industrial franchises.
9. Your proudest food invention?
- I was self-learning molecular gastronomical techniques that led to a new method to make Yuzu gel.
Another time, I torched a Scottish Haddock Fillet marinated in Cognac and beet juice, plated with coconut-sherry, Oyster Jus, Orange zest Reducion, Braised Lotus Root and detoxed Reindeer Lichen braised in butter, Sea Cauliflower, seared garden leeks, 3D rice Touille, wild Shimeji funghi and fresh beet leaf, pearls of pure Balsamico. This dish was purchased by a two-Michelin Star restaurant! I called it Haddock Andromedae.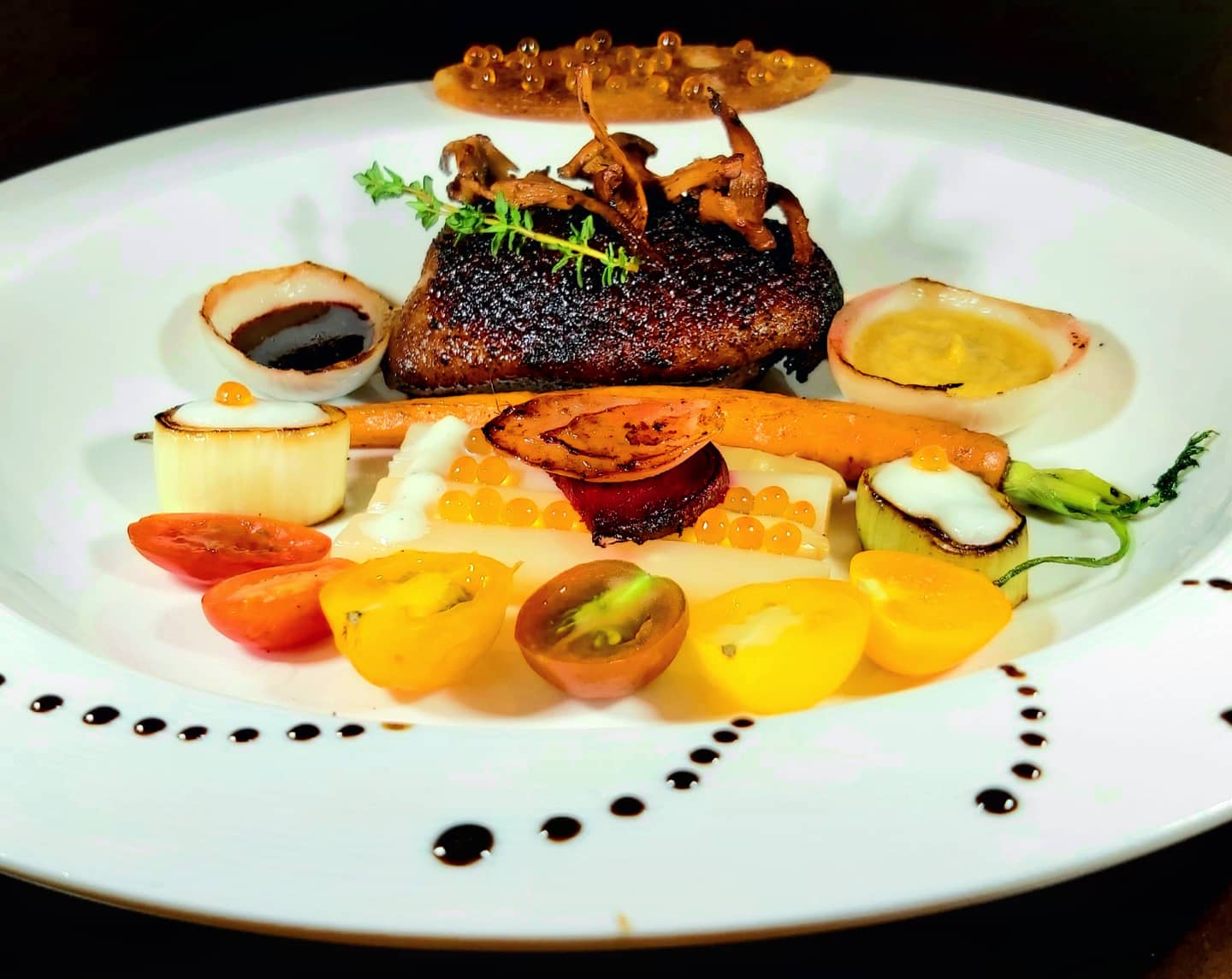 10. A dish you'd love to relive for the first time?
Oh that is easy…String Hoppers, Pol Sambol, Pol Mellum with Koonisso, seeni sambol with big chunks of Umbalakada, paired with a sweet and strong ginger tea. This is my comfort food.
11. What's does the restaurant of your dreams look like?
- It's already in existence when I bought 50% ownership of Dreams Cafe & Bistro in Peterborough, Ontario, Canada. The Cafe part operates with the best coffees and teas from around the world, serves my sandwiches, my invention Croissaussage, cakes and desserts during daytime. The Bistro operates on weekends only for refined fine dining. As a part owner and Executive Chef, I present my menu personally to every table, explain which ethnic dish on it and what traditions or ingredients are incorporated to make those dishes. Overall, my customers get the All-Sensory Palate Dining Experience, while I share my culinary journeys with them personally.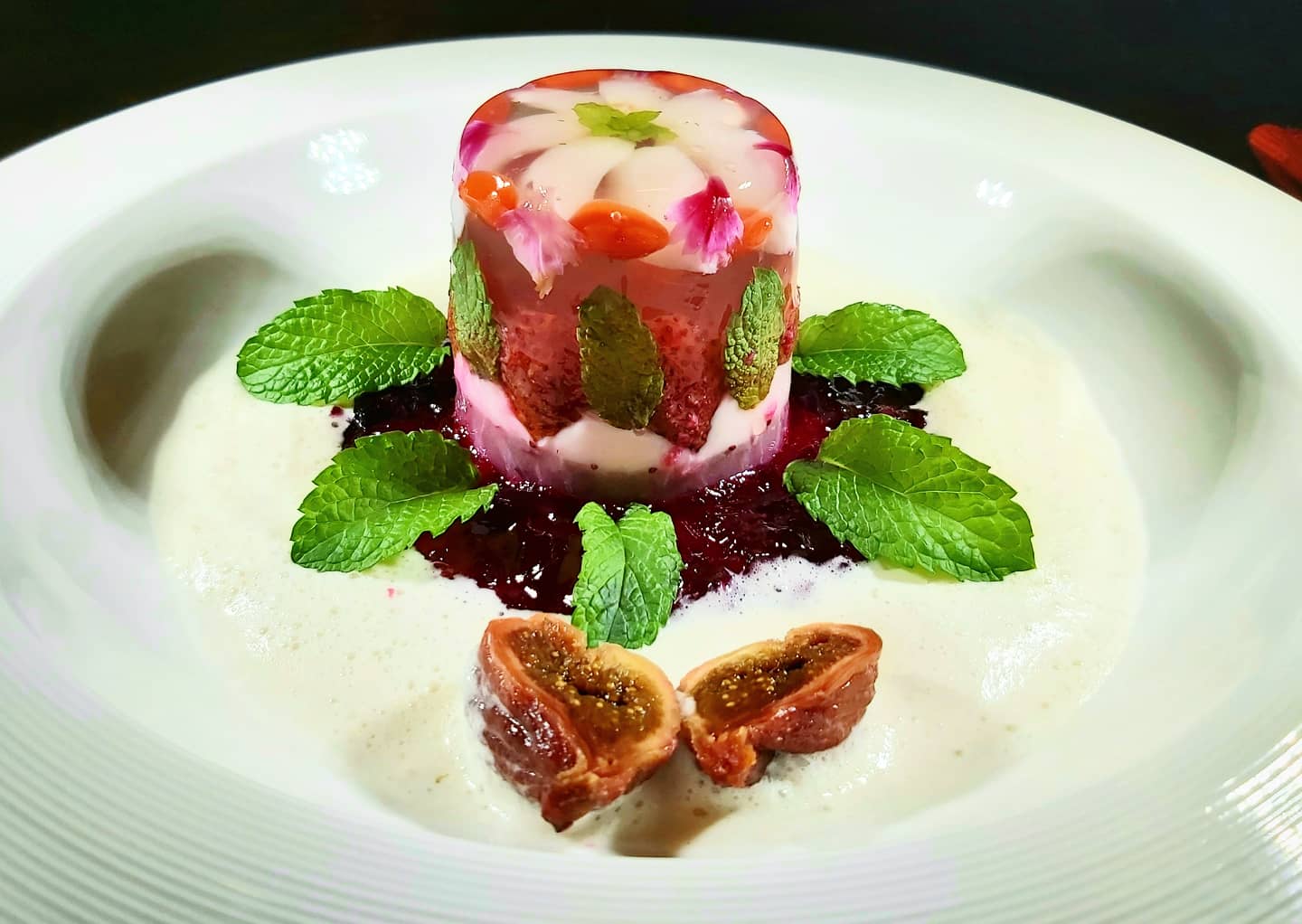 12. Eat with your eyes or think with your stomach – which one wins?
- In my view, Both. One without the other is meaningless for mindful eating, as well as enjoying or savouring a dish.

13. What's a dish you are looking forward to experiment with?
- This is a tough one! I am always experimenting in my home or Bistro kitchen. After looking for a method to toughen Caviar skin, I found a way and introduced my signature dish at the Bistro, Neptune's Plate! It has Aioli Oliva Piqante braised Spiny Lobster with Russian Sturgeon and Siberian Salmon caviars, Thai Jumbo Prawns, Porchini Funghi, Fettuccine, Black Garlic, Maple syrup and Longan Creme Reduction, Red Wine and Balsamico Reducion, Spicy Italian Sausage, Edible Blossoms and Herbs.

14. What's the most daring dish you've come up with?
- Oh boy, that was while making a completely different Panna Cotta using fresh Goji berries, fresh Lychees, Mulberry Compote, and Fermented Yorkshire Clotted Cream. The consistency and composition was a bit of a challenge, however I got it right on the first development effort.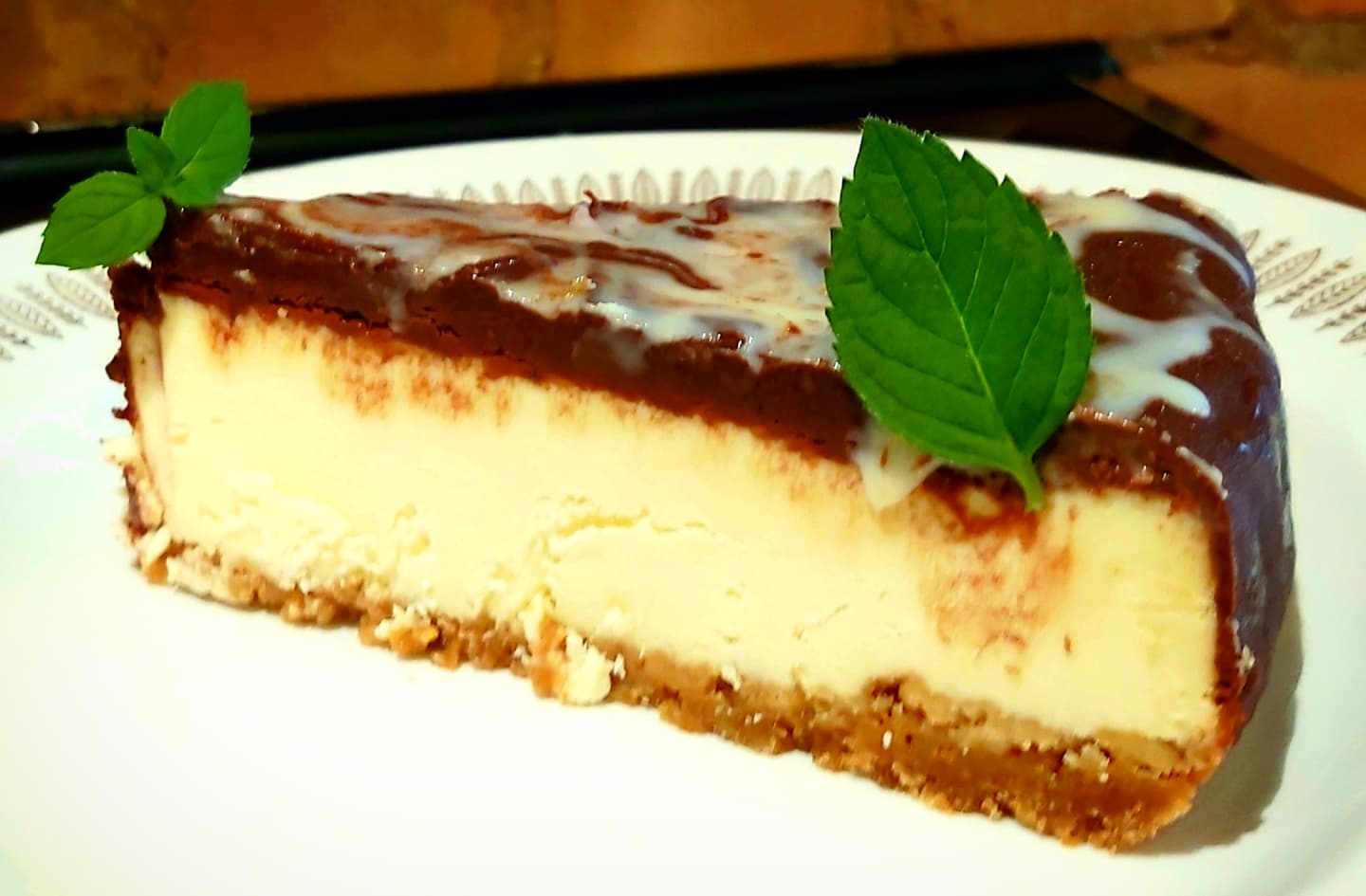 15. If you were to show yourself as a chef through one dish, what would it be?
- This is a tough one to answer, as I have many! It has to be three challenging ones, Haddock Andromedae, Charred Ontario Duck Breast Confit Marinated in Amarone wine, Chanterelle, White Asparagus, Caviar and the other dish would be the Neptune's Delight!