Located right opposite the Marino Mall in Colpetty, the Mandarina Hotel is easily accessible for those searching for a luxurious hotel experience! But it's not the hotel itself that we are focusing on today. It's the exotic flavours of the International Dinner Buffet at Mandarina Hotel's enchanting rooftop restaurant "On the Eleventh ''.
Gazing out into the scenic Colombo Skyline, "On the Eleventh" has the perfect ambience to sit and enjoy a meal on a starry night as it offers both indoor seating along with an alfresco setting located right next to a breathtaking infinity pool.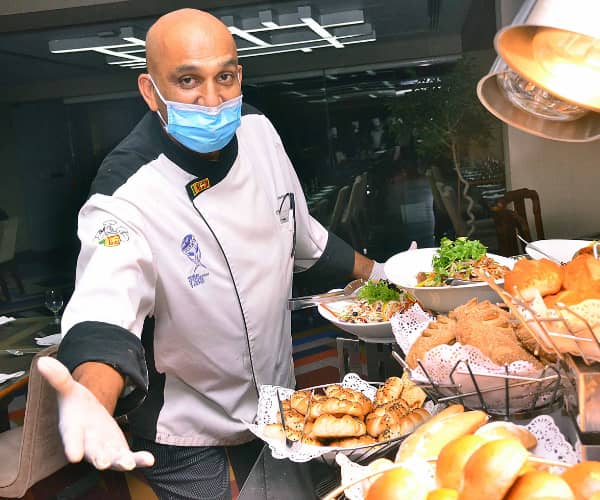 For just the affordable price of Rs. 2500/- the buffet features a wide array of mouthwatering dishes ranging from salads and appetizers to a massive main course comprising Indian, Pan Asian, Continental and Sri Lankan dishes. To wrap things off they also feature a delicious variety of desserts.
We started off at the soup section and we tried out the Five Spice flavoured cream of veggies soup first. This had a thick consistency, was super creamy and the most distinct flavour was that of pumpkin. Paired up with an assortment of fancy bread rolls and butter this provided the perfect start for us to dig into the rest of the buffet.
We tried out the salad section next. From Greek Salad and Californian coleslaw to grilled vegetables and mixed salad, they had it all. My salad of choice was the California coleslaw. A combination of mayonnaise, light sour cream, shredded carrot, diced onion, and diced red and green bell pepper and topped off with some thick Italian dressing, this was a vegan fiesta. The appetizer section also included a flavour packed mini samosa as well as chicken lollies, both of which I recommend trying out!
Moving on to the mains there was a selection of Naan poured up with Dahl Tadka, Tandoori Fish and Vegetable Jalfrezi. Having opted for the garlic naan I found the naan itself to be quite soft and chewy and the garlic flavour really shone through. The dahl tadka was very spicy and paired up with the tangy tandoori fish and the savoury vegetable Jalfrezi this made for a flawless, mouthwatering Indian treat. However my favourite Indian option that night was the Hot Mutton Biriyani! Spicy, fiery, aromatic, loaded with bite-size chunks of mutton and glazed with tangy cucumber raita this was literally the Ultimate Rice Dish!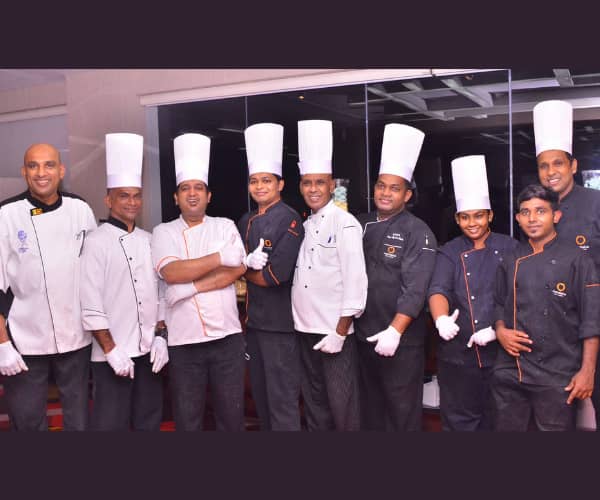 Next up we moved on to the Pan Asian section which consisted of Seafood Pineapple rice, Chilli Crab, Egg Fried Noodles and Vegetable Chop Suey. The Seafood Pineapple rice was truly a sight to behold. There was a clean-cut pineapple which was stuffed with rice and an assortment of veggies and was decorated further using lobster and clams. The rice itself was brimming with flavour and paired up with the vegetable chop suey and Spicy Chili Crab which featured a red hot gravy as well this was simply a mouthwatering delight.
A dish that truly got my attention though was the Beef Stroganoff. The tender, thinly cut strips of beef complemented by a selection of sliced veggies would have hit the spot for any meat lover. I served way more than I was supposed to and I enjoyed every bite of it! I decided to go a step further and combine this with the Garlic Truffle Mash Potatoes. Beef and Mashed Potatoes? It was a match made in heaven!
Finally, we entered my favourite section of any Buffet. The Desserts! From Chocolate Mousse to assorted french pastries, watalappan, Jelly custard and Linzer Torte they had quite a variety of scrumptious desserts. The Mousse wasn't as creamy as I had hoped, which was a bit of a letdown. However, I loved the Linzer Torte! It was well spread with raspberry jam and the pie itself was soft and buttery texture! The watalappan added a nice touch as well!
Headed by Executive Chef Chandana Wijeratne (0375) the team at Mandarina Hotel puts up quite a spectacular dinner buffet that is definitely worth trying out! The Buffet is on every Saturday "ON THE ELEVENTH ''. So stop reading, get off your chair and make sure to go check them out!
Pics by : Waruna Wanniarachchi