Sri Lankan MasterChef contestant hosts pop-up dinner at Shangri-La in support of the Indira Cancer Trust...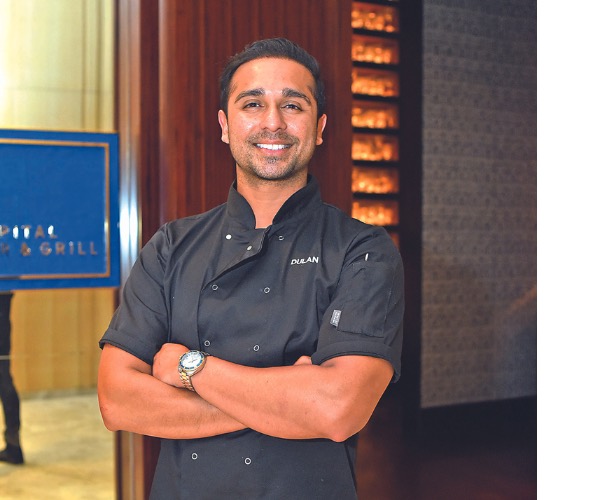 With a career background in Finance and a passion for cooking that ignited in his home kitchen, Sri Lankan-born Dulan Hapuarachchi may not be a professional chef but he sure does cook like one. It's a skill that got him into MasterChef Australia in 2022 where he wowed the judges and the audience with his Sri Lankan-inspired dishes and love for food. Born in Sri Lanka, Dulan and his family migrated to Australia when he was 12 years old. Having lived in Australia for most of his life, he admits that "growing up, I didn't truly enjoy eating Sri Lankan food".
His love for curry grew after he got married and started travelling. "I began to see Sri Lankan food in a different light. I used to cook at home but when the pandemic started and we started to miss the travelling and the food, that's when I seriously got into cooking." Despite migrating to Australia at a young age, Dulan has strong ties to the Sri Lanka he calls home and is constantly travelling back to the island on vacation with his family. He returns to Sri Lanka once more, except this time, he's returning as a celebrated chef.
An Evening with Dulan Hapurachchi at Shangri-La Hotel, Colombo was hosted in support of the Indira Cancer Trust. This is his second time working with the Trust, having already supported and aided their work back in November on a special 'Celebrate Sri Lanka' pop-up hosted alongside several Sri Lankan chefs in Melbourne. "I really love what they do and what they stand for. The people that work there are amazing so when they proposed to collaborate again with them, I was all in" commented Dulan.
The pop-up hosted guests for a five-course sit-down dinner at the Capital Bar and Grill. Dulan's signature specials were paired with an optional cocktail selection curated by the mixologist at the Capital Bar. The five-course menu is one that reflects both Dulan's skills and ties to Sri Lanka. "I'm bringing flavours from all around the world and flavours I like to eat at home. I'm creating the dishes that made me fall in love with cooking" shared Dulan, "Ultimately my style of cooking is very, very rustic. At home, I'm big on sharing food and bringing people together." He collaborated with Shangri-La's Executive Chef Patrick Buttgereit on the menu and added that it was a pleasure working with the chef, "it was interesting to see how we both approached the same dish and I learnt a lot from him. We are practically best friends now!"
The first two courses Sourdough, smokey hummus, garlic confit, paprika and Atlantic Salmon cured by blood orange and eucalyptus, truffle oil, coriander mayo, tomato caviar kicks off our evening and offered two contrasting flavours and textures that juxtaposed each other in delicious harmony. The paprika-smoked hummus was rich, creamy and garlicky while the cured Atlantic Salmon was fresh and cooling.
The orange and eucalyptus curing was a refreshing blend that produced the most subtle but notably present piquancy to the salmon. The tomato caviar was also a fun pop of flavour.
The entrees were followed by Steak Tartare, parsley oil, balsamic reduction and egg and based purely on personal preference, it was the only dish we didn't particularly enjoy. Though the dish was quite obviously made with the best cut of beef and well-seasoned, the dish did not impress us as much as the others did. However, several guests were seen to have cleaned their plates so it eventually boils down to personal taste.
If the previous courses highlighted Dulan's ability to cater to the more refined palates and play with flavours and ingredients, the courses that followed reflected his ties to Sri Lanka and the food of the place he calls home.
The Masala Chicken Wings, chillie, pickles and dehydrated berries were exceptional, moreish to the point that we abandoned all propriety of fine dining and opted to feast with our fingers to eagerly clean the meat off the bones.
As Dulan quite correctly pointed out, "When you realise you have to have spices in everything you eat – that's how you know you are hardcore into Sri Lankan food", the Masala Chillie Chicken Wings delivered that ear-tingling spice factor us Sri Lankans love to eat.
The final savoury course Kiri Maalu, barramundi, beetroot curry, ghee rice and coriander oil was a dish Dulan himself was particularly excited about. "I'm not someone who follows recipes, I'm very big on making it my own. I always think - how would I like to eat this dish? The Kiri Maalu is a reflection of that. It's me taking a dish that I love, breaking it down and putting my own stamp on it." Kiri Maalu is rarely a dish one would think of in being included in a formal dining setting and it was fascinating to see how Dulan transformed this household gravy into a fine dining meal. Barramundi fish fillet with crispy skin was served on a thick kiri maalu gravy along with ghee rice and beetroot curry paste. The fish was beautifully prepared, the skin spiced and fried to the perfect consistency but subtle enough to let the rich and creamy kiri maalu be the star of the dish.
To finish off, a sweet treat in the form of a garden. Nia's Garden, white chocolate mousse, raspberry sponge, rose veil, rambutan jelly, choc crumb, fresh strawberry and mint was a rich dessert to wrap up an already decadently heavy meal – no complaints, truly. The white chocolate mousse was creamy, smooth and rich and was perfectly paired with the raspberry sponge. The rambutan jelly though innovative could have been without as its gelatinous texture sandwiched between the mousse and the sponge made it difficult to enjoy the contrasting textures and marrying of flavours in one smooth bite.
On the whole, Dulan's menu for the evening is well-considered, with some courses offering bold punchiness, while others are nuanced and delicate. It also reflected much of his culinary ethos and stayed true to his love for hearty food while illustrating his ability to concoct refined dishes.
PHOTOS Manoj Ratnayake