Following a week's expedition around the island, dynamic TV Chef and MasterChef Australia finalist Simon Toohey presented a rare culinary experience to a select crowd before he returned to his homeland.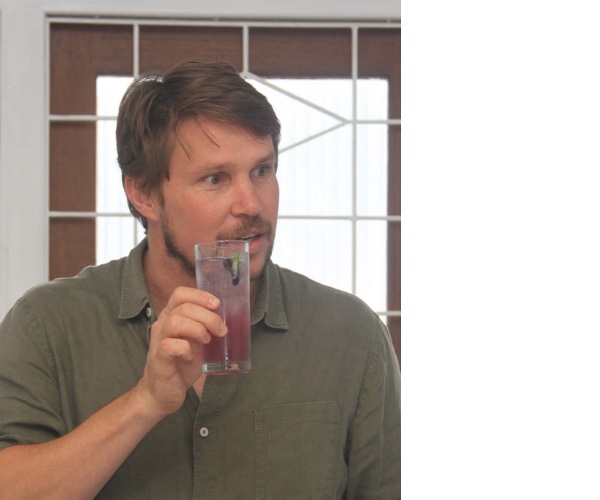 During the special edition of 'Locally Sourced' Toohey introduced the art and special beauty of Sri Lankan cuisine through his masterwork dish, a delicious result of all the knowledge and experience accumulated throughout his weeklong adventure. Toohey was hosted by Dilmah Conservation and during his adventure he also visited small producers, organic growers and permaculture practicing growers while trying his hand at various Sri Lankan dishes.
Toohey introduced a butterfly-pea infused tea cocktail using a local spirit which was an absolute thirst quencher to beat the heat. This was coupled with a side dish inspired by young jackfruit, cassava, garlic, curry leaves, onions, a gotukola paste and chillie flakes, definitely a must-try for vegan foodies. The in-house chef then presented a brownie made of purple yam (Dioscorea alata also known as Rajala) which settled our taste buds on a sweeter note.
Having been involved in the hospitality industry since 15, Toohey had spent most of his life in restaurants and bars. With a passion to better understand the world of cooking and food, Toohey had then pursued a Masters in Gastronomy, which inspired him to initiate the concept of sustainable cooking. "That was my idea of searching for a way to fix the world's food waste," he said in an interview with the Daily Mirror Life.
Toohey feels that people need to focus on loving their ingredients and be smart about cooking and what they are buying. "There's consumer waste and cooked food waste. As markets grow, people start buying. Therefore people are spending more than saving money. But if you save people from wasting food, it's great for the climate for example. So people need to be smart about choosing their ingredients and also realise that more doesn't equal more."
He then spoke about the discovery of the velvet bean during his travails in Sri Lanka. "It has the highest protein count than any legume that I know of! But most people I spoke to, either didn't know about it or even if they knew, they have never tried it."
When asked how Sri Lankan cuisine could be used as an element to attract tourists to the country, Toohey invited all visitors to get a bus, a convoy and go on a giant food tour around the country from top to bottom. "Apart from Sri Lankan cuisine, there's the coast, the surf, relaxation, yoga, religion which is the icing on the cake!" he said in conclusion.
PHOTOS Pradeep Dilrukshana