On June 23rd 'Musical Narratives', a live drawing concert by Parisian singer-songwriter Pauline Drand and comic book artist Adrien Houillère took place at the Alliance Française de Colombo as a part of the French Spring Festival 2022. Drand performed a few of her songs while Houillère illustrated her music in real-time, exploring the relationship between the two time-based practices of music and art. The collaboration is a reflection of this year's festival theme of Recounting Histories via storytelling through various mediums. The mixed-media event explores how assorted disciplines, perceptions, and senses meet each other to expand the boundaries of how we perceive narration.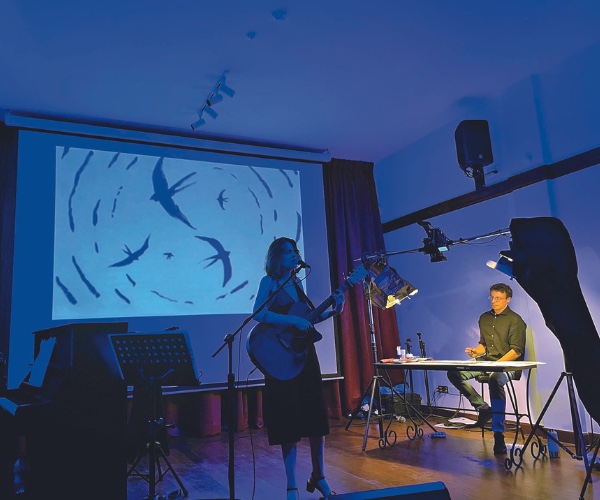 Q How did the live drawing concert collaboration happen?
Adrien: Honestly, it was a very random collaboration. The team behind FSF told us they'd like to have a combined event so Pauline and I got in touch over Zoom and discussed how we can do this. I listened to her music and she read my book and we communicated what we would like to do and what to avoid.
Q What was it like to have art and music meld into one?
Pauline: It was very interesting to see what a visual artist could produce from my music and what visuals they would get from my songs. While my songs have lyrics, they are more poetic imaginations that draw inspiration from nature, animals, elements, landscape, and atmosphere so it was fascinating to see how those feelings can come to life. When it came to collaborating, we both adapted to each other naturally – it was a very smooth transition. I was playing my songs and I trusted him to do the illustrations.
Adrien: Pauline's music is expressionist and not realistic – her songs don't have a story but they carry a feeling, a certain emotion. So, I had to draw in line with that. I chose to draw inspiration from certain words in a song in order to illustrate and I tried to find a narrative so that there is continuity in the songs. Even though her songs are different from one another, through my drawings I bridged a story between them. This was quite new for me and I discovered so much in the process of drawing live. It was so interesting to consider what I want to draw and then time it to Pauline's performance. I'm looking forward to exploring that kind of collaboration in the future.
Q The theme for this year's FSF is 'Recounting Histories', engaging with the question of storytelling and how artistes use their medium to convey certain narratives. How does your work translate to this theme?
Adrien: As a comic book writer, storytelling is essentially what I do. The way we tell our stories is different to everyone. What I like about comic books and how I work as an illustrator is that I draw to tell a story and I do it with two elements; my illustrations and words. If I explain something with words, my drawing is used to illustrate that further and it will influence how you perceive the written text – is it funny, ironic, or sarcastic? How you read the story will change. There are lots of different ways to share a narrative. I just try to tell my story and be honest in how I tell it.
Pauline: As a songwriter, the way I compose is through a mixture of words and music. I don't use narrative words in my songs because I consider songs more like paintings or poetry. I compose by drawing on my intimate experiences and the way I approach my music with those experiences touch a very human emotion in my listeners that I think is universal. Even here in Sri Lanka, though the people don't understand my lyrics, they can feel something through my songs that's close to them and brings them to imagine something that's personal to them. With my work, I try to bring people to their own memories and I think that's very much linked to storytelling; not in the way of me telling them a story but rather in creating an atmosphere that allows them to tell their own story.
Q Touching on some of your personal work, Adrien, you are also exhibiting your comic book 'Retrouver Ganesh' at the FSF. Retrouver Ganesh is a story of meeting of cultures, that of you and of Sri Lankan choreographer Vimal Amarasingam. Tell us about this story of meetings?
Adrien: I met Vimal 4 years ago, back in 2018 and then in 2019 he approached me to illustrate a dance he created. Retrouver Ganesh is an autobiographical story about how Vimal came to France as a child and 28 years later, he comes to rediscover his birth village. He asked me to follow the creation of a dance show and give my point of view. Ultimately, it was a mix of our different cultures and different artistic ways. Retrouver Ganesh however, is not an illustration or an adaptation of the show but actually about the background of the creation of the show – it's a story of its own. In this story of meetings, there is a big question that appears in the middle of the book that I need to answer at the end – who am I? How do I see the world and how can I tell the world a story of another person? It was a big challenge at the beginning when I was writing the book because I didn't know what was there for me at the end but at the same time, I was also living, in real-time, the very story I'm creating.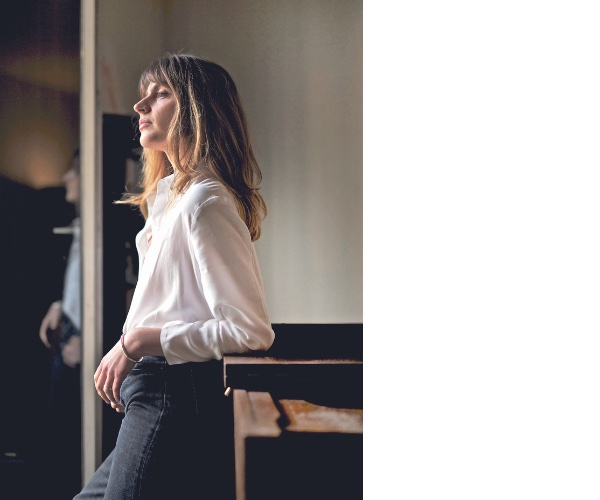 Pictured: Pauline Drand
Q What was the process of effortlessly showing dance on an image?
Adrien: I drew a lot of sketches. I went to the trainings and I watched them. Honestly, it was quite difficult to find a way to draw dance as they are constantly dancing and moving away from me. Ultimately, I just drew directly in the sketchbook and put the movement into small grids. What happened when I did that was that it created a narrative form that reveals a sequence of events. When you see the drawings, you can see the dance but you can also see my observations on the dance based on where I've focused on – the arch of the foot, the bend of the body or the position of the hands.
Q Pauline, you are completing your 2-month residency at the De Saram House in Sri Lanka. You are also set to release new music soon. Is this a result of your residency?
Pauline: The new music was already done when I came to Sri Lanka but I applied to this residency because I wanted to confront my new songs and the new universe I was deploying into with my art. My music is so personal, I am inspired by my daily life, my feelings, and emotions and I try to be very honest in my work. I compose a lot and I have a lot of ideas so I'm always very immersed in my creation. I wanted to experiment with my songs in a context where I'm in a completely different setting in terms of language, civilization, and landscape. My residency in Sri Lanka allowed me to do that.
Q Did you get to confront your work? What has changed in how you approach music?
Pauline: I always try to arrive at a point of simplicity with my music and in order to do that you have to produce a lot and erase a lot and that was the purpose of my residency. I got to critically assess my songs and keep the best of it. Beyond that, I got to introspect on my work and my music in a different landscape and political situation. I had to rethink my practice – what is it to share songs and music in a context where people are struggling to access basic needs? What is my role as an artist in society and what do I have to bring to the people? Is it appropriate, is it necessary? Confronted with this, I figured out that for me, playing music and sharing my songs is a way for me to create a space to live. As a woman, I have always felt like I'm not in my place and I grew up with the impression that I was not in my place in the world. Music and art are the only ways I found my place because when I'm composing my own music, I am creating my own space for me to live in – I find my place in the world. I think in these difficult times, my role as an artiste is to share the possibility of having a space of imagination, dream, and recreation through art and music in order to bring beauty and poetry to life. It was very interesting for me to be confronted with this in such a difficult context but it helped me confront and find my role and place in society as an artiste and singer.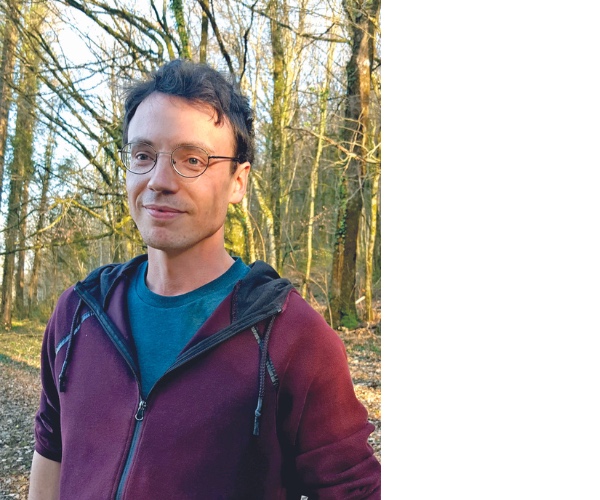 Pictured: Adrien Houillère
PAULINE DRAND
Parisian singer-songwriter Pauline Drand released her first EP in 2015 and has been performing both as a soloist (voice, guitar, piano) and as a collective in various constellations. Drand's music is considered both unclassifiable and accessible, driven by a timeless voice and a sharp poetic instinct. Finalist of the Inouïs du Printemps de Bourges in 2018 and of La Relève on France Inter in 2015, resident of the Cité Internationale des Arts de Paris in 2021, she is currently working on her next album and is resident at Bawa's De Saram House on a two-month residency for French artists by the Embassy of France to Sri Lanka and the Maldives in partnership with the Geoffrey Bawa Trust and the support of the Residency Fabric of Institut Français.
ADRIEN HOUILLÈR
Comic book author Adrien Houillère gained experience in the field of self-publishing, alternative publishing and comics using constrained writing and in addition to comics, he works as a poster artist and illustrator for the press. He published his first long graphic novel in 2019 – The Hoochie Coochie. In 2018, he met the French-Sri Lankan choreographer, Vimal Amarasingam. In 2021, he published Retrouver Ganesh, an intimate graphic novel resulting from this meeting and the discovery of the choreographer's work.